This article was published in The 30 Second Wine Advisor on Friday, July 8, 2005.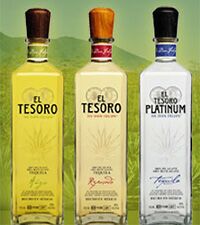 Tequila!
Begging your pardon for a rare diversion from our usual focus on the fruit of the vine, let's take a Friday break to talk briefly about cactus squeezin's.
Tequila, that is, the clear Mexican liquor that too many of us remember only from appalling youthful experiences in overindulgence; or Herb Alpert and his Tijuana Brass, or, at best, forgettable, birdbath-size margaritas at not-so-authentic Mexican eateries.
But today's tequila is not your father's Mexican white lightning. Following in the well-worn path already treaded by single-malt Scotch and, more recently, small-batch Bourbon, Mexico's producers - or maybe the marketing departments of their multinational corporate owners - are carving out a new niche in Trend City for high-end, artisan-style tequila.
We may jokingly call it cactus squeezings, but tequila is actually made from the blue agave, a Mexican desert succulent that looks more like a palmetto with its spiky, sword-shaped (and purportedly sword-sharp) leaves that conceal a central fruit, the piña, that looks a bit like an oversize pineapple.
The piña is harvested, split and either pressure-cooked or baked in special commercial ovens to extract the fermentable sugars, which are distilled into a clear liquor. Tequila may be bottled immediately after distilling (labeled "Blanco" or "Plata" - "white" or "silver"), or aged in wood - most often, used Bourbon casks shipped down from Kentucky after the single use that the law permits for the Bluegrass's trademark liquor - which imparts a bronze to golden color and more mellow flavor. Wood-aged tequilas may be labeled "Reposado" ("rested") after two months to a year in oak vats or barrels, and "Añejo" ("aged") after a year or more in oak barrels. Aged for a full three years, it wins the right to a "Tres Años" designation.
Today's article, and my brief burst of interest in the subject, came about almost by happenstance, a drive-by encounter with a free tasting at a new favorite local wine shop (Gemelli, in Louisville), where a group of sales guys from Jim Beam Brands were showing off a new holding in the Kentucky distiller's growing international drinks portfolio.
The brand, El Tesoro de Don Felipe ("Don Felipe's Treasure"), is made in Mexico by Tequila Tapatio and was long sold South of the Border as Tapatio, a brand that tequila connoisseurs prize for its estate-grown blue agave and tradition of hand-made, old-fashioned artisanal production. Jim Beam and its multinational parent, Fortune Brands, appear to be beating that drum for all it's worth, declaring El Tesoro "the best tasting tequila," although cynics are watching closely and wondering whether mass-marketing, slick new packaging and, one assumes, ramped-up production will eventually alter the product.
In another odd claim that I'm still looking into, Beam's sales pitch promotes El Tesoro as being distilled directly to its 80 proof (40 percent) alcohol level rather than being aged at a stronger "barrel proof" then cut with water for bottling. The obvious implication is that all other tequilas are "diluted," but the fact is that virtually all distillates are traditionally made this way for good reasons, and no one until now has ever hinted that it might be a bad idea. When I hear that Jim Beam has begun making its fine Bourbons to bottle proof, too, I might be more easily persuaded.
In any event, once I got past evil memories of a youthful experience with the lime, salt, lick your hand and shoot-a-shot thing, I gave the El Tesoro lineup a quick but thoughtful tasting from the small plastic cups provided, and herewith present these brief, wine-tasting-style impressions. Prices are the sales reps' estimates of typical retail:
El Tesoro Platinum ($35)
Apparently Beam's trademarked variation on the traditional Blanco or Plata designation, this is El Tesoro's un-wooded tequila, clear as water but much more warming. A spicy note of white pepper (a characteristic that I find in all four bottlings) is joined by a tart, clean citric flavor that hits the tongue with a tangy squirt of lime followed by a fresh, lingering dry warmth. Not bad, prompts an immediate rethinking of my old prejudice against tequila.
El Tesoro Reposado ($40)
Beam boasts that this Reposado enjoys 8 to 11 months in oak, well beyond the 2-month legal requirement. It has taken on just a light touch of golden color from the wood, but going back and forth between the two glasses I don't find a whole lot of difference on the nose or palate; the white pepper notes might be a bit more intense in the Reposado, and maybe it's just a touch more smooth and mellow, but if I were stocking my bar, I'd probably save five bucks and go with the Platinum.
El Tesoro Añejo ($45)
Again, the distributor boasts that El Tesoro's practice (two to three years in oak) exceeds the legally required 12 months, and the difference shows in a more complex liquor that makes me think more of contemplative after-dinner sipping from a snifter than limes, salt or margaritas. It's more golden still, with interesting herbal, pleasantly medicinal and green-chile notes added to the white pepper. Subtle herbs join fragrant floral pepper on the palate, and the finish is warm but smooth.
El Tesoro Paradiso ($90)
The sales reps unveiled this pricey model with reverence, saying it's made in tiny supplies and rarely offered at tastings. A blend of top-end tequila with a bit of French Cognac, it's aged first in Bourbon barrels, then in barriques that previously housed fine Cognac, seeing a total of five years in wood. OK, fine ... but just as with wine, so it is with liquor: Aggressive over-oaking is lost on me. It's a rich dark-gold color, with an odd aroma that I find offputting - I don't share with the sales guys my feeling that it reminds me of the glue on old-fashioned brown-paper packing tape. Or, to be more kind, "vivid herbal and medicinal characteristics." Peppery, smooth and quite full-bodied, it's easier to sip than to sniff. Prized by tequila connoisseurs, I'm sure, but personally I would put my $90 elsewhere.
WEB LINK: El Tesoro's Website, a slick production number that cards you for age at the entrance and requires Flash (and preferably a high-speed connection) to view, is here:
http://www.eltesorotequila.com/
If you're looking for a local vendor, you'll find a "product locator" page there that will search for retailers by ZIP code in the U.S., but with Jim Beam's distribution, I doubt that it will be hard to find.
AFTERNOTE:
After the tasting, when I was browing Gemelli's wine section to see what was new, proprietor Dan Burke rather furtively sidled around, catching my eye and motioning me out of view of the Jim Beam guys. He brandished an odd little blue triangular bottle and a fresh plastic cup, saying, "Here. Try this."
"This" turned out to be Tequila Lapis Añejo, another artisanal brand that's apparently sought-after but hard to find; a sample bottle, price unknown but certainly Not Cheap. I took a sniff, then a taste. Ohmigawd! Now, this is tequila. Not to take anything away from El Tesoro, which is certainly an admirable tequila and worth seeking out. But Lapis Añejo takes tequila to a new level: Golden, rich and subtle, complex green-chile and spice aromas and flavors in delicate balance, with a warm, mouth-filling texture that evokes velvet, or maybe a great aged Burgundy. Or maybe it was just the tequila talking, but I don't think so.
Then Dan presented a big glass of something that looked like tomato juice but was actually sangrita, a sweet-tart blend of tomato and orange juices in equal portions plus a shot of lime, a shot of Grenadine, salt and pepper and Tabasco to taste. Taste a little Lapis Añejo, then follow it with a swallow of sangrita, and the effect is like the Mexico City Philharmonic playing Beethoven's Ninth Symphony in your mouth, with the Mormon Tabernacle Choir singing the choral movement. Or something like that. "Want some more," Dan asked, and just as I started to say, "Hell yes!" I suddenly saw horns appearing on his head and a pitchfork in his hand and I remembered that this was just the way that last tequila experience started, way back when. So, no thanks, Dan, but thanks for asking.
I'm definitely re-calibrated on tequila, though, and next time someone offers me a small taste of a good Añejo I probably won't say no.
Thanks for indulging this break from wine. Monday we'll be back to the grape.
WineLoversPage.com