This article was published in The 30 Second Wine Advisor on Monday, July 4, 2005.
Zin for the Fourth

It's July 4, Independence Day in the U.S., a day that Americans traditionally celebrate by taking the day off and enjoying midsummer picnics and an evening of noisy fireworks that recall "the rockets' red glare, the bombs bursting in air."

For some of us it's a day for quieter reflection and recalling that America's early patriots sought independence not for the sake of conquest but in support of the radical notion that sovereignty rests not in kings and queens and nobility by accident of birth, but in the people themselves; and that authority was something to be questioned, not revered.

It was a dream compelling enough to bring a tide of immigrants from all over the world to America's shores in search of freedom, building a "melting pot" nation that incorporated all the heritages of Europe and, eventually, the rest of the world, in a hearty cultural stew. That's an American idea worth honoring on our national day ... as, indeed, is the American idea of remaining skeptical about authority.

Bringing the point of the sermon around to wine, as we always must, this won't be the first time that I've recommended Zinfandel as the ideal symbolic wine for the Fourth of July. A grape that found its natural home in the Golden West and that has become California's own, it traced an immigrant heritage not unlike many Americans, coming originally from Europe (Croatia, on the Adriatic), picking up an Italian accent, and finding a home in early American New England before making its way west. Bold and brash and exuberant, it adds an open American personality to its European roots.

For today's tasting, I sampled a couple of Zinfandels from Barefoot Cellars, a California producer best known for modest, affordable wines that bear the striking logo of a bare footprint and the zany slogan, "Get Barefoot and have a great time!"

Wine old-timers will recall this label's first generation, "Barefoot Bynum," a jug-wine label created by San Francisco journalist Davis Bynum (who also made more upscale wines under his own name) in the 1960s and 1970s.

In 1986, Bynum's friend Michael Houlihan and Bonnie Harvey purchased the trade name and resurrected the brand, carrying on the concept of the barefoot, carefree lifestyle with a range of modest wines. Jennifer Wall came on as wine maker in 1995, remaining in that post today; Barefoot went into national distribution the following year, and in 1998, the company - somewhat in defiance of its traditional downscale image - added a line of more pricey "Reserve" wines. Early this year, Barefoot became a part of the growing stable of wineries under E & J Gallo's corporate umbrella.

The Zins are fun, and characteristic of the variety, and a fine way to celebrate The Fourth. Watch for more reviews of selected Barefoot wines in coming months. Disclosure: In order to be able to report current notes on these wines, I bent my usual rule against winery "freebies" and accepted a selection of samples from Barefoot Cellars for tasting since they weren't yet available to me locally. Value information in the tasting reports below is based on average prices listed on Wine-Searcher.com.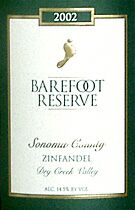 Barefoot Reserve 2002 Dry Creek Valley Sonoma County Zinfandel
This is a clear, dark reddish-purple wine with an intense scent of blackberry cordial ... warm berry fruit and a whiff of spice. Luscious, "sweet" mixed-berry fruit on the palate over crisp acidity and perceptibly warm (14.5 percent) alcohol; oak is perceptible, but remains secondary to the ripe berry fruit. Clean and correct, a good example of Zin in the fruit-forward, high-alcohol style. (July 3, 2005)
FOOD MATCH: Classic with grilled meat or even rare, juicy burgers, although it showed Zin's versatility by working surprisingly well with an Asian-fusion dish of stir-fried duck breast with just-wilted rapini in a sauce accented with wasabi and Chinese mustard, fresh ginger and garlic.
VALUE: Expect to pay low to middle teens for Barefoot's Sonoma Reserve wines, at which point the Reserve Zinfandel is a very good buy.
WHEN TO DRINK: Aficionadoes swear by aged Zins and the "claret-like" character that they may achieve after a decade of careful cellaring, but I advise enjoying this fruit-forward variety while its exuberant berries are young and fresh. This one doesn't seem likely to lose that over the next year or two, though.
WEB LINK:
The Barefoot Cellars Website contains plenty of information about the winery, the wine maker and the wines, including colorful maps of the Sonoma wine country for the reserve wines.
http://www.barefootwine.com/
Barefoot Cellars also lists a free telephone number in the U.S., 1-800-750-8828.
FIND THESE WINES ONLINE:
Compare prices and seek vendors for Barefoot Cellars on Wine-Searcher.com.
http://www.wine-searcher.com/find/Barefoot/-/-/USD/A?referring_site=WLP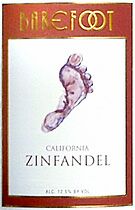 Barefoot Cellars California Zinfandel
Clear, dark reddish-purple with a ruby glint, this fresh and rather simple Zin breathes ripe raspberry and blackberry scents, with a less appealing high-toned back note of volatile acidity. Juicy, jammy berry flavors are reminiscent of fruit compote, fruit-forward with sufficient acidity for balance. Simple, luscious, slightly sweet, it's not a big-style Zin at just 12.5 percent alcohol, but that makes for a more approachable quaff. Apparently a non-vintage wine ... I can't find a year on the label. (July 3, 2005)
FOOD MATCH: A good burger wine, fine with Asian fare, but perhaps best suited as a "glass of red wine" for casual sipping without food.
VALUE: Seen on the Web for as little as $5, at which point it's hard to beat for simple enjoyment; faces tougher competition if priced closer to $10.
WHEN TO DRINK: Should hold on the wine rack for a year, but not a candidate for cellaring.
WEB LINKS AND FINDING THE WINE: See above.
Full contents of today's Wine Advisor
WineLoversPage.com