This article was published in The 30 Second Wine Advisor on Friday, July 1, 2005.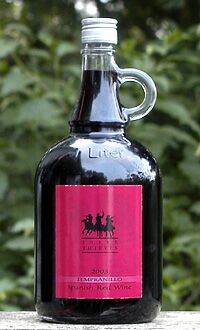 Jug-a-lug
First they rehabilitated the metal screw cap. Long despised as a sure sign of cheap, nasty "brown-bag" wines, the new-and-improved screw-off closure is winning wide recognition as a sound alternative for sealing even the finest wines without the risk of "cork taint" that afflicts a non-trivial portion of wines closed with natural tree-bark cork.
What's next? Try the much-maligned glass jug.
The familiar glass-handled bottle has been part of the English language since 1538, and it has been widely used to carry liquids in quantity from spring water to Appalachian "mountain dew." As a wine container, though, its image is decidedly downscale, so much so that "jug wine" has become a dismissive synonym for inexpensive table wine of such low merit that wine snobs wouldn't even consider it.
But now come Charles Bieler, Joel Gott and Roger Scommegna, the self-described "three thieves," also known as "the liberators of fine wine." In 2003 they took advantage of California's wine glut to acquire a quantity of decent Zinfandel in bulk. They put it in jug bottles (with screw caps, of course), labeled it "Three Thieves," and quietly moved it into the market in New York, Chicago and Los Angeles.
In a similar, if much lower-altitude, trajectory than Fred Franzia's notorious Charles Shaw ("Two Buck Chuck"), Three Thieves quickly gained word-of-mouth publicity - gently nudged along by witty, tongue-in-cheek marketing - and the trio has now expanded the line into a number of other California and European varieties and is gradually reaching into more markets. Jugs of the recently released Spanish Tempranillo recently made it to Louisville (at the just-opened Whole Foods Market Wine Shop, for the information of locals), and naturally I couldn't resist hooking my thumb into the handle and lugging one home.
Verdict: It's no Rioja. But its grapey, easy-quaffing style will make it a natural for picnics, and there's no better time than the Canada Day/Independence Day weekend to give it a try.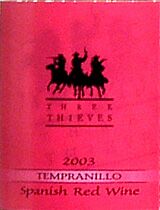 Three Thieves 2003 Tempranillo ($9.99/1 liter)
The user-friendly front label describes this inky reddish-purple Tempranillo simply as "Spanish Red Wine." One must turn to the back for the wine-geek stuff: It's a Vino de la Tierra de Extremadura, from the scenic, historic region near Spain's border with Portugal to the west of Madrid. The clear jug with its metal screw cap and traditional glass handle may inspire trepidation, but the wine is quite pleasant in a crowd-pleasing, easy-drinking style: Grapey and sweet on the nose, it's reminiscent of black-cherry Kool-Aid, but appetizing and fresh, not cloying or artificial, with just a dash of white pepper in the mix. Flavors are consistent, bright and forward cherry fruit, a bit one-dimensional but fresh and clean, soft but not sweet, with sufficient acidity to give it a pleasant snap. A fine picnic quaffer, it shouldn't offend the most nose-in-the-air wine snob. U.S. Importer: Liberators, Sausalito, Cailf. (June 29, 2005)
FOOD MATCH: Hamburgers, of course, actually medium-rare bisonburgers made from lean buffalo meat.
VALUE: You'll be hard pressed to find anything better in a jug, and at the equivalent of $7.50 for a standard bottle, it's competitive with more traditional wines at this low-end price point.
WHEN TO DRINK: Soon ... although the grapey fruit and the clean screwcap closure should keep it safely on your pantry shelf for a year or so.
PRONUNCIATION:
"Tempranillo" = "Tem-prah-NEE-yo"
WEB LINK:
The Three Thieves Website is more marketing-oriented than technical, but it's fun, including a slick movie:
http://www.threethieves.com/
Three Thieves may also be reached by phone at 1-866-JUG-BOYS (584-2697).
FIND THIS WINE ONLINE:
Compare prices and seek vendors for Three Thieves Tempranillo on Wine-Searcher.com.
http://www.wine-searcher.com/find/Three%2bThieves%2bTempranillo/-/-/USD/A?referring_site=WLP

Full contents of today's Wine Advisor
WineLoversPage.com