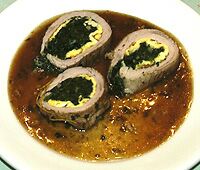 Vitello ripieno
It's a midsummer dilemma. You want to make something on the fancy side for a special occasion, but you don't want to have to spend a lot of time in the kitchen or fire up a hot oven.
Here's a fine Italian solution: Vitello ripieno ("Vih-TELL-oh Rip-YAY-noh"), an easy and flavorful dish that looks great in presentation yet is fairly quick and easy to cook. (It requires several steps, resulting in a procedure that looks modestly complicated, but if you get organized and go through the steps in order, it really doesn't take long.) And it sounds so much more appetizing in Italian than its English translation, "stuffed veal."
You could make this dish with tender but pricey veal scalloppine, but I find it works just as well - and saves several bucks - to use veal flank steak, pounded thin. I like it served sizzling from the skillet, but it would also work very well chilled and sliced as elegant picnic fare.
INGREDIENTS: (serves 2)
1 pound (about 1/2 kilo) veal flank steak
1 ounce pancetta (unsmoked Italian bacon)
1 bunch fresh spinach (see note)
1 egg
Salt
Pepper
1 tablespoon (15g) water
2 ounces (60g) butter
4 tablespoons grated Parmigiano Reggiano
Nutmeg
2 tablespoons olive oil
2/3 cup beef, veal or chicken stock
1 tablespoon cornstarch (optional)
PROCEDURE:
1. Put the veal on a counter top or cutting board between large sheets of plastic wrap and pound it all over with a rolling pin or empty wine bottle until it's thin and has spread out to twice its original size, or as close to that as you can get it. Chop the pancetta into tiny dice.
2. Trim and wash the spinach well, put it in a large pot with a little salt and just the water that clings to the leaves, and cook it covered over high heat only until it wilts, no longer. Drain it, let it cool, and chop it. (NOTE: U.S. supermarkets typically sell fresh spinach by the "bunch," which is enough to make about 1 cup (240g) when it's cooked; or use the equivalent - if you must - of thawed frozen spinach.)
3. Crack the egg into a small bowl, season with salt and freshly ground black pepper to taste, and stir in the water and 1 tablespoon of the Parmigiano. Melt 1 tablespoon of the butter in a nonstick frying pan over medium-high heat and, when it stops sizzling, put in the egg and make a very thin omelet. Lift out the omelet, taking care to keep it in one piece, and let it cool.
4. Using the same frying pan, melt the other 1 tablespoon of butter and saute the chopped pancetta until it turns crisp and golden. Put in the cooked, chopped spinach, the nutmeg (freshly grated is best) and the rest of the Parmigiano and cook until it's warmed through.
5. Take the plastic wrap off the veal, cover it with the omelet, and spread the spinach-and-cheese mix over that. Roll the veal around the fillings into a cylinder, tucking in the ends to hold in the contents. Tie it in a few places with clean white string.
6. Put the olive oil in the frying pan over medium-high heat, and cook the veal roll, turning it frequently, for about five minutes or until it's browned on all sides. Add the stock, bring to a boil, cover and simmer very gently for 15 minutes, turning the veal roll occasionally.
7. Take out the veal roll, slice it into thick rounds, and remove the string. You can reduce the pan juices over high heat to thicken, or if you prefer, thicken the sauce by adding the cornstarch mixed with a little warm water.
MATCHING WINE:
This was brilliant with a fresh and full-flavored dry rosé wine, Chateau Mourgues du Gres 2003 Les Galets Rosés Costières de Nîmes. It would also work well with rich, full-bodied Chardonnay or whites from Southern Italy or the Rhone.