This article was published in The 30 Second Wine Advisor on Wednesday, June 29, 2005.
Summer fizz - Prosecco

If ever there was a wine to counter the conventional wisdom, it must be Prosecco, the fun and fizzy Italian sparkling wine fromm the Veneto.

Throw out those notions that proper bubbly must be hand-made stuff, made from only the noblest of Chardonnay and Pinot grapes and fermented in the individual bottle. Prosecco comes from grapes you probably never heard of (Prosecco, mostly, and Verdiso, perhaps with splashes of Pinot Bianco, Pinot Grigio and Chardonnay); and it's produced in bulk, carbonated in large vats by the much-maligned "Charmat process" that's usually associated with plonkish industrial fizz.

But for some reason that I've never fully understood but am quite willing to enjoy, Prosecco consistently succeeds where so many of Champagne's imitators fail: It's crisp, dry, fresh and fizzy, a delicious wine for a summer aperitif or even at the dinner table.

You'll occasionally see still or lightly sparkling ("frizzante") Proseccos, but most of it comes fully carbonated under a Champagne-style cork that flies out with a similar pop.

Don't make the mistake of comparing Prosecco with Champagne - it's a different wine with a different personality at a decidedly different price. Look for Prosecco in the range from less than $10 to, at the outside, under $20. For style, quality and value, I would choose any random Prosecco in an instant over most Spanish cavas, American low-end sparkling wines or any other bubbly in this price range.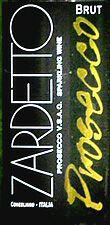 Zardetto Prosecco Brut ($11.99)
This is a clear, very pale greenish-gold wine that pours up with a frothy fizz when the Champagne-style cork is popped; it quickly settles back to a lasting stream of bubbles in the glass. Apples, a whiff of clover honey and a delicate hint of wildflowers mingle in an exceptionally pleasant aroma. Crisp and dry tart-apple flavors are near bone-dry, with a frothy, prickly mouthfeel and mouth-watering lemon-squirt acidity in a long finish. Bright and refreshing, it's an appealing summer sipper, but good balance and crisp acidity make it a fine food wine, too. Marketed (at least in the U.S. and Canada) with the English word "bubbly" all over the neck label, it's made in the Prosecco village of Canegliano. U.S. importer: Winebow Inc., NYC; Leonardo Locascio Selections. (June 28, 2005)
FOOD MATCH: A simple pilaf-style chicken-and-rice dinner seasoned with lots of tarragon, ginger and garlic made a spendid match, enlivened by a splash of fresh lemon juice stirred into the dish at serving time.
VALUE: Champagne, $30. Prosecco, $12. Next question? (It's also worth shopping around, as online prices for this item vary more than 100 percent, from below $8 to $15.)
WHEN TO DRINK: Like all affordable bubblies, it's ready to drink and won't benefit from further aging; but a year on the wine rack or in the fridge won't kill it.
PRONUNCIATION:
"Prosecco" = "Pro-seh-ko"
WEB LINK:
Here is the U.S. importer's fact sheet on Zardetto Prosecco:
http://www.winebow.com/wine_det.asp?ID=523
FIND THIS WINE ONLINE:
Compare prices and seek vendors for Zardetto Prosecco on Wine-Searcher.com.
http://www.wine-searcher.com/find/Zardetto%2bProsecco/NV/-/USD/A?referring_site=WLP

Full contents of today's Wine Advisor
WineLoversPage.com