This article was published in The 30 Second Wine Advisor on Wednesday, June 22, 2005.
Field blend

Here and there in old-time European vineyards, particularly in Chianti and parts of France, it was - and occasionally still is - the custom to plant different grape varieties together in the same vineyard, harvesting them all together and making wine from this mixed bounty.

This practice, sometimes called "field blending," can result in amiable regional wines like the traditional Chianti (Red Sangiovese and Canailo plus a little white Malvasia in the old-time blend) or Syrahs "lifted" with a splash of white Viognier in Cote-Rotie and Saint-Joseph and some other places in the Northern Rhone.

It was no particular surprise that European immigrants brought this practice to the New World, particularly in California where the roots of the wine industry are strongly Italian. Zinfandel and Petite Sirah made natural vineyard companions, along with Carignan and a few other varieties - some of which remain interplanted to this day in a few famous properties (including some of Ridge's vineyards) as well as scores of less-known old patches.

Field blending is uncommon in modern vineyards, and experts point out its obvious deficiencies - not least that white and red grapes rarely ripen at the same time. Most modern blended wines are vinified separately and blended only at bottling time, affording the wine maker the opportunity to taste the finished wines and mix them judiciously.

But traditional vineyard blends - particularly those made from old-vines patches that still produce tiny yields of intense, concentrated grapes - can still make some of California's most appealing red wines. Today's tasting, the Old Patch Red from Trentadue Vineyards, is not a true field blend since it's made from separate patches. But it's a fine, appealing red, and if you're looking for an American wine made in a traditional style to serve on Independence Day, you'd be hard pressed to find a more qualified candidate.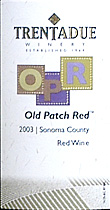 Trentadue 2003 Sonoma County "Old Patch Red" ($15)
Although it's not a true field blend because its mix of varieties come from separate lots, Old Patch Red is made very much in the style of the old California tradition. It's a blend of 55.5 percent Zinfandel, 21.5 percent Petite Sirah, 7 percent Carignan, 4 percent Sangiovese and 1 percent Syrah, grown in old-vines vinyeards in Sonoma's Dry Creek and Alexander valleys plus a bit from Lake County. It's an inky blackish-purple color with a brilliant reddish-violet edge, offering appetizing mixed-berry fruit - the Zinfandel shows clearly here - with good back notes of dark plums and just a hint of "green" herbaceousness. Similar on the palate, there's ripe, "sweet" bery fruit, but it's nicely structured with lemon-squirt acidity that saves it from jammy simplicity. It's powerful at 14.5 percent alcohol, but round, ripe fruit flavors ameliorate any sense of alcoholic heat. (June 20, 2005)
FOOD MATCH: This big, powerful red would go naturally with grilled meats, even burgers, but it did well, too, with rustic Italian-style fare, Italian sausages and sauteed rapini (broccoli rabe) over penne pasta.
VALUE: A ripe, robust wine with some dimension and character; no complaints at this mid-teens price. Note, however, that local pricing varies, and this wine - which is listed at $16 at the winery - may be discounted as low as $10.
WHEN TO DRINK: Hard to call ... I like to drink Zins young and Petite Sirahs old, so what do you do with a blend? I'm inclined to treat this one as a Zin and advise enjoying it while it's young and fruity, but if you have a good cellar, it couldn't hurt to "lose" one and see where it goes in a few years.
PRONUNCIATION:
Trentadue = "Tren-tah-doo-ay"
WEB LINK:
Here's a link to the Trentadue Website:
http://www.trentadue.com
FIND THIS WINE ONLINE:
The winery Website offers online sales and a wine club, available where local laws permit; to find online vendors and compare prices on Trentadue Old Patch Red, check Wine-Searcher.com,
http://www.wine-searcher.com/find/Trentadue%2bOld%2bPatch/-/-/USD/A?referring_site=WLP

Full contents of today's Wine Advisor
WineLoversPage.com