This article was published in The 30 Second Wine Advisor on Monday, June 20, 2005.
Controversial 2003

Over the past year or so, I've devoted quite a few tasting notes and articles on the idiosyncratic wines from Europe's vineyards during the torrid summer of 2003.

Beginning with barrel-tasting in Burgundy last spring (where many of the wines seemed over-the-top "California-like" in that hard-to-evaluate early stage), followed by early import arrivals from the Loire (often fat and overripe) the Cotes-du-Rhone (variable) and Italy and Spain (generally pretty good), it's starting to appear that the hot summer had its strongest impact in the usually cooler northern regions, where unaccustomed early ripening yielded wines that may be easy to like but are dramatically atypical of their traditional regional style.

My notes from last week's trip down the Rhone Valley, followed by a relatively modest 2003 Burgundy that I picked up shortly after my return home, are cementing this impression: Although the 2003 vintage in the Northern Rhone - Hermitage, Cote-Rotie, Saint-Joseph, Cornas and environs - has been praised by some of the major critics, my notes (and candid quotes from many of the wine makers) are full of terms like "idiosyncratic," "odd," Zinfandel-like" and even "bizarre." The same seems true of Burgundy; but on the happy other hand, the wines from farther south, the Southern Rhone and Provence - including Chateauneuf-du-Pape and the named Cotes-du-Rhone Villages - are big and bold but more in synch with regional tradition, perhaps because producers in these more southerly latitudes are long accustomed to summer heat.

The problem, many producers acknowledge, is not only that the near-tropical heat and dry conditions of that unusual summer yielded a tiny harvest of grapes that required careful sorting to eliminate baked and "sunburned" fruit; but that the historically early ripening - with harvest beginning a full month earlier than normal - yielded fruit with high sugars but lacking the physiological maturity needed for wine of classic structure and style.

The 2003 Northern Rhone reds I tasted last week were consistent in style, very much resembling California Zinfandel or California Central Coast Syrah or Barossa Shiraz in their ripe, relatively one-dimensional fruit, rather low acidity, harsh tannins and high levels of alcoholic heat. Although these wines - particularly the Hermitage, Cote-Rotie and Cornas - traditionally require long aging, I'm doubtful about this vintage, and almost think that some of them would be best drunk up while that fat "New World" fruit is fresh.

I'll have more about this when I work through the lengthy process of transcribing and decoding my notebooks and "Webifying" my photos of the Rhone tour. (Watch for my Rhone Travel Diary 2005 at http://www.wineloverspage.com/wines/rhone2005.phtml when I get it all together.)

Meanwhile, that recently tasted Burgundy (tasting report below) sang a similar song. It's brought to the U.S. by North Berkeley Imports, which has a much more favorable analysis of 2003, to which in fairness I refer you, at
http://www.northberkeleyimports.com/new.htm

I realize that it may seem a little cheeky to speak disparagingly of a vintage that has drawn gushing praise from many of the critics, not to mention importers with wine to sell. But if you share my affection for the traditional balance, elegance and subtlety of classic European wines, I think you'll agree with me that these wines, although perhaps slurpy and gulpable, are very odd indeed.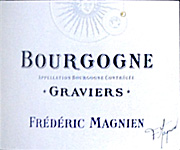 Frédéric Magnien 2003 Bourgogne "Graviers" ($25)
"Freddy" Magnien, a Burgundy producer who owns no vineyards but is gaining quite a reputation for creating estimable Burgundies from purchased fruit, hits the market with this new item from the 2003 vintage, a generic Bourgogne with the name "Graviers" that evokes, but doesn't quite match, the premier cru vineyard Les Gravières in Santenay. I find no information about this wine on the U.S. importer's Website, but let's just say that it's a ripe - almost overripe - slurpy and gulpable example of the torrid vintage. Very dark reddish-purple, almost black at the core, it's remarkably dark for a Burgundy, and its ripe and plummy black-fruit aromas with a backnote of "grilled meat" are as reminiscent of the Rhone (or Central Coast California Syrah) as Bourgogne Pinot Noir. Full and ripe flavors, mouth-filling "sweet" red fruit, are appealing and easy to quaff, but lack the acidic "snap" of cooler vintages. Very California-like in style, it's big and lush and likeable, but it will surely be controversial because it's so idiosyncratic that traditionalists will be horrified. U.S. importer: North Berkeley Imports, Berkeley, Calif. (June 19, 2005)
FOOD MATCH: It would find its natural match in rare, grilled beef, but also served mighty well with a fresh baked ham.
VALUE: Certainly within range for quality Burgundy in the age of the strong Euro, although its value for you will depend on whether you like the bold but blowsy 2003 style.
WHEN TO DRINK: It's hard to call the idiosyncratic 2003s, and it's certainly not going around the bend in just a year or two. Its combination of bold, very ripe fruit with relatively limited acidity, though, suggests a structure that may not serve it well for extended aging.
PRONUNCIATION:
Bourgogne = "Boor-gon-yuh"
WEB LINK:
There's no current information about this wine on the U.S. importer's Website, but keep checking, as it may be featured in a later newsletter.
http://www.northberkeleyimports.com
FIND THIS WINE ONLINE:
It appears that this new wine is just moving into retail channels, but if you're interested, periodically check this link to Frederic Magnien's 2003s on Wine-Searcher.com, which updates its database daily.
http://www.wine-searcher.com/find/Frederic%2bMagnien/2003/-/USD/A?referring_site=WLP

Full contents of today's Wine Advisor
WineLoversPage.com