This article was published in The 30 Second Wine Advisor on Friday, June 17, 2005.
In memory of Gene Ford

GENE FORD

If you have ever felt grateful about wine having gained some stature as a beverage that's good for your health, you might want to take a moment today to pause in respectful memory of Gene Alan Ford, the American wine writer and educator, who died last Friday of complications from heart surgery. He was 77.

Mr. Ford was a longtime advocate of moderate drinking. His book, "The Science of Healthy Drinking" received an international award as Best Wine Literature of 2003 and he was named Wine Writer of the Year by the Wine Appreciation Guild in 2001.

Ford had been in the wine business since the 1960s, when he became the Washington and Montana sales manager for Christian Brothers Wine. After retirement he became a wine writer and educator, publishing eight books, producing wine-tasting videos and speaking widely about wine.

He was one of the first wine writers to focus strongly on the scientific basis for the purported health benefits of wine and spirits.

According to his obituary by Sherry Grindeland in today's Seattle Times, "Gene Ford's viewpoint was simple: A sense of humor, an optimistic outlook, some duct tape and a glass of wine would fix anything. ... The noted wine writer and educator always gave the same toast, whether in person as he lifted his glass or at the end of his many written works: 'To Your Health!'"

Mr. Ford's Website, "Healthy Drinking Science," remains online, at least for now. Its "Research Reference Archive" is a virtually unique resource, a collection of nearly 2,000 annotated citations to the "positive drinking literature," along with scores of Ford's articles on wine-and-health issues. I hope his friends and family will find a way to keep it online.
http://healthydrinkingscience.com/

Two of his books are currently available from Amazon.com:
• "The Science of Healthy Drinking," $25.46, a 15 percent saving: http://www.amazon.com/exec/obidos/ASIN/1891267477/robingarrswineloA/
• "The French Paradox & Drinking for Health," $8.95 in paperback: http://www.amazon.com/exec/obidos/ASIN/0932664814/robingarrswineloA/

For further insight into Ford and his philosophy, you might also enjoy an essay he wrote earlier this year, titled "How I Became a Wine Expert (and You Can, Too)," in the alumni magazine of Catholic University, of which he was a 1952 graduate:
http://publicaffairs.cua.edu/cuamag/spr05/essay.htm

Finally, here is a link to his obituary in today's Seattle Times:
http://seattletimes.nwsource.com/html/eastsidenews/2002339202_genefordobit17e.html.

A funeral mass was to be celebrated in his memory at 2 p.m. today (June 17, 2005) at St. Bridget Catholic Church, 4900 N.E. 50th St,, Seattle. Memorials or volunteer service may be made to Children's Hospital & Regional Medical Center, P.O. Box 5371, Seattle, WA 98105-0371.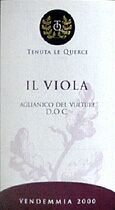 Tenuta le Querce 2000 "Il Viola" Aglianico del Vulture ($18.99)
Returning to a wine that I last tasted in April 2004 and then judged would benefit from a little more time: No change in the very dark reddish-purple color, black at the core, and the aroma - blackberry, blueberry and spicy oak - seems little evolved. It's opening up on the palate, though, with full and juicy fruit, blueberries and lemons, still quite fresh for a 2000. Tannins are still present but seem smoother and more muted than in last year's tasting, and a snappy, lemony tang in the long finish makes it a fine food wine. U.S. importer: VIAS Imports Ltd., NYC. (May 7, 2005)
FOOD MATCH: Couldn't ask for a better match with red meat, in the form of a locally grown, grass-fed strip steak pan-seared medium-rare.
VALUE: This same wine sold for $3 less at the same shop a year ago, a move I found somewhat irritating, but it's still competitive if no real bargain at this under-$20 point.
WHEN TO DRINK: Ready but holding up well; although I wouldn't call it a long-term keeper, I'd have no qualms about holding it under reasonable storage conditions for another two or three years.
PRONUNCIATION:
Aglianico del Vulture = "Ahl-yah-nee-koe dell Vool-too-reh"
WEB LINK:
Here is the U.S. importer's fact sheet on the "Il Viola" Aglianico:
http://www.viaswine.com/regioni/schedaProdotto.asp?vino=235
FIND THIS WINE ONLINE:
The U.S. importer lists distributors by state on this page:
http://www.viaswine.com/organizzazione/list_states.htm
Locate vendors and compare prices for Tenuta le Querce's "Il Viola" at Wine-Searcher.com,
http://www.wine-searcher.com/find/Querce%2bViola/-/-/USD/A?referring_site=WLP

Full contents of today's Wine Advisor
WineLoversPage.com