This article was published in The 30 Second Wine Advisor on Wednesday, June 15, 2005.
Roberts Awards highlight Asia

Earlier this year, you may recall, I sent around a notice about one of the British wine writer Jancis Robinson's favorite causes, the Geoffrey Roberts Awards. Named in honor of a pioneer importer of New World wines into the U.K., the awards provide a "travel bursary" or fund worth up to £3,000 (nearly $6,000) to selected individuals who propose plans for travel on projects that "improve the worlds of food and/or drink."

I thought you'd be interested in the winners of the 2005 Awards, both of which boast Asian accents. The winner, Ms. Robinson reported in a recent E-mail announcement, is Mary Taylor, a New Zealand food writer who runs culinary tours in Sri Lanka and proposes to help rebuild fishing boats lost there in last year's tsunami.

The runner-up, Viv Menon, a young Anglo-Indian wine educator who lives in France, proposes a plan to study the developing wine culture in India.

Here's an abstract of Ms. Robinson's announcement:

Mary Taylor of New Zealand, runs food tours of Sri Lanka's tea plantations. She intends to spend her travel bursary on improving conditions for three small fishing communities on the south coast of Sri Lanka which are in desperate need of support. Her Project Oru 100 aims to raise sufficient funds to build 100 outriggers (orus, pictured below in our graphics edition), the boats on which the local communities here depended for their chief protein source and income until the tsunami of 26 December 2004 destroyed 80 per cent of them.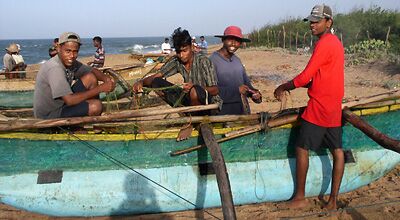 She plans to renew her acquaintance with this devastated region, recording what she sees and learning more about the local culture, fishing methods and cuisine. She will then return to New Zealand and use her newly acquired knowledge to raise funds for Project Oru 100 via a series of food-related presentations around New Zealand. These funds will be administered by the MJF Foundation (http://www.mjffoundation.org), the charitable foundation established in 2003 for the disadvantaged in Sri Lanka by Merrill J Fernando of Dilmah Tea.
"I know that the southern coast area with which I am involved is but a drop in the ocean in the great scheme of things," Mary Taylor said. "ut it is an area with which we empathise (food, fishing and long term sustenance) and where we can actually see and measure positive impact."
The runner-up in this year's Geoffrey Roberts Award is Viv Menon, a young man whose Anglo-Indian family live near St-Emilion and who has just completed a Wine MBA at Circencester College. His aim is to have a positive influence on India's emerging wine culture, and to this end the Geoffrey Roberts Trust plans to cover his expenses for a trip to visit wine producers in the state of Maharashtra and improve his understanding of the emerging Indian wine market.
The Geoffrey Roberts Award (www.geoffreyrobertsaward.com) is a registered charity which has given an international travel bursary to a potential achiever in the worlds of food and/or drink every year since 1996.
This year's judges, Jill Dupleix of The Times of London; Paul Henderson of Gidleigh Park Hotel in Devon, and committee members Neville Abraham CBE, Sally Clarke of Clarke's, Willie Lebus of Bibendum Wine and Jancis Robinson OBE, said they were impressed by the high standard of this year's applicants, who came from four continents and ranged in age from 27 to 57.
To apply for next year's Award, or to find out more about the Trust, visit www.geoffreyrobertsaward.com at the beginning of next year.
Finally, while Ms. Robinson is typically modest about her own role in the Geoffrey Roberts Awards, it's apparent that this worthy program gains considerable public visibility from her hard work and support. This effort should not go unrecognized, and it deserves applause from wine lovers everywhere. Here's to her!
Ms. Robinson's Website, http://www.jancisrobinson.com/, remains one of my favorites, both for its extensive free material and for its in-depth subscription pages.
Full contents of today's Wine Advisor
WineLoversPage.com