This article was published in The 30 Second Wine Advisor on Friday, June 3, 2005.
Vernatsch, natch!

Those of us who enjoy playing with words almost as much as tasting wine will get a special kick out of today's featured grape and wine, an obscure variety from the Südtirol (South Tyrol) in the Alto Adige region of far Northern Italy's Alps.

Say hello to Vernatsch, a black-skinned grape that's all but unique to this region, and one whose name depends very much on whom you ask. German-speaking South Tyrolese call it Vernatsch, but the region's Italian speakers say Schiava, a word that means "slave" and may go back to the same roots as "Slavic," perhaps hinting at its origin. When the grape is transplanted in Germany - where it's unusually popular around Württemberg, for reasons lost in the mists of the 14th century - the locals call it Trollinger, which is most likely a slurred evolution of, well, "Tyrolinger" or "something that comes from Tyrol." To make matters even more interesting, this same variety is widely grown as a table grape, in which guise it's called Black Hamburg in English.

If you think you've picked up on a soundalike resemblance with the various types of Vernaccia grown in Tuscany, Sardinia and other parts of Italy, you've got a good ear; but the grapes aren't actually close kin. That name simply means "local," stemming from an ancient root word that's also the linguistic grandparent of the English "vernacular" or local speech.

That's about as much word lore as a wine article ought to have, but I was intrigued by Vernatsch's many names, and I hope you were, too.

Today's featured Vernatsch-Schiava (the bottle bears both names) is interesting enough, although most wine books dismiss the variety as beneath much notice. The usually reliable Jancis Robinson declares Vernatsch and Schiava both "undistinguished," and sends Trollinger scuttling on its way with the judgement "distinctly ordinary." But this bottling (which features a cute label with a bunch of cartoonish grapes all wearing little Tyrolean hats, not that I'd buy a wine for its label, of course) struck me as well above the ordinary, particularly given its low-end price.

Made by the very Germanic Tyrolese winery Kellerei Nals & Margreid and sold under the proprietary name "Galea," with "Südtiroler Vernatsch" on the front label and "Alto Adige Schiava" on the reverse, it offers good red-berry aromas and a nice mix of red fruit, white pepper and stony minerality on the palate, coming across a bit reminiscent of a Beaujolais on the nose but more like a fresh Loire red on the palate. Not bad for a dollar under 10 bucks!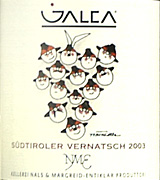 Galea 2003 Südtiroler Vernatsch Alto Adige Schiava ($8.99)
This is a clear, ruby-color wine, not overly dark in hue. Fresh red-berry aromas add a whiff of volatile acidity, somewhat reminiscent of Beaujolais. In the mouth, though, it's more complex and interesting than any but the best of Beaujolais: Light-bodied and fresh, tart red-fruit flavors mingle with intriguing accents of white pepper and wet-stone minerality, clean and consistent in a long finish. Those who enjoy reds in the crisp, minerally style will enjoy this wine, but blockbuster-chasers need not apply. U.S. importer: The Country Vintner, Oilville, Va. (June 2, 2005)
FOOD MATCH: Fine with ribeye steaks, pepper-crusted and medium rare.
VALUE: We may have its regional and varietal unfamiliarity to thank for a bargain-basement price. Excellent value.
WHEN TO DRINK: Who knows? Having no cellaring experience (and little tasting experience) of this wine, I'm reluctant to pontificate, but the conventional wisdom holds that this variety should be drunk young, and that fits my perception of its light, crisp style.
PRONUNCIATION:
Vernatsch = "Ver-notch"
Schiava = "Skee-ah-vah"
Alto Adige = "Ahl-toe Ah-dee-jay"
WEB LINK
Kellerei Nals & Margreid offers its Website in Italian, German and English at
http://www.kellerei.it/
For information in English on the Vernatsch, click
http://www.kellerei.it/selektionslinie/_englisch/selektionslinie_galea_e.htm
FIND THIS WINE ONLINE:
Search the Wine-Searcher.com databases for Nalle Zinfandels:
http://www.wine-searcher.com/find/Nalle%2bZinfandel/-/-/USD/A?referring_site=WLP

Full contents of today's Wine Advisor
WineLoversPage.com