This article was published in The 30 Second Wine Advisor on Wednesday, June 1, 2005.
German wine: Old vs. new

On simple analysis, you might expect Germany's signature Riesling to be one of the world's most popular wines: Light in body and alcohol but rarely short on flavor, German Riesling is almost always freshly fruity and slightly sweet, often showing delicious fruit over a steely core of acidity that makes it both an ideal food wine and a perfect aperitif.

But the fact is that German wines remain immensely unfashionable in the marketplace; and they seem likely to stay that way, in spite of the anguished wails from the small but passionate community of German-wine lovers who can't understand why the world doesn't share their love for these very special wines.

What's the problem? The conventional wisdom holds that two barriers stand between German wines and an adoring public:

• It's different. Most of us have learned to love dry table wines in the French and Italian style, brought over more or less intact to the U.S., Australia and just about everywhere else. German Riesling's aroma and flavor profile and structure is so different that it's hard to get used to. I freely confess that I'm in this camp: I want to love it, but my heart and my taste buds have been trained to think otherwise.

• It's hard to figure out. This is the Catch-22 that deters those who have not formed a preference for the dry Franco-Italian style: Unless you studied German in school or grew up in a German-heritage community like Louisville, Cincinnati or Milwaukee, German labels with their long, hard-to-pronounce words seem profoundly challenging, even if the wine inside is actually easy to like. "Meulenhof 2002er Erdener Treppchen (Mosel-Saar-Ruwer) Riesling Kabinett"? Gimme a break!

This month, in the hope of helping a few more of us break through, we're featuring German Riesling in our free monthly Wine Tasting 101 Forum. Many thanks to online friend and German-wine expert David M. Bueker for serving as the month's guest host, and to the "Three Musketeers" crew of volunteers who help keep this forum a civil and entertaining place to learn and talk about wine.

For today's tasting report, I offer a pair of German Rieslings, both from the excellent 2002 vintage. The first, with its polysyllabic name used as a bad example above, is a traditional-style Riesling with a traditional-style name and label. To help parse that lengthy name, Meulenhof is the winery, 2002 is the vintage (with the German "-er" ending to show that it's an adjective) and Erdener Treppchen is the vineyard (actually it's the Treppchen vineyard near the village of Erden); Mosel-Saar-Ruwer is the network of river valleys that comprise the Mosel valley, all tributaries of the Rhine; Riesling is the grape variety, and "Kabinett" is the least ripe and thus usually least sweet of the categories within the highest quality level established for German wine. I'll leave it to David to expound at more length on that.

Today's second wine represents a new approach to marketing German wine. A Riesling from the large but respected house of Selbach-Osler, it's labeled simply "Riesling Dry," with the producer's name, Selbach, and vintage 2002 discreetly placed at the edges of the front label, and the more polysyllabic "Mosel-Saar-Ruwer Qualitätswein" banished to small print on the back label. The stylish label that faces the public catches the eye with a colorful stylized fish on a plate, incorporating a neat food-matching suggestion into the graphic image. The wine, too, is identifiably German but unexpectedly dry, with only a light whiff of fresh-fruit sweetness cloaked by a knife-edge of steely acidity. If you still suspect that German wine is "too sweet," you might try this one for a revelation.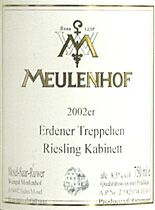 Meulenhof 2002er Erdener Treppchen (Mosel-Saar-Ruwer) Riesling Kabinett ($14.99)
Very pale straw color with a distinct greenish-brass hue. Light, delicate aromas focus on juicy citrus fruit with an elusive back note that's hard to pin down but that evokes pretty if more emotional than objective images of spring breezes over flowery meadows. Fresh and slightly prickly on the palate with just a tickle of petillant carbonation; then juicy strawberries and musky melon, backed by distinct sweetness, more than I usually expect in a Kabinett, held in bounds by tart, tingling acidity. U.S. importer: Michael Skurnik Wines, Syosset, N.Y.; A Terry Theise Selection. (May 31, 2005)
FOOD MATCH: Riesling is one of the most versatile food wines, well suited to accompany a broad range of dishes that encompass just about every edible but rare red meat. It was very fine with a Japanese-accented dinner of fresh yellowtail tuna seared sushi-rare and finished with sushi and lemon juice, ginger, garlic and wasabi.
VALUE: German wines are typically under-priced for their quality, and this one is no exception in the middle teens.
WHEN TO DRINK: Riesling is an exceptionally cellarable white, and while Kabinetts aren't the longest-lived, this nicely balanced wine should hold up well for years under good cellar conditions.
PRONUNCIATION:
Meulenhof = "Moy-lehn-hof"
Mosel = "Moh-z'l"
Kabinett = "Kah-bee-net"
WEB LINK:
For detailed information about Meulenhof and its wines, see the winery fact sheet on the U.S. importer's Website,
http://www.skurnikwines.com/prospects.cgi?rm=view_prospect_detail&prospect_id=290
FIND THIS WINE ONLINE:
To find vendors and compare prices for the wines of Meulenhof, check Wine-Searcher.com:
http://www.wine-searcher.com/find/Meulenhof/-/-/USD/A?referring_site=WLP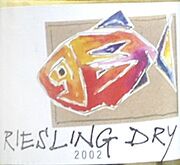 Selbach 2002 "Riesling Dry" ($11.99)
A new-wave take on the traditional German style, this wine is designed to make Riesling accessible to the newbie: It offers plenty of Riesling flavor and typically German acidity, but it's all but bone-dry. A clear, light straw-color wine with yellowish glints against the light, it offers characteristic Riesling aromas of peaches and a piney hint of mangoes, with a whiff of ripe strawberries playing around the edges. Tart green-apple flavors are bright and fresh, with sharp, steely acidity cloaking just a hint of fresh-fruit sugars, finishing long and tart and perceptually dry. U.S. importer: Michael Skurnik Wines, Syosset, N.Y.; A Terry Theise Selection. (May 31, 2005)
FOOD MATCH: The label invites the consumer to enjoy this wine with fish, and we accepted the invitation, serving it with seared, sushi-style fresh yellowfin tuna touched with a hint of Asian flavor.
VALUE: Assuming you're ready for a paradigm shift into German Riesling in this near-dry, very acidic style, this one is a remarkable bargain for just over $10.
WHEN TO DRINK: Although it doesn't strike me as a candidate for long-term cellaring, the combination of fruit and acidity with Riesling's natural ageworthiness makes it a safe bet to continue drinking well for at least a few years.
PRONUNCIATION:
Selbach = "Zell-baH"
Riesling = "Reece-ling"
WEB LINK:
Selbach-Oster, the producer, offers its Website in German and English. Here's the English-language start page:
http://www.selbach-oster.de/sb.htm
FIND THIS WINE ONLINE:
To search the Wine-Searcher.com databases for Selbach Dry Riesling, click
http://www.wine-searcher.com/find/Selbach%2bDry%2bRiesling/-/-/USD/A?referring_site=WLP

Full contents of today's Wine Advisor
WineLoversPage.com