This article was published in The 30 Second Wine Advisor on Monday, May 30, 2005.
Wine-shipping battles still to come

Two weeks after the U.S. Supreme Court's decision that declared wine-shipping laws in the states of Michigan and New York unconstitutional, it's becoming increasingly clear that little or nothing will change - at least in the short term - for most wine consumers.

Contrary to many mass-media reports (and even some in the wine media) that the court ruling opens the way to interstate wine-buying for everyone, the reality - as I reported on the day of the ruling in the May 16, 2005 30 Second Wine Advisor - is much more limited.

The ruling simply declared - as few had doubted it would - that states must treat in-state and out-of-state wineries alike if it regulates wine shipping at all. New York and Michigan were directed to enact new legislation correcting the disparate rules that had permitted in-state wineries to ship directly to consumers while forbidding out-of-state wineries to do so.

In Michigan, authorities initially said they would respond by forbidding all shipment of wine, although after an outcry from the state's small-farm wine producers, they're apparently reconsidering. In New York, Gov. George Pataki has introduced legislation permitting wine shipping, but the governor's proposal would limit individuals to no more than two cases of wine per month, a restriction strongly supported by wine-and-liquor wholesalers.

As it turns out, only a relative handful of states - as few as eight, according to some analysts, as many as 24 by more generous counts - apparently have the kind of disparate laws that the court ruling would eliminate - and in each of those situations, the wholesalers can be counted on to vigorously oppose efforts to open up interstate shipping, even if it means denying in-state producers the right to ship wine.

Indeed, within hours of the Supreme Court ruling, the national Wine and Spirits Wholesalers of America, the powerful and well-heeled lobby group that has led the fight against interstate shipping, had already rolled out a new publicity campaign that had obviously been geared up in advance of the ruling, arguing that "face-to-face transactions" - in-person sales at licensed retailers - are the only sure way to protect youth from the horrors of beverage alcohol.

In Indiana, small-farm wine producers have already received notice from the state's alcoholic-beverage control authorities informing them that they must stop shipping wine to Hoosier consumers immediately; the notion of opening up interstate shipping is apparently not even on the table. And on the national level, officials of Internet wine e-tail giant Wine.com indicated that they're content with the current distribution system and doesn't intend to push the envelope by beginning sales to formerly no-ship states.

It now appears that the fight to win freedom of choice for consumers is far from over but, much like the island-to-island campaign of World War II in the Pacific, is going to have to be fought state by state, legislature by legislature, wine consumers against an entrenched foe that believes it has everything to lose.

Our friends at Free The Grapes, a national, grassroots coalition of consumers and wineries working for consumer choice in wine purchasing, have set up a handy Web page on which you can easily look up the E-mail addresses of your state representative and senator and send them a standard or personalized letter urging them to support wine-shipping legislation. Click
http://www.capwiz.com/freegrapes/issues/alert/?alertid=115967

WINE LOVERS' VOTING BOOTH
Meanwhile, for this week's Wine Lovers' Voting Booth, we'd like to establish a baseline by asking, "Where do you acquire your wine?"

In a year or two, after the smoke has cleared and some of the states have gone through the legislative process, we'll run this same survey again and see how much things have changed. Of course, although the focus of this survey is on the U.S., you're welcome to participate no matter where in the world you live.

To cast your ballot, simply click to the Voting Booth,
http://www.wineloverspage.com/votebooth/vb20050530.shtml
To see how others have voted, click
http://www.wineloverspage.com/votebooth/ans20050530.shtml

It's Memorial Day in the U.S., a national holiday that mingles the fun of summer's first major holiday, a time for picnics and outdoor sports, with the sadness of formally remembering those who've died in war.

Today's tasting note honors both of those traditions: It's a sturdy red wine from Australia, a nation that has given a disproportionate number of its young men in the world's wars, so we drank it in their honor, and in the memory of all the world's war dead. And, in a happier sense, it's an exceptionally interesting and complex Shiraz, and it made a great match with rare steaks sizzling from the charcoal grill (or, if you like, the barbie).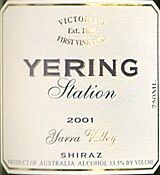 Yering Station 2001 Yarra Valley Shiraz ($14.99)
This is an inky blackish-purple wine from the Yarra Valley, an excellent if relatively less-familiar Australian wine region in Victoria, an easy day trip from Melbourne. The characteristic black-plum fruit and menthol notes of Australian Shiraz gain complexity from distinct but restrained notes of earth and leather in a wine that's no mere "fruit bomb" but shows real flavor interest and an almost "Old World" style. Full and fresh, layered fruit flavors are well structured with crisp acidity and soft, smooth tannins. "Grilled meat" characters reminiscent of a Northern Rhone Syrah creep in with time in the glass, making it a particularly fine match with char-grilled steaks. U.S. importer: Epic Wines, Aptos, Calif. (May 29, 2005)
FOOD MATCH: As noted, this wine is made for grilled steaks, charcoal-seared and bright-pink rare. Unintentionally but adding a pleasant touch of synchronicity, we used grass-fed, hormone-free Australian ribeye steaks, imported and sold in the U.S. under the "Nature's Fresh Natural Beef" brand.
VALUE: A very good value indeed at this mid-teens price.
WHEN TO DRINK: It's showing well, and the tannins and fruit-acid balance suggest that it should hold up for several years in the cellar; I don't see it as a long-term ager, though.
WEB LINK:
Here's a link to the Yering Station Website:
http://www.yering.com/
FIND THIS WINE ONLINE:
Search the Wine-Searcher.com databases for the wines of Yering Station:
http://www.wine-searcher.com/find/Yering%2bStation/-/-/USD/A?referring_site=WLP

Full contents of today's Wine Advisor
WineLoversPage.com