This article was published in The 30 Second Wine Advisor on Friday, May 27, 2005.
Friday wrapup

It's a beautiful almost-summer Friday that just calls for taking the afternoon off, and I've got an appointment this morning. Let's wrap things up briskly with today's Wine Advisor by sharing a couple of reports on an unrelated pair of recently tasted wines of value for less than $10.

The Cline 2002 Oakley Five Reds ($8.39) comes from the makers of "Red Truck," but in contrast with that rather fat'n'happy mass-market-style wine, it's an interesting blend of New World (Zinfandel) and Rhone-style red varieties (Syrah, Mourvedre, Carignan and Grenache) with an acidic backbone and hint of tannins that makes it more of a wine-lover's bargain.

Then, continuing our inquiry into pink wines in connection with this month's Wine Tasting 101, we sample another ripe and juicy 2003, Chateau Mourgues du Gres "Les Galets Rosés" Costières de Nîmes ($9.99). Once you get past an unfortunate hint of spearmint chewing gum in the aroma, this ripe and fruity pink wine is a pretty good one.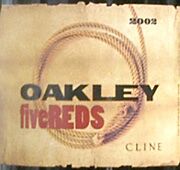 Cline 2002 Oakley Five Reds ($8.39)
This is a very dark reddish-purple wine with a violet edge. As the name implies, it's a blend of five red varieties: Zinfandel, Syrah, Mourvedre, Carignan and Grenache. The Zin seems to dominate the aroma profile, though. It's loaded with jammy berry fruit that carries over on the palate as bright and juicy mixed berries with a dash of black pepper. It's so fruit-forward that it seems soft at first, but lemon-squirt acidity and even a touch of dry tannins appear in a medium-long finish. (May 25, 2005)
FOOD MATCH: The wine's ripe fruit made it a natural match with a Euro-style take on macaroni and cheese, pennette with an earthy Mornay-style sauce with Dutch goat cheese and French Comté. It would go well with just about any kind of picnic fare from burgers to barbecue.
VALUE: Stands well above the competition at its price point.
WHEN TO DRINK: It should hold for a year or two, but it's not a style meant for cellaring.
WEB LINK
Here's the winery fact sheet on Oakley Five Reds:
http://www.clinecellars.com/store/index.cfm?fuseaction=productdetail&product_id=100
FIND THIS WINE ONLINE:
Search the Wine-Searcher.com databases for Cline Oakley wines:
http://www.wine-searcher.com/find/Cline%2bOakley%2bFive%2bReds/-/-/USD/A?referring_site=WLP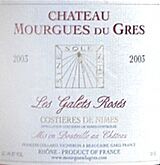 Chateau Mourgues du Gres 2003 Les Galets Rosés Costières de Nîmes ($9.99)
Transparently clear, a pretty red-rose color that's rather dark for a rosé. Very ripe strawberry aromas add a distinct note of spearmint that's unfortunately reminiscent of chewing gum. It's better in the flavor department, though, dry and crisp, good juicy berry fruit with an acidic snap and a back note of cherry-pit bitterness that becomes more evident as the wine warms in the glass. I find it adds a pleasant note of complexity, although those who don't enjoy bitter flavors should be forewarned. U.S. importer: Waygandt-Metzler, Unionville, Pa. (May 26, 2005)
FOOD MATCH: Should go just about anywhere a dry rosé will serve, from salade Niçoise to aperitif sipping. I put it to somewhat more formal duty with an Italian-style veal dish, arrosto di vitello ripieno, a veal flank steak pounded thin and stuffed with spinach, onions and a thin omelet, and it made a fine match.
VALUE: Competitive with dry rosés in the $10 range.
WHEN TO DRINK: Soon.
WEB LINK
There's a short, older article about Chateau Mourgues du Gres on the importer's Website at this link:
http://www.weygandtmetzler.com/producershtml/collard.htm
FIND THIS WINE ONLINE:
Look up Chateau Mourgues du Gres Rosé on Wine-Searcher.com:
http://www.wine-searcher.com/find/Mourgues%2bGres%2bRose/-/-/USD/A?referring_site=WLP

Full contents of today's Wine Advisor
WineLoversPage.com