This article was published in The 30 Second Wine Advisor on Wednesday, May 25, 2005.
Gravina

Although most wine books don't discuss the white wines of Southern Italy and Southern France in the same chapter, perhaps they should; for many of the whites from Puglia through Basilicata, Campania and Calabria, on across the Med through Sardinia and Corsica to Provence, Languedoc and the Rhone, share common characteristics that I find delectable, even if their makers literally don't speak the same language.

Whether it's a Marsanne and Roussanne-based white from Hermitage or Bandol, a Fiano or Greco or Falanghina from Campania, or something even more offbeat, I'm growing increasingly fond of these wines. You can just about count on a rich, complex, and subtly "oxidative" treat, and more often than not, you'll get all that for a bargain price.

This is certainly true of today's wine from Puglia, the Southern Italian "boot heel." Made by Botromagno, a Pugliese producer I've found consistently reliable, it's a $10 wine from the relatively little-known region called Gravina, a rather isolated rural appellation in the hills where Puglia meets Basilicata to the west of the seaport city of Bari.

According to the excellent Italian food-and-wine Website ItalianMade.com, the name "Gravina" means "deep ravine," "deep incision" or "chasm," a vivid literal description of the Apulian village of the same name, perched on the lip of a gorge and surrounded by vines since the 800s A.D. Greco (also a primary grape in Campania) and Malvasia (grown all over Italy) come together to make Gravina's rich but highly acidic white.

Simply put, this is one of my best white-wine values of the year, worth buying by the case for short-term consumption or perhaps even cellaring. (See the "When to Drink" notes below.)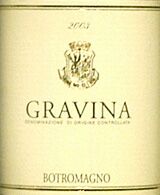 Botromagno 2003 Gravina ($10.99)
A blend of the regional white grape Greco (60%) and Malvasia (40%), this wine shows a clear, rather bright brass color in the glass. Delicious and complex aromas start with white fruit, wildflowers and aromatic herbs, with subtle hints of almond and banana oil, a lovely mix that's framed in the "oxidative" style that I find in good Southern Italian and Southern French whites alike. Its flavors are fresh and full, focused on fruit: pears and figs and lemons, clean and very tart, snappy acidity turning almost piercing - but pleasantly so - in a very long finish. (May 24, 2005)
FOOD MATCH: A great wine with seafood or fish, also well-suited to chicken. We went the latter route, and a strong component of fresh tarragon from the herb garden in a chicken saute made this dish a beautiful match with the wine's herbal and floral notes.
VALUE: A great value in the $10 range: Its complexity and heft put it at the same level of pleasure I get from quality white Burgundy at four times this price.
WHEN TO DRINK: Whites of this type can respond very well to cellaring with added richness and complexity, with the caveat that the oxidative style will lose its luster if it tips toward Sherrylike qualities with age. Try cellaring for up to five years, but taste it often to see how it's faring.
WEB LINK
Botromagno's stylish Website is available in Italian and English. Here's the English-language home page:
http://www.botromagno.it/en/index.htm
For the U.S. importer's fact sheet on Botromagno, click
http://www.winebow.com/wine_producer.asp?producer=9
FIND THIS WINE ONLINE:
Search the Wine-Searcher.com databases for Botromagno Gravina:
http://www.wine-searcher.com/find/Botromagno%2bGravina/-/-/USD/A?referring_site=WLP

Full contents of today's Wine Advisor
WineLoversPage.com