This article was published in The 30 Second Wine Advisor on Monday, May 23, 2005.
Where pink meets red

As I noted earlier this month, I have a bit of an attitude problem when it comes to rosé wines, and generally pass them by in favor of something more demonstrably red. Or, for that matter, something that's just-plain white.

But I'm giving it the old college try, especially this month while we're studying pink wines in Wine Tasting 101. After all, thousands of serious rosé-fanciers can't all be wrong, and there's certainly something tempting about a fresh, crisp and downright pretty pink wine on a balmy spring or summer day.

What's more, it's a mistake to generalize about pink wines as if they were all alike.

First, true rosé wines are distinguished from "blush" wines by their relative dryness and tart acidic structure. But perhaps even more significant, there's considerable diversity even within the rosé category. Rosé wines may vary from off-dry to bone-dry, totally sugar-free; from feather-light to full-bodied; from soft, low-level acidity to piercing steeliness; from simple fruit to complex swirls of fruit, herbs and minerals; and, not least, depending on how the wine maker has handled the "blanc de noirs" process of extracting light-colored wine from dark-colored grapes, rosé wines may range from the palest pink through rose, salmon and copper to a rich claret color that's all but indistinguishable from red wine.

Today's tasting, a California pink wine made from Syrah grapes by Selby, a small but well-regarded producer, falls close to the red end of the rosé spectrum. It's rather full-bodied, minerally and complex, with aroma, flavor and even color that make it a red-wine lover's rosé, so much so that I find I prefer it at cool cellar temperature rather than with the complexity-muting chill that's more commonplace for serving less, well, colorful pink wines.

MORE ABOUT SELBY:
For another Wine Advisor article about a tasting of Selby wines and the wine maker, Suzie Selby, see the June 18, 2004 edition, "Introducing Selby,"
http://www.wineloverspage.com/wineadvisor1/tswa040618.phtml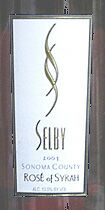 Selby 2003 Sonoma County Rosé of Syrah ($9.99)
This is a clear, cherry-red wine, quite dark for a rosé: I've seen plenty of Pinot Noir with a lighter hue. Ripe, fresh strawberry aromas add an intriguing note of earthy minerality. Clean, crisp and bone-dry on the palate, cherry-berry fruit and a dash of white pepper are framed by appropriately tart acidity, with red cherries and a hint of prickly "petillance," the barest hint of carbonation, adding a slight tickle in the finish. More complex than your average pink wine, and a lot more "guts." Better at cool cellar temperature than ice-cold, so its complex and earthy character will show. (May 22, 2005)
FOOD MATCH: Well suited as an aperitif or with picnic fare; it went nicely with simple Southern fare with an Italian twist: Rich, bacon-laced cornbread with rapini sauteed with garlic in place of the traditional greens.
VALUE: This is a fine value at the $10 point through the lower teens (the winery sells it for $12).
WHEN TO DRINK: There's no point in cellaring rosé, which is at its best when its aromas and flavors are young and fresh. Finish up your 2003s this year and then look for newer bottles.
WEB LINK
Technical information about the 2003 Rosé of Syrah is available on the Selby Website:
http://www.selbywinery.com/2003SelbyRoseofSyrah.html
FIND THIS WINE ONLINE:
Search the Wine-Searcher.com databases for Selby ros&eacute:
http://www.wine-searcher.com/find/Selby%2brose/-/-/USD/A?referring_site=WLP

Full contents of today's Wine Advisor
WineLoversPage.com