This article was published in The 30 Second Wine Advisor on Friday, May 20, 2005.
Can Zin be tamed?

I've been spending a fair amount of time recently in wine shops, standing in front of the Zinfandel shelves and working my way along the rows, in alphabetical order, picking up one bottle after another and scrutinizing the fine print. My quixotic quest - and it has proven more difficult than I anticipated - was to find a few quality Zinfandels (not cheap industrial stuff but real, red Zin) made with less than a hefty 14 percent alcohol.

Blame climate change or blame the big-name critics, but Zinfandel in recent years seems to be following much the same road that California Chardonnay went down during the '90s: Bigger and bigger, stronger and stronger, fatter and fatter ... and less and less appealing to me.

I've always found Zin a little difficult to warm up to, anyway - a failing that is more mine than it is Zin's, frankly, attributable to my preference for more traditional European wine styles that balance fruit and earth and celebrate complexity and finesse. There's a lot to like in Zin's exuberant fruit, but it does tend to fall among the most "New World" of wines.

And the more that Zinfandels evolved into gigantic, blockbuster "fruit bombs" with Port-like alcohol and liquorous heat, the less I liked them, except perhaps as intriguing oddities, sort of like the calf with two heads in the carnival sideshow.

But this attitude wars with my natural tendency to discover as many of the world's wines as I can, and to try to appreciate them all. So, I concluded, why not look for the outliers, the maverick Zin-makers who still fashion the wine in the way their grandfathers did, taking advantage of Zin's fruit but shaping it in a wine that can still be enjoyed at the dinner table. The logical way to do this would be to seek out Zins made by quality producers in good vintages that claimed less than 14 percent alcohol on the label. To make things even more challenging, I set a price limit: No high-end, single-vineyard treasures from "cult" producers. My target wines must retail for $20 or less.

It took a while, but I finally came up with two: A delightfully fresh and balanced Zin in the $20 range from Nalle in Sonoma, and a good-value number that's the low-end offering (and lightest in alcohol) from Peachy Canyon in Paso Robles. Both reminded me of Zin the way I remember it: Fruity, of course, even jammy in the case of the Peachy Canyon, but both enjoyable and approachable and, best of all, good dinner wines that enhanced but didn't overwhelm the food on the table.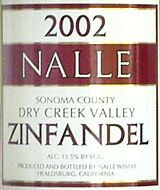 Nalle 2002 Sonoma County Dry Creek Valley Zinfandel ($19.99)
This very dark reddish-purple wine breathes luscious, typically Zin "bramble fruit" aromas of blackberries and raspberries, with a faint, pleasantly herbal back note that adds complexity. Fresh and juicy berry fruit flavors are well balanced by zippy acidity. Mouth-filling but no blockbuster, it's made at a relatively rational 13.5 percent alcohol, a moderate level by Zin standards and an approach that, in my opinion, makes it a better table wine. (May 17, 2005)
FOOD MATCH: Works very well indeed with rare steak heavily crusted with black pepper and touched with a soy-based Asian-style sauce.
VALUE: A bit above everyday price ranges for Zinfandel, but balance and finesse make it a good-value Zin for me.
WHEN TO DRINK: Cellaring Zinfandel is a controversial topic. I'm in the drink-it-young camp and would advise finishing it off by its fifth birthday.
WEB LINK
The Nalle Website includes details about the wines; online ordering is available where the law allows.
http://www.nallewinery.com/
FIND THIS WINE ONLINE:
Search the Wine-Searcher.com databases for Nalle Zinfandels:
http://www.wine-searcher.com/find/Nalle%2bZinfandel/-/-/USD/A?referring_site=WLP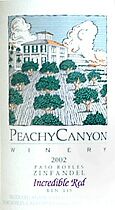 Peachy Canyon Winery 2002 Paso Robles "Incredible Red" Bin 115 Zinfandel ($10.99)
Very dark purple with bright reddish-violet glints. Although it's on the simple side, its fresh mixed-berry scent is natural and appealing. Very ripe and jammy berry flavors are built on acidity sufficient to hold it together; in fact, it tightens up nicely with a good tangy squirt of lemon in the finish. Not too big to marry well with food, but its lush, exuberant fruit makes it a natural for sipping as an aperitif. (May 19, 2005)
FOOD MATCH: It's not Italian, but it might as well have been for its amiable pairing with spaghetti and ground-buffalo meatballs in Italian-American "gravy."
VALUE: One of the better Zin buys around in the $10 range.
WHEN TO DRINK: This is one to enjoy while it's fruity and fresh. No rush, but I'd slurp it up over the next year or two.
WEB LINK
The Peachy Canyon Website offers in-depth information about the winery and its wines, including wine club and online sales where the law allows.
http://www.peachycanyon.com/
FIND THIS WINE ONLINE:
Look up vendors and check prices for Peachy Canyon on Wine-Searcher.com:
http://www.wine-searcher.com/find/Peachy%2bCanyon/-/-/USD/A?referring_site=WLP

Full contents of today's Wine Advisor
WineLoversPage.com