This article was published in The 30 Second Wine Advisor on Wednesday, May 18, 2005.
Flying corkscrews

As I get ready to head over to France in a couple of weeks, I'm feeling a little crabby about being unable to take my favorite corkscrews on the international wine road.

Thanks to the police-state mentality surrounding air-travel security these days, the traditional waiter-style corkscrew is banned from carry-on luggage for fear that a terrorist might wreak havoc with its 2-inch blade (although knitting needles are OK). Meanwhile, most travelers are reluctant to entrust a pricey or collectible cork extractor to the random fates that may await checked luggage.

I've made my peace with the problem by packing an inexpensive waiter style corkscrew with no sentimental value in my checked luggage and doing without while I'm aloft, which is no burden since I'm not going to be opening my own wine up there anyway.

For flight attendants, however, who face the beady-eyed scrutiny of the Transportation Security Administration's inspectors every time they fly, it's another story. In the interest of learning that story, I consulted a good friend who's been a flight attendant for a major American airline since back in the days when airliners sported propellers and who now spends a fair part of her life at 35,000 feet as a purser, the lead flight attendant on international flights.

Let's call my friend "Mimi" since that's not her real name, and neither her employer nor the TSA is delighted about the candid expression of opinion - even informed opinion - about airline security.

Corkscrews were not a problem for air security before Sept. 11, 2001, she recalls; in fact, airlines routinely issued standard waiter-style corkscrews (with pry lever and small blade) to flight attendants for use in beverage service. But all that changed after 9/11, when some genius decided that the best way to keep maniacs from commandeering airplanes would be to treat every traveler as a potential terrorist.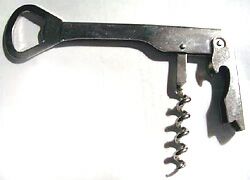 A U.S. airline now issues flight attendants this blade-free waiter model.

"After 9/11, the blades were (and still are) outlawed," the pseudonymous Mimi recalled. "Security would confiscate the corkscrew rather than just snap the blade off (like they did with nail clippers). Total chaos. They even banned disposable razors, and pilots going out on 10-day trips were looking like escapees (or Richard Nixon). No tweezers, no - get this! - eyelash curlers! Running around in circles with no real plan. (Come to think of it, not much has changed.)

"The airlines then started having the caterers board those awful corkscrews that are T-shaped and just a light plastic handle with a corkscrew attached. I call them 'pig-stickers' ... A lot of us just couldn't manage the leverage/sheer force necessary to pull the cork out."

Being no dummy, she chose the course of least resistance: "I would approach a passenger who had asked for a glass of wine (I was starting to hate wine lovers at this point) and say, 'If you want it, you have to work for it. I can't get the cork out.' This was risky, because you never know peoples' personalities sometimes until it's too late. I encountered some blustery, not-nice people, but most were very accommodating. It was a crapshoot that I didn't like at all."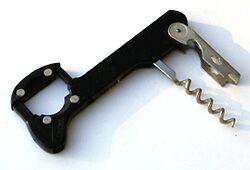 The "Boomerang" corkscrew passes TSA's no-terrorism test because it has a built-in bladeless foil cutter rather than a knife.

Eventually the airline came up with a simple waiter-style model that would pass security because it had no knife; but this involved traveling with a separate corkscrew and bladeless foil cutter, a no-no for an experienced flight attendant for whom streamlining and efficiency are the rule.

Then, one day when she was setting up for departure on an Amsterdam flight, a catering representative showed Mimi an Australian invention called the "Boomerang" corkscrew, a waiter-style model with a bladeless foil cutter built in. "I was riveted," she said. "I loved it. It was an all-in-one - no separate foil cutter to keep up with, AND - it was able to make it through stupid TSA security!"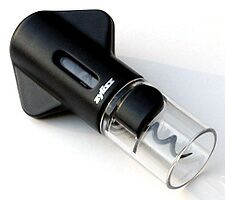 The Swiss Zyliss is a security-safe option, but it won't fit over flanged bottle necks.

Later she found another security-safe option from the Swiss manufacturer Zyliss. All plastic (except for the corkscrew helix), this sheathlike device fits down over the neck of a wine bottle. Its built-in foil cutter passes security inspection, and it screws down and extracts the cork all in a single continuous turning motion. Particularly easy to use, it's a good option for anyone who finds regular corkscrews difficult to manipulate; but Mimi soon discovered a fatal flaw in airline service: Its plastic sheath is just 1 1/4 inches in inner diameter, too narrow to accommodate bottles with a wide neck flange.

Frequent fliers will note that screwcaps now adorn most wine bottles opened in Coach on most major airlines, eliminating the need for wine openers and putting the job, literally, in the passenger's own hands. But my friend most often works in Business Class, where her airline at least still stocks mostly cork-finished bottles save for an occasional screwcapped New Zealand goodie.

She's sold on the Boomerang and claims to have bought 16 of them as gifts for her peers. "They are wildly popular with flight attendants," she said, adding that an online merchant, Barsupply.com, sells them for $6.95 each, $5.95 if you buy six or more in a batch.

Finally, Mimi offers wine-loving flyers a bit of practical advice for getting your legal bladeless corkscrew through security with minimal hassle: "Take it out and place it in one of the containers provided for emptying your pockets, etc. That way you won't get stopped for your bag to be hand-searched. This not only saves you a hassle, screeners will love you for making their job easier, too. Most of the time the screener will pick it up, check it for a blade, then point out to the screener at the x-ray machine that it's okay."

Me, I'm leaving my French Laguiole with its polished rosewood handles and shiny stainless blade at home. And for the long term, my advice to travelers is simple: Don't get into an argument you can't win at the security checkpoints; but if you think what passes for airport security is silly and ineffective, do express yourself to the airlines and your elected officials. Security officials in the present political climate don't show much interest in public input, but the companies that count on our dollars and the politicians who count on our votes will eventually start paying attention ... if enough of us speak our minds.

WEB LINKS:
The U.S. Transportation Security Administration's "Air Travel Key Travel Tips" offer a variety of practical suggestions for air-travel security:
http://www.tsa.gov/public/interapp/editorial/editorial_1254.xml

Want a list of all the items explicitly permitted or specifically banned in carry-on and checked luggage? Here's TSA's official version, in Adobe Acrobat (PDF) format:
http://www.tsa.gov/interweb/assetlibrary/Permitted_Prohibited_5_16_2005_v3.pdf

Considering a Boomerang corkscrew? Here's a link to the cheapest supplier "Mimi" could find, http://Barsupply.com If you can stand this site's intrusive pop-ups in search of a bargain price, click "Bottle Openers," then "Wine Openers," and search for "Boomerang" to find the target page.

To look at or purchase a Zyliss from Amazon.com ($19.95 plus shipping), see
http://www.amazon.com/exec/obidos/ASIN/B0000XOBFC/robingarrswineloA/
For some obscure reason, this product may only be shipped to customers with U.S. addresses. Those in other countries might try the manufacturer, http://www.zyliss.com/

Full contents of today's Wine Advisor

WineLoversPage.com