This article was published in The 30 Second Wine Advisor on Friday, May 13, 2005.
About Minervois

As recently as the 1980s, when I first had the pleasure of visiting the Languedoc-Roussillon region in Southwestern France, this sunny, historic stretch that runs along the Mediterranean from the Rhone to the Pyrenees got absolutely no respect from serious wine enthusiasts.

There was a fairly good reason for that: At the time, its sunbaked vineyards - much like California's Central Valley - were over-planted, over-cropped, and squeezed dry of every drop of grape juice that could be industrially vinified into cheap, everyday table wine. The Languedoc (also known to map makers, if not to wine lovers, as the Midi) was regarded as the primary source of France's vast lake of vin ordinaire. But serious wine? It is to laugh!

But times have changed, at least a little, and if Languedoc still trails Bordeaux, Burgundy, the Rhone, the Loire and Alsace in most ratings-point chases, it is certainly no longer laughable to assert that fine and even excellent wines can be made in this region.

Using many of the same grapes as their brethren in the Rhone and Provence - Syrah, Grenache, Mourvedre and the somewhat less highly regarded Carignan and Cinsault for the reds, Marsanne and Roussanne and a host of other less familiar names for the whites - Languedoc producers are gaining increasing attention for wines of quality and, very often, good value. Lured by better wines, wine lovers are beginning to fill in the broad, empty map of Languedoc with the outlines of the region's more sought-after appellations: Coteaux du Languedoc, Montpeyroux, Pic Saint Loup and, farther to the west, Faugères, St.-Chinian and, the subject of today's tasting, Minervois.

Perched in the hills of Languedoc's northwestern corner, a bit farther away from the Mediterranean coast, Minervois lies between the towns of Narbonne and Carcassonne. Today's wine from Chateau de Paraza is a fine example of the breed: Made from a blend of most of the regional red grapes, it's fruity but structured, earthy and rustic, made more for a picnic table than a white tablecloth but fine with food, and a very good value indeed for well under $10.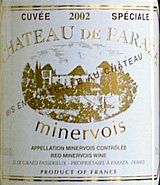 Chateau de Paraza 2002 Minervois "Cuvee Speciale" ($8.99)
Very dark garnet in color, this Languedoc red offers fruity-earthy aromas of ripe cherries, smoke and spice. Red-fruit flavors boast a forward fruitiness that evokes sweetness, although the wine is dry; lemon-squirt acidity pulls it together. Earthy, a bit on the rustic side, but good fruit and balance make for an appealing table wine at a bargain price. It's a blend of several of the Languedoc's usual varietal suspects - Syrah, Grenache, Carignan and Cinsaut. U.S. importer: Private Reserve, Sheffield Village, Ohio. (March 30, 2005)
FOOD MATCH: Well-suited for red meat or roast chicken; it went well with a simple pizza margherita.
VALUE: No complaints at this low-end price, where it significantly outperforms expectations.
WHEN TO DRINK: Not an ager, but it shoulld hold up well for a year or three on the wine rack.
PRONUNCIATION:
Minervois = "Mee-nehr-vwah"
WEB LINK
Chateau de Paraza's Website is online in accented but competent English, with good basic information about the producer and its wines.
http://chateau-de-paraza.com/
FIND THIS WINE ONLINE:
Look up vendors and check prices for Chateau de Paraza on Wine-Searcher.com:
http://www.wine-searcher.com/find/Paraza%2bMinervois/-/-/USD/A?referring_site=WLP

Full contents of today's Wine Advisor
WineLoversPage.com