This recipe was originally featured in The 30 Second Wine Advisor's FoodLetter on Thursday, May 12, 2005. It is modified from a recipe in Japanese Dishes For Wine Lovers, by Machiko Chiba with wine pairing advice by John K. Whelehan, published in the U.S. by Kodansha America was May 1, 2005.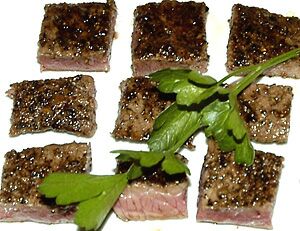 Close-up view of Machiko Chiba's bite-sized pepper steaks, plated as advised in her new Japanese Dishes For Wine Lovers.
Bite-sized pepper steaks
INGREDIENTS: (serves 2)
Black pepper
12 ounces (350g) boneless beefsteak
1 tablespoon (15ml) peanut oil
1 large clove garlic
Dried red-pepper flakes
2 tablespoons vermouth
1 tablespoon Japanese soy sauce
2 teaspoons (10g) sugar
2 large sprigs fresh Italian flatleaf parsley
PROCEDURE:
1. Coarsely grind an ample amount of black pepper onto a large plate or flat work surface. Press the steak into the pepper until it is well and evenly coated with pepper on both sides. Set aside. (It's best to select a fairly thin, even slice of beef so it can easily be cut into bite-size squares for plating as in the photo above.)
2. Mince the garlic, measure out all the ingredients, and blend the vermouth, soy sauce and sugar in a small bowl.
3. Heat the peanut oil in a skillet or saute pan and add the minced garlic and a discreet shake of red-pepper flakes, cooking over medium-high heat until the garlic turns translucent and aromatic. Put in the steak and sear briefly on both sides, no more than a minute or two - the thin steaks will overcook quickly. Put in the vermouth-soy-sugar mixture and cook, turning the meat once or twice, until the liquid reduces to a thick sauce that coats the meat.
4. Remove the steak to a cutting board and slice it into one-inch squares, arranging them neatly on plates garnished with the parsley. Chef gets to eat the scrappy edges!
MATCHING WINE:
Whelehan suggested Australian Shiraz or a Cabernet Sauvignon, advising, "Shiraz, from a hot climate, is typically full-bodied, powerful and alcoholic, with aromas and flavors frequently of pepper, mixed spice, game and leather, accompanied by a solid core of berry fruit. These inherent qualities both cope with and complement the strong flavors of this dish. The key ingredient in this case is the pepper. In addition, the fattier the beef, the heavier the wine should be. Also keep in mind Syrah-based wines from the Rhone Valley, categorized by appellation as opposed to variety, namely Cote-Rotie or Hermitage. Heavy full-bodied reds like Cabernet Sauvignon or Californian Zinfandel, should also marry well."
This made sense to me, so I went with a modest California Syrah that I correctly anticipated would be made in a fairly "Australian" style, the Cline 2002 California Syrah left over from the March edition of our Wine Tasting 101. It was an accessible but not particularly exciting wine, on the fat'n'flabby side, but worked pretty much as Whelehan suggested it would with the bold flavors of the beef, and the dish actually improved the wine. Good call!
Full contents of today's FoodLetter
WineLoversPage.com