This article was published in The 30 Second Wine Advisor on Monday, May 9, 2005.
Wine travel tips

Spring is turning into summer in the Northern Hemisphere, school will soon be out, and many families are starting to think about summer vacation.

If there's a wine lover in the family, the chances are good that he (or maybe she) is thinking about a vacation plan that includes at least one or two winery visits. And if you're really serious about wine, and children aren't in the picture, you may even plan your vacation travel around wine, turning time off from work into an entertaining and educational experience centered on discovering the wine and food of one of the world's many wine regions.

For this week's Wine Lovers' Voting Booth, we'd like to pick your collective brains - and maybe come up with some new ideas that we all can use - as we ask, "How do you prepare for a wine tour?" I've listed a dozen common strategies plus the usual fill-in-the-blank "other," and invite you to choose the three tactics that you consider most important in preparing for a wine trip. To cast your "vote," click to the Voting Booth,
http://www.wineloverspage.com/votebooth/vb20050509.shtml
Your answers update the results immediately, so if you'd like to watch how others have voted, you can always click to the results page,
http://www.wineloverspage.com/votebooth/ans20050509.shtml

Meanwhile, let's finish up today's column with a few brief tips based on some of the most frequently asked questions about wine touring, aimed particularly at those of you who may not have ventured out on the wine roads before.

• Do you need a tour guide? Absolutely not. While a quality organized tour can offer a painless and enjoyable way to get access to wineries and transportation to them (and translation if needed), it's entirely possible to tour wine country on your own, and many wine enthusiasts prefer the flexibility and independence of touring this way.

• Can you just drop in? Here's where wine touring gets a little more complicated. In California and the key wine districts of Australia and New Zealand, most wineries have public tasting rooms (called "cellar doors" Down Under). Many wineries in smaller but well-traveled wine regions like New York's Finger Lakes and Ontario's Niagara Peninsula also host tasting rooms that remain open during regular hours, although some may be seasonal. But the tasting-room custom is much less widespread in Europe, where unexpected visitors even at the larger wineries may be greeted with a cordial but firm "Sorry."

• Is there a charge for tasting? This varies, but many tasting rooms offer samples of wine for no charge or a nominal fee. A few of the most heavily traveled regions - California's Napa Valley in particular - have instituted tasting fees, at least in part as a way to discourage crowds looking for a free party. (Hint to serious "wine geeks" - in my experience, a wine tourist who asks intelligent questions and jots down wine-tasting notes will often be quietly excused from the tasting charge ... and no, you don't have to pretend to be a wine writer.)

• Can everyday consumers get into wineries that don't have tasting rooms? In Europe, particularly at smaller wineries, this is the customary procedure. You don't have to be a big-name wine critic to visit, but you do have to ask in advance so the winery can arrange to have someone meet you and show you around. Try browsing the Web for E-mail addresses or a fax number. I've found faxed requests - even in English - usually yield a quick approval by return fax. For more sought-after producers in all parts of the world, though, it may help to make your request through a retailer or distributor. If you have a good relationship with a quality wine shop in your community, the management may be able to help you with an introduction.

• If you ask for a special appointment, are you obligated to buy wine? Not absolutely, but it's certainly an appropriate gesture to purchase a bottle or two, if not a case, if the winery has clearly gone out of its way to serve you. Many European wineries assume that the purpose of a visit is to taste and purchase wine. If a winery offers a public tasting room, though, then you're welcome to taste under no pressure to buy.

Summing up, wineries are in the business of making wine to sell, and by and large, most of them are proud of what they make. They like to show it off, and they like it when you buy. Touring wineries, meeting the wine makers and tasting what they make is an important part of the fun of wine, and there's no need to be shy about taking advantage.

Now, here's a wine from one of my favorite travel destinations, the Southern Rhone, where I'll be traveling with a small but merry band next month on our annual French Wine Explorers tour. Pont d'Avignon, named after the historic Roman bridge that inspired the familiar children's song, is the latest bid by the folks at California's E&J Gallo to place a product in just about every possible niche in the wine market. A Cotes-du-Rhone made for Gallo by a Rhone valley grower cooperative that also helped launch its Red Bicyclette label last year, this one appears aimed at a somewhat more sophisticated wine-enthusiast market, although the bright, uncluttered label seems designed - like Red Bicyclette - to be attractive to consumers seeking easy access to French wine. Pont d'Avignon was launched in the U.S. in March, and is just now starting to turn up widely at retail. Only 8,000 cases of the 2003 were released, but watch for production to rise dramatically in future vintages.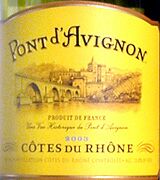 Pont d'Avignon 2003 Cotes du Rhone ($15)
Two-thirds of this wine is Syrah and one-third Grenache, making an unusually Syrah-heavy blend that shows itself in a very dark blackish-purple color and a hint of menthol behind very ripe red-berry fruit. A burst of ripe and juicy fruit opens up on the palate, lifted by snappy acidity and just a hint of drying tannins. Typical of the 2003 vintage in the region, it's full and forward and rather "Californian" in style, a non-traditional but easy-drinking Rhone red. U.S. importer: Pont d'Avignon USA (Gallo), Hayward, Calif. (April 2, 2005)
FOOD MATCH: Its ripe and forward fruit went well with the bold flavors of fresh rapini and Italian sausage over cheese polenta.
VALUE: In an exception to my usual buy-local rule, I got this sample from the winery in order to have an early look at Gallo's latest venture, so the price listed is "manufacturer's suggested retail." Many wine shops will undersell it by a dollar or two, at which price it's certainly competitive with other 2003 Cotes-du-Rhones.
WHEN TO DRINK: It should hold for a few years but won't really improve with cellar time.
PRONUNCIATION:
Pont d'Avignon = "Pawn Dah-veen-yawn"
Cotes-du-Rhone = "Coat doo Roan"
WEB LINK
It appears that Pont d'Avignon hasn't made it into Gallo's Website yet, but here's an interesting page with promotional information and links to seven other wineries that Gallo currently has in its portfolio of imports: Bella Sera, Da Vinci and Ecco Domani from Italy, Red Bicyclette from France, Black Swan and McWilliams Hanwood Estate from Australia and Whitehaven from New Zealand.
http://jobs.gallo.com/Portfolio/Imported.asp
FIND THIS WINE ONLINE:
A limited number of vendors at this point have Pont d'Avignon listed on Wine-Searcher.com:
http://www.wine-searcher.com/find/Pont%2bAvignon/-/-/USD/A?referring_site=WLP

Full contents of today's Wine Advisor
WineLoversPage.com