This article was published in The 30 Second Wine Advisor on Friday, May 6, 2005.
Vin gris

If red wine goes with red meat and white wine goes with white meat, what wine should be served with fast-food hamburgers?

Why, it's vin gris, according to the old wine joke, playing off the literal translation of "gray wine" and the pallid gray color of the Big Mac's mystery meat.

Of course vin gris isn't really gray. This fanciful French term has become a synonym for rosé or pink wine, but historically there's a subtle distinction. As discussed in Wednesday's edition about pink wines as the topic of this month's Wine Tasting 101, rosé wines are usually made by leaving freshly pressed wine in contact with its grapeskins ("maceration") for a short time, long enough to impart a pinkish color to the wine.

Traditional vin gris, on the other hand, was made with no maceration: Press red grapes, drain off the juice immediately, and you'll get a true "blanc de noirs" ("white from reds") with a color that ranges from white to the palest pink tinge, and almost always vinified bone-dry. Pinot Noir-based Champagnes are usually made this way, as - perhaps surprisingly - were some of the earliest White Zinfandels of the early 1980s. The first White Zin I encountered in that era came from Monteviña and was a dry, rich white wine with a lot of Zin berry character. I sometimes wish they had kept on doing it that way.

Nowadays, however, vin gris and rosé have become interchangeable, and usually distinct from the sweetish "blush" wine that White Zinfandel has evolved into.

Today's example, despite the French name, is a California pink wine from the irrepressible Randall Grahm of Bonny Doon Vineyards. Grahm's Cigare Volant, a Chateauneuf-du-Pape lookalike from California, was one of the first American "Rhone Rangers," taking its name from a legend that the citizens of that Southern Rhone region once passed a law forbidding "flying cigars" (the Gallic equivalent of flying saucers) from overflying the vineyards. Vin Gris de Cigare is its pink (if not gris) sibling, purportedly made in the style of the Rhone.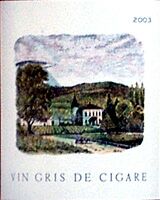 Bonny Doon 2003 Vin Gris de Cigare California Pink Wine ($10.99)
This is a clear, rosy-copper wine with a distinct tint of orange. Pleasant fresh-fruit aromas, strawberry and watermelon with a snap of citrus, lead into a crisp and juicy flavor that mirrors the nose, nearly dry if not bone-dry, and framed by zippy acidity. Nicely balanced, a fresh and appealing rosé. (May 5, 2005)
FOOD MATCH: Well-matched with a dinner salad with an Asian accent, shredded chicken and cucumbers tossed in a lightly spicy soy-wasabi dressing with a dash of vermouth.
VALUE: Appropriately priced in the lower teens.
WHEN TO DRINK: This year ... rosé isn't made for aging. In fact, choose the more recently released 2004 if you can find it in your market.
PRONUNCIATION:
Vin Gris = "Van Gree"
WEB LINK: Bonny Doon's rather wacky but appealing Website is here:
http://www.bonnydoonvineyard.com/
Click "Our Wines," then "Rhone Fandel" for information about its Rhone-style wines including Vin Gris de Cigare.
FIND THIS WINE ONLINE:
Look up Vin Gris de Cigare on Wine-Searcher.com:
http://www.wine-searcher.com/find/Vin%2bGris%2bCigare/-/-/USD/A?referring_site=WLP

Full contents of today's Wine Advisor
WineLoversPage.com