This article was published in The 30 Second Wine Advisor on Wednesday, May 4, 2005.
WT101 - Think pink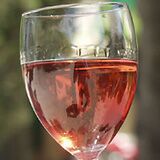 I couldn't resist taking a photo of this pretty pink wine before drinking it in a setting perfect for rosé: A sunny grove outside the winery at Mas de Gourgonnier in Provence.

As spring hurtles toward summer in the Northern Hemisphere while warm days linger in the South, there aren't many places in the world this month where the thought of a cooling, refreshing style of wine fails to appeal.

There could hardly be a better time for our Wine Tasting 101 forum to reprise the examination of rosé wines ... fresh, crisp and pink.

The purpose of WT101, you'll recall, is to encourage wine lovers to explore and learn about wine in association with peers, trying something different every month and encouraging each other to practice the art of writing down tasting reports by sharing our impressions in a civil online environment. We've found this process a powerful way to improve wine confidence and learn.

Looking over my own published record, pink wine is one category wherein I could use a little peer support myself: I want to love the stuff, but I seem to have a bad attitude about it. Just this past January, I wrote, "When I think about pink wines, if I think about them at all, it's generally with a somewhat dismissive attitude: Casual stuff, lightweight and lacking gravitas, best suited for casual quaffing on summer days when it's too steamy to think about anything red."

Of course rosé wine is made from red grapes. Sometimes - most notably in Champagne - red and white wines are blended together; but in the more common process, called blanc de noirs ("white from blacks"), red grapes are pressed to extract their juice, but then the grape skins (which impart the wine's color) are removed before they've had time to "bleed" more than a pale-pink tinge into the wine.

Rosé wines can vary dramatically in color, from the palest pink to copper or salmon to hues nearly as dark as lighter red wines. The French have almost as many words for it as the Eskimos purportedly use for snow, including a few that occasionally turn up in English winespeak: "vin gris" ("gray wine"), "oeil de perdrix" ("partridge eye") and "pelure d'oignon" ("onion skin").

With rare exceptions (perhaps fashioned for the American market), most French and other European rosés ("Rosato" in Italian and "Rosado" in Spanish) are bone-dry and acidic, crisp wines that go nicely with light summer fare ... Salade Niçoise is a classic. But the pink-wine category is further confused by the mostly American "blush" wine category, White Zinfandel and its cousins, which tend to be slightly to seriously sweet and low in acidity, a style that most wine enthusiasts shun but that's popular with those who want a smooth, sippable wine that's neither dry nor tart.

Fanciers of dry rosé, on the other hand, point out that blanc de noirs yields a light, fresh and fruity wine that's easy to slurp, with a beautiful color that further enhances the wine's appeal. Fair enough. This month I'm willing to give it a try.

It's easy to participate in WT101: Try a rosé wine - or several - then check in to the forum,
http://www.wineloverspage.com/forum/wt101.phtml
and join in the discussions. Feel free to select the rosé of your choice. I'm hoping that the Domaine Tempier 2004 Rosé from Bandol in Provence will be available in my market before the end of the month. Although it's pricey by pink-wine standards, often commanding $20 or more, it's widely regarded as one of the most imposing rosés. Mas de Gourgonnier is another favorite from Provence; and I'll also be looking for the noteworthy Charles Melton Rosé of Virginia from Australia and Bonny Doon Vin Gris de Cigare from California.

For today's tasting, let's start right in with a fresh (2004) rosé from the Languedoc, a pink wine that pushes the envelope with a forward, blowsy fruitiness that's almost over the top for my personal tastes, but with a crisp, lemony backbone that saves it from wannabe-blush status.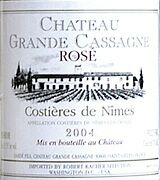 Chateau Grande Cassagne 2004 Costières de Nimes Rosé ($11.99)
Bright salmon pink with a hint of copper, this wine offers a good demonstration of the pretty colors of rosé. A blast of exuberant, forward mixed-berry fruit is impressive but almost bizarre for my tastes, so potent that it almost communicates an impression of artificial flavorings, with a distinct "bubble gum" character that reminds me of nothing so much as Kool-Aid or a Big Red soft drink. Really not my cuppa, but it's better on the palate, raspberry and strawberry and cherry, almost sweet on the first impression but with sufficient lemon-squirt acidity to dry it out in the long, berry-scented finish. With all that sweet fruit on a sturdy backbone, it might make a good "bridge" wine for a taster seeking to shift from "blush" wines to more serious rosé. U.S. importer: Robert Kacher Selections, Washington, D.C. (May 2, 2005)
FOOD MATCH: That in-your-face fruit was a little too candied to make an ideal match with ossobuco bianco. Better, I think, as an aperitif than a food wine.
VALUE: The Euro-dollar exchange has pushed this one past the $10 mark; I'd like it better for less.
WHEN TO DRINK: With rare exceptions - and this is not one of them - rose´ wine is best drunk up young and fresh. Enjoy it this summer, then wait for the 2005.
PRONUNCIATION:
Costières de Nīmes = "Cost-yair duh Neem"
FIND THIS WINE ONLINE:
Look up Chateau Grand Chassagne on Wine-Searcher.com:
http://www.wine-searcher.com/find/Grand%2bChassagne/-/-/USD/A?referring_site=WLP

Full contents of today's Wine Advisor
WineLoversPage.com