This article was published in The 30 Second Wine Advisor on Monday, May 2, 2005.
A visit with Jancis Robinson

JANCIS ROBINSON

Call me an Anglophile, but ever since I first became seriously interested in wine, I've favored the British wine writers over their American cousins. I learned Burgundy by reading Coates and Bordeaux from Broadbent, and in my earliest wine-shopping ventures, I rarely went out without Hugh Johnson's little pocket guide in hand.

Soon after that I discovered the work of a younger British wine scribe, Jancis Robinson, in the first U.S. publication of her hardcover book Vines, Grapes and Wines. What a concept! I was instantly smitten by its concept, organizing the world of wine in a grape-by-grape study of all the major varieties ... and quite a few minor ones. Not only did Ms. Robinson carry on her compatriots' tradition of literate, intelligent and graceful prose, but she brought an imaginative, outside-the-box approach to a genre that had been almost ritualistic in its form.

Naturally I bought all the rest of her books as they hit the market, even anticipating the American arrival of her 1989 Vintage Timecharts, an intriguing overview of wines based on their aging profiles over time in the cellar, by picking up a copy in the UK before it reached the colonies. More recently, her How to Taste, A Guide to Enjoying Wine and Jancis Robinson's Wine Course, rank among my top recommendations for introductory wine books; and her editorship of The Oxford Companion to Wine and her partnership with Johnson on The World Atlas of Wine makes these imposing reference books mandatory for any serious wine lover. And having inhaled all her books about wine, it's worth romping through her breezy autobiography, Tasting Pleasure: Confessions of a Wine Lover. She also writes regularly for the London Financial Times and frequently for other publications.

All this is by way of saying that Ms. Robinson's Website, www.JancisRobinson.com - which she says has now become her primary activity - is one of my favorite wine destinations, and one that I am long overdue in calling to your attention.

Robinson describes her site as "fine writing on fine wines," quietly highlighting a simple priority on writing that I quite frankly doubt would ever so much as occur to American wine scribes like Robert M. Parker Jr. or the crowd at Wine Spectator.

www.JancisRobinson.com is deep with content, and while Robinson has chosen to offer a good bit of it in a subscribe-for-pay section called Purple Pages, she is generous with the free prose as well, offering far more than mere "teasers" at no charge for the casual browser.

Free wine-tasting reports appear every Tuesday in Wines of the Week, for instance; they are worldwide in scope and often in the budget range (recent subjects include Muruve Roble 2003 Toro from Spain, Sonoma Creek Chardonnay 2001 Sonoma County from California, George, Ch Puygueraud 2004 Côtes de Francs from France and Casa Lapostolle Sauvignon Blanc 2004 Rapel from Chile, all affordable wines. Best of all, though, is her lively, conversational style. Consider this sample, regarding the Lapostolle, and you'll see that you're not in Wine Spectator country any more:
"Let me just tell you that the wine is closer to a really top class California Sauvignon Blanc than anything as grassy as a New Zealand Sauvignon or as mineral and severe as a Loire Sauvignon. I enjoyed its tropical fruit flavours and figgy richness that was beautifully balanced by fine, racy acidity. The wine is just bursting with fruit with just the merest hint of minerality on top of a canned grapefruit flavour – much, much more delicious than it may sound. It's easy to drink this without food. I know because I did it. But I could imagine it with fat, juicy prawns sautéed in garlic, or with spaghetti with chillies, garlic and oil."
But wait, as they say in late-night television advertising. There's more: Wine news, including links to all her Financial Times articles. Nick's Food News, featuring articles by Nick Landers, who she describes as her "saintly husband," who writes about food and dining for Financial Times and other publications. (One recent treat, Nick's discussion of Steak, Italian, pizza and ice cream in The Big Apple.) The Directory offers an admirable collection of links including recommended wine shops around the world and wine publications including, I am proud to say, WineLoversPage.com; you'll also find Travel Tips and much more in Robinson's free pages.
So with all this free stuff, why pay for the Purple Pages? Believe it or not, the real depth of content is found behind the cashier's window, where members receive an amazing wealth of Robinson's writing, including "exclusive news, observations and insider tips."
Under Inside Information you'll find near-daily exclusive reports to subscribers (recent topics have included "Musty alphabet soup - a guide to wine faults," "Some new high flyers in Chile," "The world according to ['flying winemaker' Michel] Rolland," "A bright star shines in Màlaga" and much more).
The Purple Prose section is reserved for reports that Jancis describes as "little things, the things I shouldn't say, or at least wouldn't dream of saying between hard covers or on the pink pages of The Financial Times."
Paid subscribers also have access to thousands of Robinson's Tasting Notes, a Fine Wine Reference section with her answers to many frequently asked wine questions, a Your Turn department where she answers readers' questions; and most remarkably, full online access to the online edition of The Oxford Companion to Wine.
All this is available for payment of a single annual fee (£69/$129/€99) or four quarterly installments (£19/$34/€29), providing a full year's access to everything published on Purple Pages since they began in 2001. For information or to subscribe, click to the Purple Pages subscription page,
http://www.jancisrobinson.com/subscribe
I should mention, by the way, that you're likely to see an article about WineLoversPage.com on JancisRobinson.com one day soon. There's nothing commercial about this arrangement. In a recent E-mail exchange, Jancis and I agreed to trade reviews just for fun, and in the spirit of mutual admiration. This was an easy call for me, as she's been a favorite for a long, long time. If you already know Jancis and her work, I know you'll want to bookmark http://www.jancisrobinson.com/ and give serious consideration to subscribing to Purple Pages. If she's new to you, take my word for this: You're in for a treat.
Robinson hinted that her review of WineLoversPage.com, among other things, will discuss our custom of seeking out those wine bargains that offer upscale drinking without paying a luxury price, so let's honor that tradition today with a report on an unusually low-end wine from Cavit, one of the largest Italian producers. Cavit (Cantina Viticoltori Trento) gets its grapes from more than 5,000 growers in 14 production facilities, making fully 70 percent of all the wine produced in Northeastern Italy's Trentino.
Although Cavit may have a reputation among wine "geeks" as a mass-market producer, its representation by Palm Bay Imports - which won my praise in last Wednesday's column as one of my trusted importers - led me to overcome my instinctive antipathy to "industrial" wine makers long enough to give this modest Pinot Noir from delle Venezie (Veneto and Friuli-Venezia Giulia) a fair try. Verdict: Not bad! It may not pass for Burgundy, but it's clean and fresh, snappy and drinkable, with at least a touch of Pinot Noir character for a very low-end price.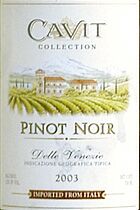 Cavit 2003 Pinot Noir delle Venezie ($7.99)
This clear, dark-garnet wine offers simple but clean and fresh Pinot aromas and flavors that focus on black cherries and cranberries, light on the palate with a pleasant touch of spice and a fresh, snappy and crisp acidic backbone. It's a simple wine, but clean and well-made, a good companion with food. U.S. importer: Palm Bay Imports, Boca Raton, Fla. (April 30, 2005)
FOOD MATCH: It went very well indeed with a pair of lasagnas, one vegetarian and the other for meat-eaters; its approachable, smooth texture and crisp acidity also serve it well as an aperitif.
VALUE: You can't expect a wine for the ages at a single-digit price tag, but it stands well above the competition.
WHEN TO DRINK: Probably best over the next year or so.
PRONUNCIATION:
Cavit = "Cah-veet"
Delle Venezie = "Deh-leh Veh-NET-see-eh"
WEB LINK
Here's a link to Cavit's tech sheet on its Pinot Noir delle Venezie:
http://www.palmbayimports.com/xq/asp/VID.181/WID.416/qx/products.html
FIND THIS WINE ONLINE:
Find prices and vendors for Cavit Pinot Noir on Wine-Searcher.com:
http://www.wine-searcher.com/find/Cavit%2bPinot/-/-/USD/A?referring_site=WLP

Full contents of today's Wine Advisor
WineLoversPage.com