This article was published in The 30 Second Wine Advisor on Friday, April 29, 2005.
Friday Mix

Our monthlong feature on Argentine wines in Wine Tasting 101 has been a great success, thanks in large measure to guest host Fernando Losada and the "Three Musketeers" crew of volunteers who keep this online forum hopping. With thanks to them all, and to all of you who've participated, let's begin today's T.G.I.F. edition with a quick look at a modest Argentine red.

Tango 2001 Mendoza Syrah, made by Viñedos Tawert, a producer whose name is not yet a household word, proved to be a ripe and hearty red, made in a crowd-pleasing style that I found oddly reminiscent of a mass-market Australian Shiraz. But good acidity and intriguing back notes of tannins and minerality added a dimension that cheap Shiraz can rarely match. Full tasting notes are below.

Meanwhile, I did indeed receive the flood of comments that I had expected in the wake of Wednesday's personaly galery of importers whose wines have impressed me. Quite a few of you pointed out specific importers who really deserve attention, so here is a supplemental list featuring a few more good ones, listed alphabetically. If you're saving Wednesday's list for reference, I suggest you paste on this addendum.
Empson (USA) Inc., Alexandria, Va. Italian wines.
European Cellars Direct, NYC (Eric Solomon). Mostly small European producers.
Jorge Ordoñez (Spain). Represented by various regional importers.
Louis/Dressner, NYC. Mostly French, highly idiosyncratic, many organic or biodynamic. Small company, available only in limited markets.
Old Bridge Cellars, Napa, Calif. Australian wines.
Stacole Co., Boca Raton, Fla. Italian wines.
Vin DiVino, Chicago. Italian wines.
And a few more with minor reservations, as noted:
Frederick Wildman & Sons, NYC. European wines. Large importer, some mass-market labels, but Wildman's portfolio includes many winners.
Grateful Palate, Oxnard, Calif. The name in Australian imports, but its overall profile seems geared toward highly Parker-rated blockbusters. Look for lower-end items from less familiar producers and regions and you can do very well.
Hand Picked Selections, Warrenton, Va. Mostly artisanal producers, many from Southern France. A few very good (Chateau Lancyre and Chateau du Donjon from Languedoc and Domaine de Montagnette from the Rhone, for instance) but others seem like the leftovers after other importers finished harvested the low-hanging fruit.
Robert Kacher, Washington, D.C. International, emphasis on France. Can rank with the best but requires cherry-picking, with some lackluster items at the lower end.
Winebow Inc., NYC (Leonardo Locascio). Another large importer with a broad portfolio that includes some mass-market items, but Locascio's name on an Italian selection almost always makes it worth a look.
I also appreciate the many notes from readers who told me about regional importers unavailable to me in my market. I'm keeping that list privately for future reference if I run across their wines, but I would rather wait until I have first-hand experience before listing them. Keep your suggestions coming, and I would particularly enjoy hearing from readers in other countries about top importers in your part of the world.
Finally, I learned today that a long-time favorite importer, Kermit Lynch of Berkeley, Calif., has very belatedly embraced the Internet with a new Website. On first reading, it looks like a good one, with lots of information including downloadable copies of his readable and interesting newsletters (Adobe Acrobat/PDF format), and where-to-find-it information including details on shipping to "reciprocal" states where the law allows. Now online, Kermit Lynch:
http://kermitlynch.com/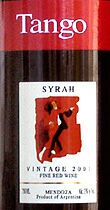 Tawert 2001 "Tango" Mendoza Syrah ($11)
This is a very dark reddish-purple wine, with forward aromas of ripe black plums backed by hints of anise and menthol. Forward fruit flavors focus on plums and black cherries with a tart nuance of red appleskin; tangy, lemony acidity is sufficient for balance, with a bit of tannic astringency and an intriguing hint of earth in the finish. Its ripe and seemingly simple fruitiness makes it reminiscent of a mass-market Aussie Shiraz at first, but acid balance and that touch of earthy minerality add sufficient interest to kick it a notch above that niche. U.S. importer: 1820 Imports Inc., Fort Worth, Texas. (April 28, 2005)
FOOD MATCH: This robust red would make a natural pairing with grilled beef. It worked fine with an Italian-style invention of crumbled sausage cooked with eggplant, zucchini, fresh tomatoes, garlic and onions over farfalle.
VALUE: Balance and hints of complexity raise it above the mass market and justify this low-teens price. It's available in some markets for under $10.
WHEN TO DRINK: No rush to finish it up, but I wouldn't recommend long-term cellaring.
WEB LINK
You'll find a site promoting Tango Argentine wines at
http://www.tangovino.com
FIND THIS WINE ONLINE:
The importer invites E-mail to info@tangovino.com for information about retail locations. For online vendors, query Wine-Searcher.com:
http://www.wine-searcher.com/find/Tango/-/-/USD/A?referring_site=WLP

Full contents of today's Wine Advisor
WineLoversPage.com