This article was published in The 30 Second Wine Advisor on Wednesday, April 27, 2005.
The importance of the importer

When we learn to read wine labels, we begin with the basics: Check for the winery or producer, the country or region, the vintage and, if it's not assumed from the geographical information given, the grape varieties used. Oh, yeah, and ... try not to be influenced by the pretty picture or any laudatory public-relations prose.

All this is good advice, and if you're still in that part of the learning process, you might enjoy a visit to our brief, illustrated Wine Label Decoder at http://www.wineloverspage.com/wines/labels.shtml .

But today let's talk about an important line on the wine label that's harder to find, as it's usually presented in microscopically small print, way down at the bottom of the front label or buried in a pile of technical data, legal warnings and other prose on the bottle's backside.

I'm talking about the line that identifies the importer, the hard-working individual or company that located the wine, negotiated a deal with the producer, and went through the legal red tape and paperwork required to bring it back to your country for distribution and sale. (Never a trivial task, this has become even more complicated for U.S. consumers in the post-9/11 era, when influential pressure groups have pushed for new regulations in the name of anti-terrorism that just happen to make it more difficult than ever for small overseas producers and importers to get their wines to consumers. But that's another story, for another day.)

Knowing where the wine came from, who made it, and what it's made of is all important information. But for me, if the wine is unfamiliar, then checking the importer's name will often sway the "buy" or "don't-buy" decision. Just like any merchant, an importer who's earned my trust will often make the sale on the basis of his name alone; one who's earned my disdain through lackluster product (or worse) will have a tough time roping me in for another try.

Today's featured wine, a delicious obscurity from Colli di Luni, a relatively little-known region of coastal Northwestern Italy, is an offering from John Given, a New York-based importer who's earned my strong trust with a narrow focus on just that sort of thing: All Italian, all the time, cherry-picking a few very good producers who've escaped the attention of larger importers. He's never failed me yet.

Let's wrap up today's sermon with a short, idiosyncratic list of U.S. importers who consistently make my "good guys" list. If their products are available to you, they deserve a second look. Listed alphabetically:
Ex Cellars Wine Agencies Inc., Solvang, Cailf. (France)
John Given, Manhasset, N.Y. (Italian wines)
Kermit Lynch, Berkeley, Calif. (Mostly European, predominantly French)
Kysela Pere & Fils, Winchester, Va. (European)
Laurel Glen, Santa Rosa, Calif. (Argentina and Chile)
Michael Skurnik Wines, Syosset, N.Y. (International; watch particularly for Terry Theise selections from Germany, Austria and Champagne)
Palm Bay Imports, Boca Raton, Fla. (International, many French and Italian)
Robert Whale Selections, Washington, D.C. (Australia)
VIAS Imports Ltd., NYC (Italian)
Vineyard Brands, Birmingham, Ala. (France, South Africa)
Vintner Select, Cincinnati (International, many French and Italian)
Weygandt-Metzler, Unionville, Pa. (European)
William Grant & Sons, NYC (France, Port)
Wines of France Inc., Mountainside, N.J. (France)
Please note that this list is only a sample, not an unabridged directory. I'm sure I've overlooked some favorites; moreover, not all of these companies are represented in every state, and - regretfully - these names will be of little or no use to our many readers in other countries. I'd love to hear your suggestions, though, wherever you live. If you have a favorite importer, or several, that you'd like to tell me about, please send me E-mail at wine@wineloverspage.com, or better yet, post your comment on our Wine Lovers' Discussion Group.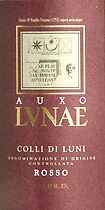 Auxo Lunae 2001 Colli di Luni Rosso ($18.99)
Inky dark-garnet, black at the core, this is a Chianti-like blend of Sangiovese (70%), Canaiolo (15%) and the regional Ciliegiolo grape (15%) from the undeservedly obscure region Colli di Luni, an appellation that crosses the border between Tuscany and Liguria near the Italian Riviera town of La Spezia. Plums and black cherries mingle in an attractive fruit-and-spice aroma that adds intriguing notes of gunflint and smoke. Ripe and juicy fruit flavors center on tart cherries, with earthy and spice notes that follow the nose. Firm tannins are present, but they're secondary to the fresh, zippy fruit. U.S. importer: John Given Wines Co., Manhasset, N.Y. (April 24, 2005)
FOOD MATCH: The simple flavors of a roast free-range chicken made a perfect backdrop for this crisp, fruity red.
VALUE: Its upper-teens price pushes the edge of "everyday" drinking for most of us, but in fairness, it's more than competitive for a wine of this quality in the age of the puny dollar.
WHEN TO DRINK: Tannins, fruit and balance suggest some aging potential, but all its components come together so nicely now that it would be a shame to hold it until the fruit has fled. I'd drink it up over the next year or so.
PRONUNCIATION:
Colli di Luni = "Coe-lee dee Loo-nee"
WEB LINK
John Given's Website offers detailed information about the importer and his portfolio. To go directly to the Auxo Lunae page, click
http://www.jgwines.com/Factsheets/lunaeAUXO01.html
FIND THIS WINE ONLINE:
Find prices and vendors for Colli di Luni on Wine-Searcher.com:
http://www.wine-searcher.com/find/Colli%2bLuni/-/-/USD/A?referring_site=WLP

Full contents of today's Wine Advisor
WineLoversPage.com