This article was published in The 30 Second Wine Advisor on Monday, April 25, 2005.
Chill, man ... but how much?

Observe the "wine ritual" in a fine restaurant, and if white wine or bubbly is being served, chances are you'll see a fancy ice bucket being called into play. This tall, cylindrical vessel, fashioned of glass, pottery or even shiny silver, is large enough to immerse an upright bottle - or several - in close contact with water and ice. If you need to chill your wine, this near-32F (0C) solution will make it ice cold in a hurry.

But ... are you sure you want to do that? Although the conventional wisdom holds that white wines - as well as pink wines and bubblies - should be served cold, the exact degree of chill can make a big difference in your enjoyment and perception of the wine.

Most people agree that whites seem more refreshing if they'd served cold. But near-freezing temperatures essentially stun the taste buds, and I find it difficult to pick up much nuance or subtlety in the taste of wine or anything else served with an icy chill. If the wine is good, I suggest trying it with a light chill, not a deep freeze. I think you'll find that you get a lot more out of its aroma and its flavor if you try it at approximately "cellar temperature," around 55F or 13C.

Precision is not important - you needn't carry around a pocket thermometer to discern whether your wine, like Baby Bear's porridge, is just right. But try this simple experiment, the next time you're enjoying a quality white: Serve it directly from the cellar, if you have one, or if you're keeping your wine in the fridge; take it out a half-hour or 45 minutes before it's ready to serve. Taste it over a period of time as it warms in the glass, and see what you think. And if you're dining out, I suggest that you take the bottle out of the ice bucket and put it on the table, perhaps keeping the bucket handy so you can stick it back in if you decide it's getting too warm.

Today's wine, a favorite Southern Italian white variety from Feudi San Gregorio, a producer I particularly like, is a sterling example: Straight out of the fridge, it came across as a decent, straightforward white, with good fruit and high acidity to make it a good food companion. But as it warmed in the glass, it seemed to blossom like a rose, taking on a rich, creamy texture and complex layers of aroma and flavor that were much more difficult to discern when the wine was cold.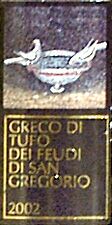 Feudi San Gregorio 2002 Greco di Tufo ($12.99)
This is a clear, light-gold wine with brighter glints of gold against the light. Honey and almonds, the attractive "oxidative" scent that often attends Southern Italian whites, are displayed against a blackdrop of subtle wildflowers and clean white fruit. Full-bodied, almost creamy in texture, the wine fairly coats the tongue with luscious white fruit, flavors reminiscent of clover honey but bone-dry, with steely acidity to provide structure and balance. A very fine wine that shows its ripe texture best when it's not served overly cold. U.S. importer: Palm Bay Imports, Boca Raton, Fla. (April 5, 2005)
FOOD MATCH: A natural partner with a veal dish from the other end of Italy, ossobuco bianco scented with garlic, parsley and lemon peel. Fine with just about any veal or heartier seafood dish.
VALUE: Head and shoulders above the competition in the lower teens, but I got an exceptional buy for once. This wine often sells in the upper teens to $20 range, at which point it's still fairly priced for its quality but not so much of a bargain.
WHEN TO DRINK: Meant for enjoyment while it's young and fresh, but its body and structure should hold it for at least a year on a wine rack in a cool place, or a couple of years in a temperature-controlled cellar.
PRONUNCIATION:
Greco di Tufo = "Greh-coe dee Too-foe"
WEB LINK
The Feudi San Gregorio Website,
http://www.feudi.it/
offers a choice of Flash or non-Flash pages in Italian or English. To go directly to the non-Flash English home page, click:
http://www.feudi.it/eng/noflash.asp
FIND THIS WINE ONLINE:
Find prices and vendors for Feudi San Gregorio Greco di Tufo on Wine-Searcher.com:
http://www.wine-searcher.com/find/Feudi%2bSan%2bGregorio%2bGreco/-/-/USD/A?referring_site=WLP

Full contents of today's Wine Advisor
WineLoversPage.com