This article was published in The 30 Second Wine Advisor on Wednesday, April 20, 2005.
Vouvray vs. 2003

Over the past few months, as more and more wines from the torrid vintage of 2003 in France are reaching retail shelves, a consistent pattern seems to be emerging in my tasting reports: They're most often bold, ripe and full, luscious and "plushy" wines that, by and large, are easy-drinking and amiable.

Is this a good thing? That depends. It depends on the region, and it also depends on what you want in a wine.

In the regions where ripeness can be a virtue - the hearty reds of the Languedoc, Provence and the Southern Rhône, for example - many of the wines of the vintage that I've tasted to date are bold, full and fruity and downright enjoyable, with ample acidity to hold up the fruit. The same's true of Beaujolais, which is producing some slurpy quaffers, although traditionalists might quibble.

But in regions with a long-standing reputation for wines of complexity and balance - Burgundy, for instance, and Bordeaux, where a certain austerity is considered desirable - the 2003s are starting to look a bit bizarre. Those who like Pinot Noir in the style of the California Central Coast, with high alcohol, ripe fruit and low acidity, a wine that pushes the boundary between Pinot and Shiraz, might find the 2003s to their liking. But many Burgundy-philes would question whether it's typical, and whether it will last.

And then there's the Loire. How did sunny 2003 treat this region whose wines are most admired for steely acid and stony minerality? Not all that well, to my tastes. Today's featured wine, Champalou 2003 Vouvray Sec, made by a respected producer and brought to the U.S. by a noteworthy importer, Kermit Lynch, might be a crowd-pleaser with its rich texture, abundant fruit and pleasant complexity. But all that ripe fruit, light sweetness and, by Loire standards, rather low acidity make for a wine more Californian than French. It's not a bad wine by any stretch, but as a traditionalist in this region, I think I'll wait for the 2004s.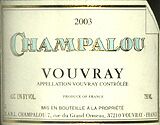 Champalou 2003 Vouvray Sec ($15.99)
Very pale straw color with a greenish hue. White fruit aromas are enhanced by subtle notes of wildflowers and a distinct note of damp wool. Luscious, full, almost unctuous on the palate, forward mixed-fruit flavors evoke very ripe peaches, green figs, even a hint of banana; there's a distinct impression of sweetness on first tasting despite the wine's purported "sec" (dry) status. There's some acidity behind it all, drying it out a bit as the wine crosses the palate, but that rich, oily texture and residual sweetness create a soft, fat impression that's pleasant enough if you enjoy the California take on Chenin Blanc but that misses the style mark for Vouvray. U.S. importer: Kermit Lynch Wine Merchant, Berkeley, Calif. (April 19, 2005)
FOOD MATCH: Thai-accented "burgers" made from coarsely diced fresh tuna steak and scallops make an intriguing companion. (See tomorrow's Wine Advisor FoodLetter for the recipe.)
VALUE: Between its atypical style and a price pushed up by the strong Euro, it's not strongly competitive at this price point.
WHEN TO DRINK: Chenin Blanc in general and Vouvray in particular are among the most ageworthy whites, but this particular item's flab and lack of acidity call it into question for long-term cellaring; still, it might be worth trying a couple of years of cellar time to see if it comes into better balance.
PRONUNCIATION:
Champalou = "Shahm-pah-loo"
Vouvray = "Voo-vray"
FIND THIS WINE ONLINE:
Find the wines of Champalou on Wine-Searcher.com:
http://www.wine-searcher.com/find/Champalou/-/-/USD/A?referring_site=WLP

Full contents of today's Wine Advisor
WineLoversPage.com