This article was published in The 30 Second Wine Advisor on Friday, April 15, 2005.
A 2003 that came out right

Over the past several months, we've been tasting with interest as the wines from the scorching summer of 2003 in Europe have turned up with increasing frequence on retail shelves.

Some of them I've viewed with alarm, such as '03 Burgundies with the jammy, smoky meatiness of California Syrah; others have gone down more pleasurably, like a recently reported '03 Beaujolais that pushed that region's bowl-of-fruit character to its slurpy extreme.

I think the torrid season did well by today's featured wine, a 2003 red Rhône - officially a Vin de Pays de Vaucluse, or country wine from Vaucluse, the broad region around Avignon where the Southern Rhône meets Provence. Made by the Brunier family, whose flagship wine is the excellent Vieux-Télégraphe Chateauneuf-du-Pape, this simpler wine is made from similar varieties - its luscious raspberry scent almost certainly signals the presence of the Grenache that makes up about two-thirds of its bigger brother's blend.

Ready for drinking right now, the ripe, luscious fruit of Le Pigeoulet en Provence 2003 Vin de Pays de Vaucluse is seductive, but crisp, lemony acidity saves it from mere "fruit bomb" status with balance and structure that you might expect of a more upscale wine. Particularly given the current strength of the Euro, it's a real bargain at this price point in the lower teens.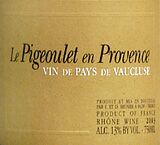 Le Pigeoulet en Provence 2003 Vin de Pays de Vaucluse ($11.99)
This is a clear, dark reddish-purple wine, black at the center. Fresh and bright aromas are fruit-forward and clean, raspberries and black plums, with a slightly "vinous" back note of alcohol. Ripe and juicy fruit flavors follow the nose, properly balanced with lemon-squirt acidity and just a wisp of drying tannins in a long finish. Excellent balance, not much in the way of complexity, but for this low-teens price in the age of the strong Euro, who's complaining? U.S. importer: Kermit Lynch Wine Merchant, Berkeley, Calif. (April 13, 2005)
FOOD MATCH: Fine with red meats, roast poultry or robust cheeses; it went well also with a vegetarian match, a thick pesto of walnuts, Sicilian green olives and feta cheese over linguine.
VALUE: As noted, it's unusual to find a European import of this quality in the age of the powerful Euro and the puny dollar. Worth buying by the case if you like to keep a "house" wine around for regular enjoyment.
WHEN TO DRINK: Best over the next couple of years while its fruit is exuberantly fresh, but with its good balance and structure, I wouldn't get against it holding up in the cellar for five years or more.
PRONUNCIATION:
Vaucluse = "Voh-clooz"
WEB LINK
Although it contains no information on Pigeoulet, only its Chateauneuf-du-Pape and Gigondas properties, you might enjoy a visit to the Domaines Brunier (Vieux-Telegraphe) Website. It's available in French and English, but Flash is required and a high-speed connection is recommended:
http://www.vignoblesbrunier.fr/
FIND THIS WINE ONLINE:
Locate vendors for Pigeoulet on Wine-Searcher.com:
http://www.wine-searcher.com/find/Pigeoulet/-/-/USD/A?referring_site=WLP

Full contents of today's Wine Advisor
WineLoversPage.com