This article was published in The 30 Second Wine Advisor on Wednesday, April 13, 2005.
Even cheaper Pinot Noir

After Monday's dissertation about a couple of decent California Pinot Noirs in the $10 range, an obvious follow-up question occurs: How low can we go? Is it possible for a thrifty novice, emerging from a showing of Sideways with a thirst for Pinot but a tightwad's sensibility, to get even a clue about the glories of this grape for an even smaller investment?

Well, sort of.

As we drop well into the single-digit price category, we approach dangerously close to the market niche nicknamed "fighting varietals," in which there's a bewildering variety of mass-market wines made by industrial producers from lackluster fruit, wines that may be perfectly drinkable but that don't inspire much enthusiasm among wine "geeks" like the Paul Giamatti character Miles in the wine-country film.

But there's an exception to almost every rule, and today's featured wine is a pretty good exception, if not a great one. It's Pepperwood Grove 2003 California Pinot Noir, a label that has achieved an excellent reputation for simple but decent California varietal wines at bargain-basement prices.

Pepperwood Grove, along with other popular if somewhat more wacky labels like Smoking Loon and the "Three Loose Screws" line of screwcapped wines, Fusée, Mia's Playground and, um, Screw Kappa Napa, is the work of Don Sebastiani, a one-time California state assemblyman who resigned a few years ago as third-generation head of the gigantic winery that bears his family name.

As I reported in a 2002 report on Smoking Loon, Don Sebastiani once earned a footnote in California wine history for a marketing ploy of exceptional chutzpah, seeking federal label approval for a wine called "Domaine Chardonnay" - that contained no Chardonnay.

Sebastiani, who had been chairman and chief executive officer of Sebastiani (after an ugly family fight that saw his older brother Sam departing to start his own winery, Viansa), resigned that post in 2001 when Sebastiani shifted its focus to small-production, premium-level wines and sold its huge jug-wine operation to wine-giant Constellation.

Don Sebastiani, who launched Pepperwood Grove and Smoking Loon in a partnership with his brother-in-law, Roy Cecchetti, is now in business with his sons Donny and August, making and bottling wine from purchased grapes.

"We buy fruit on the spot market, we have contracts from what goes into the ground all the way to production, we buy lots of wine and blend together our own cuvées," Don told Wine Enthusiast magazine in an article about the Sebastiani family last August. "We just don't own any assets."

To view that article, click
http://www.winemag.com/issues/aug04/first_fam.htm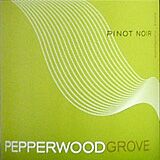 Pepperwood Grove 2003 California Pinot Noir ($6.79)
This is a clear, garnet-color wine, dark but not opaque. Good perfumed red-fruit aromas are accented with a dash of oaky spice and a whiff of smoke. Juicy, fresh red-berry fruit flavors are appealing if not overly complex; slightly sweet on the first impression, with good acidity shaping a dry, cherries-and-spice finish. A simple quaff, easy and crowd-pleasing, but yes, it's Pinot, and at this price one heck of a bargain. (April 12, 2005)
FOOD MATCH: It should make an amiable companion with a wide range of meat, poultry or cheese dishes from roast beef to fried chicken. It was fine with a simple dinner of prosciutto-wrapped chicken breasts with Gruyere and a touch of Dijon.
VALUE: At the low-end price I paid, it's an easy choice; but check local prices, as I've seen it selling as high as $10, at which point it's not as clearly competitive.
WHEN TO DRINK: At this price it would be easy enough to cellar a bottle or two just to see what happens, but common sense and the conventional wisdom (not to mention a foam-style white synthetic cork not meant for long-term storage) would suggest drinking it up while it's young and fresh.
PRONUNCIATION:
Pinot Noir = "Pee-noe Nwahr"
WEB LINK
The Don Sebastiani & Sons Website is a high-tech operation requiring Flash. To find Pepperwood Grove, click to the main site,
http://www.donandsons.com/
then work your way down through the links to "The Family Division" to "Pepperwood Grove," where you'll find information and additional links for more.
FIND THIS WINE ONLINE:
Find vendors and compare prices for Pepperwood Grove wines on Wine-Searcher.com:
http://www.wine-searcher.com/find/Pepperwood%2bGrove/-/-/USD/A?referring_site=WLP

Full contents of today's Wine Advisor
WineLoversPage.com