This article was published in The 30 Second Wine Advisor on Monday, April 11, 2005.
Affordable Pinot Noir

Last month, remarking on the booming market for Pinot Noir driven by the wine-geek movie Sideways, I sermonized on the near insurmountable challenge involved in trying to find Pinot that's good, affordable and cheap, particularly if you require - as any good wine enthusiast should - that it display at least a reasonable amount of varietal character, the aroma and flavor elements that a taster familiar with the grape will recognize as Pinot.

As I wrote then, it's more difficult to find passable Pinot Noir in the $10 range than it is to come up with good examples of, say, Chardonnay or Syrah at that price point, not least because quality Pinot is difficult to grow and challenging to the wine maker.

Note, however, that I didn't say it was impossible to find a decent affordable Pinot. I cited a few good examples in that article, the March 9, 2005 Wine Advisor. Today, let's sample two more, with my reports on recent tastings of Fetzer 2003 "Five Rivers" Central Coast Santa Barbara County Pinot Noir ($9.39), a lightweight but varietally accurate Pinot made from grapes grown in Sideways country, and Cartlidge & Browne 2003 California Pinot Noir ($11.99), a particularly ripe and fruity Pinot of exceptional value and style, made from grapes grown across a range of California vineyards.
Cartlidge & Browne 2003 California Pinot Noir ($11.99)
Very dark reddish-purple, black at the center, very dense and dark for a Pinot. Fresh, appealing aromas loft from the glass, ripe black cherries accented with a dash of subtle spice. Fresh and juicy fruit flavors fulfill the nose's promise, tart black plums laced up by zippy acidity. It's not what you'd call "Burgundian," but good forward fruit and proper acidic balance, in a wine that accurately reflects the grape's California style, all add up to an exceptional lower-price Pinot. (April 7, 2005)
FOOD MATCH: Pork or poultry in bold-flavored preparations serve it well; it was fine with a quick dish of shredded chicken in a light, not-too-fiery chipotle cream sauce over penne pasta.
VALUE: It wouldn't surprise me to pay $20 or more for a New World Pinot Noir of this quality. Worth shopping, as it's widely available for well under $10, at which point it's a no-brainer.
WHEN TO DRINK: Delicious now, might gain complexity with a few years' maturing in a proper wine cellar.
PRONUNCIATION:
Pinot Noir = "Pee-noe Nwahr"
WEB LINK
Cartlidge & Browne's Website -
http://www.cartlidgebrowne.com/
- offers a fact sheet about its 2003 Pinot Noir in Adobe Acrobat (PDF) format here:
http://www.cartlidgebrowne.com/notes/C&B%20Pinot%2003%20Note.pdf
FIND THIS WINE ONLINE:
Find vendors and compare prices for Terra Rosa wines on Wine-Searcher.com:
http://www.wine-searcher.com/find/Cartlidge%2bBrowne%2bPinot/-/-/USD/A?referring_site=WLP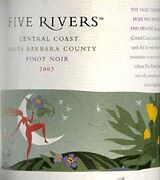 Five Rivers 2003 Central Coast Santa Barbara County Pinot Noir ($9.39)
Clear garnet in color, not too dark, this Pinot from Sideways country offers typical Central Coast Pinot aromas of red-berry fruit with distinct notes of cherry cola and brown spice. Crisp and tart flavors mirror the nose in a flavor that's varietally correct but seems lightweight on the palate. Still, it challenges the conventional wisdom that Pinot character can't be found for less than $10. (March 22, 2005)
FOOD MATCH: As good a choice as any to wash down an anchovy-topped pizza.
VALUE: No complaints at this single-digit price. It may pay to shop around, as I've seen it advertised by online vendors as high as $12.99 on Wine.com, at which price it's an iffy value.
WHEN TO DRINK: Pinot can surprise you in the cellar, but I wouldn't count on this simple wine as a long-term ager.
WEB LINK
Once you get past the silly, presumably lawyer-driven entry page query that seeks to limit reading about wine to those old enough to drink it legally, Fetzer's Website is well-designed and informative, with extra points for Chef John Ash's extensive food-and-wine-pairing recommendations keyed to each wine. For information on Five Rivers Pinot Noir, click
http://www.fetzer.com/fetzer/wines/winedetail.aspx?type=main&id=33
FIND THIS WINE ONLINE:
Fetzer's wines are widely available throughout the U.S. and abroad and are sold through the winery Website to consumers where the law allows. Find vendors and compare prices on Wine-Searcher.com:
http://www.wine-searcher.com/find/Fetzer%2bFive%2bRivers/-/-/USD/A?referring_site=WLP

Full contents of today's Wine Advisor
WineLoversPage.com