This article was published in The 30 Second Wine Advisor on Wednesday, April 6, 2005.
Falanghina

When I recently came up with a random list of 10 offbeat wine-grape varieties that I rated as particularly meritorious, I knew it wouldn't be long before an eleventh strong competitor poked up its head. There are just too many really interesting grapes in the broad range between the "noble classics" and the hundreds of "also-rans" for a list of only 10 to withstand close scrutiny.

Sure enough, the fine Italian white that I opened with dinner tonight deserves a place on anyone's top-grape roster. And it's no coincidence that it comes from Southern Italy, a region long known for its lusty, rustic reds but that I'm increasingly coming to recognize as the source of full-bodied, full-flavored complex whites that merit broader recognition.

This one is Falanghina, a historic grape from Campania, the region that includes Naples. It joins its neighbors (and perhaps cousins) Fiano di Avellino and Greco di Tufo in my short list of Southern Italian whites of real personality and interest. I caught a glimpse of it at the Wine Century Club dinner where I gave the subject talk, when a bottling from the producer Ocone was served with dinner. Today's featured wine comes from the respected producer Feudi San Gregorio, whose Fiano I reported in these pages last Sept. 29.

The appellation of this wine is a bit unfamiliar even to many Italian-wine fanatics: Sannio is a hilly region of Campania, north of Naples, with a wine-growing history so ancient that it was favorably mentioned - as Samnium in Latin - in the works of Pliny, Cato and Horace. Some authorities, including Jancis Robinson, say the Falanghina of Samnium may have been the grape used in Falernum, one of the most highly regarded wines of the Roman Empire. Sannio wines may be labeled with both the name of the region and the grape variety: Aglianico, Coda di Volpe, Fiano, Greco, Moscato, Piedirosso, Sciascinoso and, of course, Falanghina.

A full-bodied, well-structured and complex wine that affords us a glimpse of the glory that was Rome? This one's well worth adding to your list of wines to watch out for.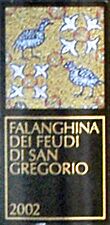 Feudi San Gregorio 2002 Falanghina Sannio ($15.99)
This is a clear gold wine, transparent but bright in hue, with appealing aromas of apples and pears over subtle back notes of almonds and a whiff of wool. Full-bodied but crisply acidic, it's a nicely textured wine with bold white-fruit flavors shaped by a citric snap, fresh fruit and intriguing minerality lasting in a very long finish. There's real personality here in a well-balanced table wine. U.S. importer: Palm Bay Imports, Boca Raton, Fla. (April 5, 2005)
FOOD MATCH: Its richness suggests poultry or pork; it went very well with an Italian-style dish of chicken pieces braised with fresh herbs and butter and finished with orzo pasta.
VALUE: The rising Euro continues taking its toll against the dollar, but it's hard to object to a mid-teens price for a wine of this quality.
WHEN TO DRINK: Ready to drink, although its body and structure suggest that it will stay in good shape, and perhaps evolve into additional complexity, over several years of careful cellaring.
PRONUNCIATION:
Falanghina = "FA-lan-GHEE-nah," with a hard "g" as in "geek."
WEB LINK
The Feudi San Gregorio Website,
http://www.feudi.it/
offers a choice of Flash or non-Flash pages in Italian or English. To go directly to the non-Flash English home page, click:
http://www.feudi.it/eng/noflash.asp
FIND THIS WINE ONLINE:
Find prices and vendors for Feudi San Gregorio Falanghina on Wine-Searcher.com:
http://www.wine-searcher.com/find/Feudi%2bSan%2bGregorio%2bFalanghina/-/-/USD/A?referring_site=WLP

Full contents of today's Wine Advisor
WineLoversPage.com