This article was published in The 30 Second Wine Advisor on Friday, April 1, 2005.
Two Italian whites

It's Friday, it's spring, baseball season is back, and nobody wants to work this afternoon. Let's cut right to the chase today, with quick tasting reports on a couple of recently tasted Italian white wines.

Both wines are dry and crisp, with snappy citric acidity that makes them natural-born companions with a range of seafood and fish. Coming from opposite ends of Italy, they both offer a taste of "interesting" regional grapes that provide a break from the more familiar varieties.

And, in spite of the continued strength of the Euro against the dollar that's forcing up U.S. prices for imports, both still offer decent value for the money. Doubly so if you're reading this in a place where your local currency isn't taking a Euro-hammering.

Quickly told, today's first wine is another of those with a short, attention-grabbing front-label name - "Pino & Toi" from Maculan - with the particulars in fine print on the bottle's back side. (It's a Veneto Bianco IGT, a blend of the local Tocai Friulano with Pinot Grigio and Pinot Bianco.) The other wine of the day is a Vermentino, a white grape that hails from offshore Sardinia and also from Liguria, the Italian Riviera.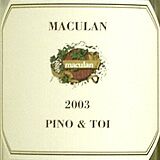 Maculan 2003 "Pino & Toi" Veneto Bianco ($12.49)
A blend of the regional Tocai (60%) with Pinot Bianco (25%) and Pinot Grigio (15%), this wine from Northeastern Italy shows a clear straw color in the glass. Light white-fruit aromas add a whiff of almond. Bone-dry and crisp, lemony acidity gives structure, and a distinct bitter-almond note adds a touch of flavor interest in the finish. It's on the simple side, but clean and fresh, and its tangy citric snap makes it a natural with seafood. U.S. importer: Winebow Inc., NYC, a Leonardo Locascio Selection. (March 17, 2005)
FOOD MATCH: A natural match with linguine with white clam sauce.
VALUE: It's up 25 percent from the $10 tag on the 1999 vintage, but in fairness, the Euro is up 60 percent against the dollar. Not a bad buy at current rates, but it fits best as an under-$10 wine, and is still selling in that range at some vendors.
WHEN TO DRINK: Freshness is a virtue. Drink it this year, then move on to the 2004 when it comes in.
WEB LINK
The U.S. importer has a fact sheet on Pino & Toi here:
http://www.winebow.com/wine_basicinfo.asp?ID=237&producer=41
FIND THIS WINE ONLINE:
Look up Maculan Pino & Toi on Wine-Searcher.com:
http://www.wine-searcher.com/find/Maculan%2bPino%2bToi/-/-/USD/A?referring_site=WLP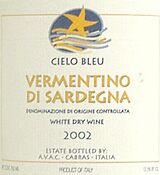 Cabras 2002 "Cielo Bleu" Vermentino di Sardegna ($11.99)
This is a clear, pale-gold wine from Sardinia, with a good, fresh scent of white fruit lent complexity by aromatic notes of almonds and banana oil. Light and crisp, fresh and snappy white-fruit flavors evoke apples and pears, with a squirt of lemon in its clean, tart finish. U.S. importer: HB Wine Merchants, NYC. (March 18, 2005)
FOOD MATCH: A natural match for seafood and fish, it went well, too, with a vegetarian pasta dinner, rapini (broccoli rabe) with orechiette.
VALUE: It would have sold under $10 before the rise of the Euro, but it's still fairly priced against the competition.
WHEN TO DRINK: The bold aromatics should hold it, and possibly see a little additional complexity evolve, over the next year or two.
PRONUNCIATION:
Vermentino = "Vehr-men-TEE-no"
FIND THIS WINE ONLINE:
Find vendors and compare prices for Cabras Cielo Bleu on Wine-Searcher.com:
http://www.wine-searcher.com/find/Cabras%2bCielo%2bBleu/-/-/USD/A?referring_site=WLP

Full contents of today's Wine Advisor
WineLoversPage.com