This article was published in The 30 Second Wine Advisor on Wednesday, March 30, 2005.
Memorable Beaujolais

In Monday's edition, I spoke with some skepticism of the 2003 vintage in the Southern Rhône, where a torrid summer yielded grapes so ripe, early-maturing and loaded with sugar that producers were tempted to make wines in a fat and slap-happy Californian or even Australian style.

I've expressed similar concerns about Burgundy, where you'll recall that I encountered some intriguing if bizarre "New World"-style 2003 wines in barrel tasting last summer.

But I don't want to give the impression that 2003 was an awful vintage in France. Quite to the contrary, although nature's gift of ripeness offered an invitation to excess, it also provided the raw material for luscious and enjoyable wines ... and nowhere is this more true than in regions where ripe, forward fruit is a virtue ... such as Beaujolais.

Beaujolais, after all, is at its best when it's a "fruit bowl in a glass," and under-ripeness is more often the region's challenge. So, when a good, quality Beaujolais producer is handed grapes as sweet and ripe as those in 2003, the result can be an absolute delight. So it is, I was pleased to find, with the Beaujolais-Villages of Louis Tête, who ranks year in and year out as a favorite because of his apparent commitment to present wines that see little manipulation in their quest to reflect pure, natural fruit.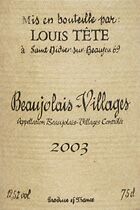 Louis Tête 2003 Beaujolais-Villages ($9.99)
This is a very dark reddish-purple wine, surprisingly dark for a Beaujolais, offering the first hint that this hot-vintage wine lies at the bold end of the style spectrum. Ripe, luscious strawberries burst out on the nose and palate, the signature flavor of the Gamay grape but present here in unusual degree, without the odd banana scents or green and herbaceous character that often afflict Beaujolais. Juicy fruit almost conveys an impression of strawberry Kool-Aid at first, but it's saved by delightful freshness and crisp acidity, finishing with an appealing whiff of fragrant black pepper and a dry, tart snap. Full, forward fruit and good acidity makes for an appealing, mouth-watering Beaujolais, a vintage well handled by Louis Tête with its usual clean and balanced style. U.S. importer: Bercut-Vandervoort & Co., Brisbane, Calif. (March 28, 2005)
FOOD MATCH: Fine with an Americanized variation on fettuccine Alfredo made with mellow, sharp yellow Cheddar and a dash of hot mustard, a variation that plays beautifully against the wine's ripe and forward fruit.
VALUE: Buy it by the case at $10 a bottle.
WHEN TO DRINK: Quaff it during the coming year, before its exuberant youthful fruit begins to fade.
PRONUNCIATION:
Louis Tête = "Louie Teht"
Beaujolais = "Boe-zho-lay"
WEB LINK
Louis Tête's Website is online in both French and English. Here's the start page:
http://www.tete-beaujolais.com/
FIND THIS WINE ONLINE:
Find vendors and compare prices for Louis Tête Beaujolais on Wine-Searcher.com:
http://www.wine-searcher.com/find/Tete%2bBeaujolais/-/-/USD/A?referring_site=WLP

Full contents of today's Wine Advisor
WineLoversPage.com