This article was published in The 30 Second Wine Advisor on Monday, March 28, 2005.
When vintage matters

Thanks to a combination of weird weather patterns across Europe in recent years and wine distributors' response to the falling dollar, wine lovers these days have unusual access to a broader-than-usual "vertical" selection of wines that allows us to compare and contrast several successive vintages - especially from the Southern Rhône.

Let's take a quick look at this phenomenon today, followed by a couple of random but representative tasting reports.

First, the currency: In October 2000, one Euro was worth only 82 cents against the then-strong dollar. This spring it takes $1.35 in dollars to equal the buying power of a single Euro. The effect, for American consumers, is that the price of European products - including wine - is up more than 60 percent from just four or five years ago.

Importers have been doing what they can to cushion the blow, including conducting as many transactions as possible in European currency, and keeping older vintages on the market as long as possible. Thus, it's no coincidence that - along with more recent vintages at higher prices - we're still seeing wines from the 2002, 2001, 2000 and earlier vintages on the shelves.

Having these vintages side-by-side sheds light not only on the increasing price but the significant difference that weather makes in the character of wines from year to year.

Bearing in mind that vintage summaries are only generalizations and that individual exceptions can almost always be found, let's illustrate this point with a quick thumbnail sketch of four recent vintages in the Southern Rhône:

2003: Spring frost, drought and hail got this vintage off to a rocky start, but the big deal across much of France was scorching, torrid summer heat. Yields were way down, but ripeness reached remarkable levels, making it easy for producers who chose to do so to make high-alcohol, fat and fruity wines more akin to California or even Australia than France. See the Chateau Grande Cassagne report below for an overt example of excess, although there's plenty of more balanced 2003 around.

2002: As we've discussed in recent columns, this was a disastrous vintage in much of the region, with heavy rains and severe flooding that all but wiped out the vintage in Chateauneuf-du-Pape and generally yielded thin, tart and unattractive wines throughout the region. A vintage to avoid, as my recent report on Vieux-Telegraphe's 2002 Télégramme suggests.

2001: This may be the go-to year for current consumption in Côtes du Rhône and other Southern Rhône reds that don't need aging. The summer was warm and mostly dry. Hugh Johnson praises its "good density and lively fruit," and that pretty much sums up my experience, today's Domaine Catherine le Goeuil Cairanne, featured below, serving as delicious testimony. What's more, unless local retailers marked up stock to match later vintages, many of these wines were purchased at pre-Euro-inflation prices.

2000: Another decent year - better than decent for Chateauneuf-du-Pape - and priced before inflation. But take care, as the simpler wines may be fading and the cellar candidates moving into a "dumb" stage that's best left untouched for several years.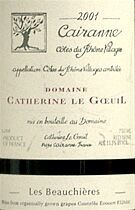 Domaine Catherine le Goeuil 2001 Côtes du Rhône Villages Cairanne "Les Beauchières" ($16.49)
From Cairanne, one of the named Côtes du Rhône Villages, and billed as being made from certified organically grown grapes, this is a clear, dark reddish-purple wine with an exceptionally appealing scent of perfumed, floral fruit with a pleasant, restrained back note of "barnyard" that will please lovers of "earthy" wines. Full, "sweet" red-fruit flavors are shaped by tart acidity; drying tannins emerge on the mid-palate, but beautiful fruit and earth linger with good balance and acidity in a very long finish. An exceptional wine, an early candidate for my annual Top Ten list for value. U.S. importer: Kysela Pere et Fils Ltd., Winchester, Va. (March 25, 2005)
FOOD MATCH: Calls for red meat or even a pizza, but it went remarkably well with a light dinner of nothing more than warm baguettes and a simple, creamy soupe verte of watercress, parsley and potato. Its affinity with the subtle wheat and caramelized crust flavors of a fresh home-baked baguette was little short of amazing.
VALUE: Given current exchange rates, it tops the competition in the mid-teens.
WHEN TO DRINK: Not meant for cellaring and drinking beautifully now, but it shouldn't start to fade for a year or two at least.
PRONUNCIATION:
Cairanne = "Kye-rahn"
WEB LINK
The Domaine Catherine le Goeuil Website is only in French and does not appear to have been recently updated. That being said, even if you have only "wine French," it's an interesting visit, home-built and informative.
http://pages.infinit.net/bsaitta/domainelegoeuil/
FIND THIS WINE ONLINE:
Find vendors and compare prices for Domaine Catherine le Goeuil's wines on Wine-Searcher.com:
http://www.wine-searcher.com/find/Catherine%2bGoeuil/-/-/USD/A?referring_site=WLP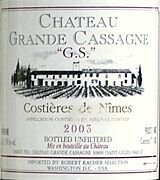 Chateau Grande Cassagne "G.S." 2003 Costières de Nîmes ($11.99)
This is a very dark-garnet wine, black at the center. Its rich, warm aromas of cherry and raspberry are so fruit-forward as to seem almost "grapey," with a whack of raw new oak. Just as big and ripe on the palate, it's a bit of a "fruit-bomb," although there's plenty of acidity and an edge of drying tannins to back it up. The torrid summer of '03 fostered an over-the-top, jammy wine with a distinct California accent, a wine that seems almost consciously manipulated as a ratings-point grabber. A blend of Grenache and Syrah (thus the "G.S."), it likely drew raves from Parker and Wine Spectator, and it's an imposing wine if you like 'em in this style; but it's very atypical of the Rhône. U.S. importer: Robert Kacher Selections, Washington, D.C. (March 23, 2005)
FOOD MATCH: Needs robust, hearty fare; it's fine with leftover braised lamb shanks.
VALUE: Assuming you like this style, this low-teens price is hard to beat in the age of the booming Euro.
WHEN TO DRINK: It's hard to tell where age will take this wine as the exuberant fruit fades, but I doubt that it's got anywhere to go but down; it's a bit more awkward and oaky now than it was when tasted last October. Drink up over the next year or two.
PRONUNCIATION:
Costières de Nîmes = "Cost-yair duh Neem"
FIND THIS WINE ONLINE:
Look up Chateau Grand Chassagne on Wine-Searcher.com:
http://www.wine-searcher.com/find/Grand+Chassagne/-/-/USD/A?referring_site=WLP

Full contents of today's Wine Advisor
WineLoversPage.com