This article was published in The 30 Second Wine Advisor on Monday, March 21, 2005.
Voting Booth: Wine and your health

Only the most ardent prohibitionist would continue to argue, at this late date, that wine is not good for you. With a ritual bow to the demonstrable dangers of alcoholism and long-term over-consumption, there is no longer any real doubt that the regular, moderate use of wine as part of a healthy diet is beneficial to heart and circulatory health and longevity.

Scientists still argue about the precise mechanism, but one school of thought holds that wine's benefits have to do with the presence of polyphenols - chemical components such as quercetin and resveratrol - which have anti-oxidant properties that fight the effects of LDL (the "bad" cholesterol), by keeping it from becoming oxidized. This hypothesis suggests that red wine, which is rich in polyphenols from the dark grape skins, may be the most beneficial.

Another theory points out that alcohol itself stimulates the formation of apoprotein-A1 in the body, and this is a precursor of HDL (the "good" cholesterol). This would suggest that moderate consumption of beverage alcohol in any form should be healthful.

Dosage requires a balancing act, of course. While blood chemistry and thus heart health might benefit from as many as five 5-ounce glasses of wine daily - a full bottle - no sane authority would recommend that anyone drink this much. Other evidence suggests that three drinks per day or more begin to show adverse and even dangerous effects on other organs, from the liver to the brain. (Further complicating matters is the emotional issue of consumption during pregnancy. Although there's no evidence that moderate drinking fosters Fetal Alcohol Syndrome, especially after the first trimester, social pressure and the lack of any absolute assurance about what constitutes a "safe" amount prompts many women to abstain entirely while they're pregnant.)

In any event, red-wine sales have grown significantly during the past 20 years, since "The French Paradox" - the hypothesis that French people enjoy relatively good health and longevity as a result of their regular wine consumption - gained wide attention.

For this week's Wine Lovers' Voting Booth, we'd like to get a sense of the degree to which health considerations affect consumption among the world's wine lovers, as we ask, "how important are the health benefits of wine for you?"

The ballot invites you to estimate the significance of health issues in your decision to enjoy wine, using a scale from 1 ("Not at all") to 10 ("Health is the only reason I drink wine").

I'll take the credit or blame for coming up with this topic, with thanks to Dr. Randy Buckner for background information and advice. As always, this is a lighthearted poll without any scientific value, presented simply to inspire discussion and for the fun of seeing how your answers compare with those of other wine lovers around the world.

To cast your vote, you'll find an online ballot at
http://www.wineloverspage.com/votebooth/vb20050321.shtml
To see how others have voted, click
http://www.wineloverspage.com/votebooth/ans20050321.shtml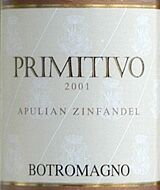 Botromagno 2001 "Apulian Zinfandel" ($11.49)
This wine, designated "Puglia IGT" on the back label, is the first I've seen that takes advantage of a recent regulatory ruling that permits the Primitivo grape of Southern Italy to be sold in the U.S. as "Zinfandel," as DNA testing has shown both to be the identical grape, originally the Croatian Crljenik Kasteljanski. As is usually the case with Primitivo, though, whether it's a matter of wine-making differences or terroir, I don't find much resemblance to Zin here. Not that there's anything the matter with this wine the way it is: Dark garnet in color, with distinct earthy, leathery aroma notes to back up cherry-berry fruit. Ripe and juicy flavors, black cherries and plums, are warm and full in a style that speaks more of the Mediterranean than the Pacific. U.S. importer: Winebow Inc., NYC; Leonardo Locascio Selection. (March 20, 2005)
FOOD MATCH: A good food wine, it would fare well with red meat, not to mention the stereotypical tomato-sauced pasta dishes or, my choice, a homemade thin-crust pizza Margherita.
VALUE: Before the era of the falling dollar I would have gauged this an under-$10 wine, but its low-teens price is certainly fair against current competition.
WHEN TO DRINK: Made for current enjoyment, not cellaring, but it should be good for a year or two on the wine rack.
PRONUNCIATION:
Primitivo = "Pree-mee-TEE-voh"
WEB LINK
Cantine Botromagno offers its stylish Website in Italian and English. Here's a link to the English-language home page:
http://www.botromagno.it/en/index.htm
FIND THIS WINE ONLINE:
Find vendors and compare prices for Botromagno Primitivo on Wine-Searcher.com:
http://www.wine-searcher.com/find/Botromagno%2bPrimitivo/-/-/USD/A?referring_site=WLP

Full contents of today's Wine Advisor
WineLoversPage.com