This article was published in The 30 Second Wine Advisor on Friday, March 11, 2005.
Building a structure

Consider if you will two bottles of wine, outwardly similar in appearance, in grape variety and in price.

I submit for your perusal a glass of the first, a dark, purple beverage, grapey and fruit-forward. You taste a little, and it's OK. But then you set it aside, feeling little impulse to sip more.

Let's try the second. It's similar in color and not unlike the first in its aroma and initial taste. But it's different somehow. Where the first wine bores, this one enchants. Something about it tickles your taste buds, and your fancy. The first glass disappears. A second? Don't mind if I do!

This is not the Twilight Zone, friends. It's the real world of wine, where seemingly subtle differences separate the throw-outs from the keepers. What makes the difference? Can we identify a consistent, predictable characteristic that distinguishes the memorable from the forgettable wine?

It might be only half a joke to submit price as the dominant consideration, as there's a connection between scarcity and desirability that cannot be denied. But the ratio isn't entirely linear, or there'd be no point in pursuing great cheap wines, which would mean that much of my career in wine journalism has been wasted.

On the more theoretical side, in our Wine Lovers' Discussion Group, a reader in Japan recently postulated a connection between viscosity and highly rated wine, suggesting that full body, extracted flavor and long finish - certainly characteristics that some of the big-name critics seem to prize - might be related to a measurable textural element in wine.

And of course simple experience suggests that "better" wines stand apart on the basis of their complexity and balance. It's hard to imagine a great wine that's lacking in either of these important components.

But after a coincidental recent tasting of two fairly similar, modestly priced wines on successive days - an Australian Shiraz and a Grenache-Syrah blend from the Languedoc, both reviewed below - I'm inclined to nominate structure as one of the most critical elements in quality wine. The $10 Australian red, sadly deficient in the structure department, seemed fat and flabby. It went down the drain as soon as I finished jotting down my tasting report. The French wine, not entirely dissimilar in its ripe, grapey-berry flavors, was built over a good, firm structure of fresh-fruit acidity and smooth tannins. It inspired a quiet evening of contemplation over a second glass.

What's structure? Curiously, although I use the term fairly often in my tasting reports, it's not listed in most wine glossaries and dictionaries. I define it, briefly, in my online Wine Lexicon, as an "Overall term describing a wine's sense of body, largely built ... on acidity, with alcohol and tannins as additional elements."

The French call it structure, as we do, or charpente ("framework"); for another vivid metaphor, think of it as a wine's "skeleton," the sturdy bones that hold up the softer flesh of fruit and associated flavors of the wine. Without it, the wine may still offer a pleasurable mouthful of fruit and even some fleshy muscularity. But try running a mile without bones in your body, and you'll fall far short of the finish line.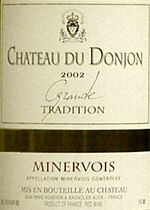 Chateau du Donjon 2002 "Grande Tradition" Minervois ($9.99)
Very dark reddish-purple, this Languedoc red breathes ripe, grapey fruit, raspberries and fragrant black pepper with a lightly herbaceous "leafy" back note. Full and luscious on the first taste, its juicy black fruit is nicely balanced by tart, crisp acidity, with soft tannins lurking behind the fruit to create a fresh, mouth-watering flavor that defines the term "structure" in wine. Plums, pepper and a taste of licorice linger in a long finish. U.S. importer: Hand Picked Selections, Warrenton, Va. (March 9, 2005)
FOOD MATCH: Any red meat or cheese dish would serve it well; I went the latter route and found it made a fine match with a simple omelet stuffed with melted sharp Cheddar.
VALUE: One of my best values so far this year at the $10 price point. Highly recommended.
WHEN TO DRINK: The very-berry Grenache fruit invites drinking in the near term, but I have to believe a wine this well structured and balanced will hold up under good cellar conditions for at least five years and maybe more.
PRONUNCIATION:
Donjon = "DawN-JawN"
Minervois = "Mee-nehr-vwah"
WEB LINK
The winery's fact sheet on the "Grand Tradition" is online at
http://www.chateau-du-donjon.com/fichevins.asp?id=68
(This page is only in French, but some parts of the Website are available in English.)
FIND THIS WINE ONLINE:
Find vendors and compare prices for Chateau Donjon Minervois on Wine-Searcher.com, click:
http://www.wine-searcher.com/find/Donjon%2bMinervois/-/-/USD/A?referring_site=WLP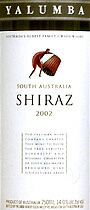 Yalumba 2002 "Y Series" South Australia Shiraz ($10.99)
This is a very dark purple wine, black at the center, showing clear bluish-garnet at the edge. Ripe, plummy and grapey fruit-forward aromas add distinct smoke and dillweed aromas that speak of new oak and plenty of it. Mouth-filling and ripe, its flavors are big but rather one-dimensional, fruit and oak. The flavor seems mostly up front, fading out to a quiet finish. Although it's an easy-sipping crowd pleaser, it seems to me that it's missing the underlying structure that makes me want to come back for a second glass. U.S. importer: Negociants USA Inc., Napa, Calif. (March 8, 2005)
FOOD MATCH: Leftover Italian roast beef shredded over pasta in its own red-wine-and-clove-scented sauce made a fine companion at the dinner table.
VALUE: Although the wine is affordable and not hideously flawed, it's too easy to do better for this price. Note also that it may be found discounted in the upper single-digit range, at which point it seems more competitive.
WHEN TO DRINK: Should keep on the wine rack for a year or two, but I don't see it getting better with time.
PRONUNCIATION:
Shiraz = To my American-accented ears, I most often hear it as "Shee-rahz" in the U.S. and "Shih-razz" in Australia.
WEB LINK
You'll find Yalumba's fact sheet on the 2002 Y Series export Shiraz at this link:
http://www.yalumba.com/vintage.asp?p=154&l=66&v=745
FIND THIS WINE ONLINE:
Get prices and information about Yalumba Shiraz at Wine-Searcher.com, click:
http://www.wine-searcher.com/find/Yalumba%2bShiraz/-/-/USD/A?referring_site=WLP

Full contents of today's Wine Advisor
WineLoversPage.com