This article was published in The 30 Second Wine Advisor on Wednesday, March 9, 2005.
The problem with Pinot

The Pinot craze continues, at least for now, a vinous frenzy driven by affectionate references to Burgundy's great red grape in the movie Sideways and an industry not loath to latch on to such opportunities and market them aggressively.

Wall Street has noticed the uproar, CNBC reported yesterday, quoting Dow Jones Inc.'s Bob O'Brien and Ray Hennessey as saying that Pinot Noir sales are up more than 20 percent after the grape was celebrated in the Oscar-nominated movie. "Pinot Noir sales are up 21.4 percent since the release of 'Sideways.' Constellation Brands' Blackstone Pinot Noir sales are up 156.5 percent, and the Knudsen Erath label is up 57.5 percent."

Closer to home, the technicians report that "Pinot Noir" was the No. 1 search term sought by visitors to our WineLoversPage.com Search Engine last month, edging out such favorites as "Port," "Shiraz," "Champagne," "Chianti" and, um, "Merlot."

But there's a problem in Paradise. Much of the rush toward Pinot Noir is driven by casual wine sippers in search of something good, affordable and cheap. Unfortunately, while it's possible to find a passable Merlot, Syrah and even Cabernet Sauvignon in the modest price range at $10 or less, it's not quite that simple with Pinot.

More than just about any other variety, Pinot Noir demands care in the cultivation and hands-on wine making. At its best, it inspires the flights of fancy that transported the characters Miles and Maya in Alexander Payne's film. But its best is likely to be pricey; and less-than-stellar examples can be lackluster indeed.

John Winthrop Haeger, author of the outstanding book, North American Pinot Noir, expressed it so well that I can't resist letting him carry a bit of today's load as I quote:
"Critics and consumers, and sometimes even Pinot Noir's most avowed fans, complain that Pinots can be stubbornly inconsistent, unpredictable, and often downright disappointing. They contrast this misbehavior with the better 'manners' shown by fine Bordeaux, Syrah-based wines and reds grown in Northern Italy. ...

"Several hobgoblins are at work. First, Pinot Noir makes an unstable wine. There is no nice way to say this, though adjectives like moody and capricious take off some of the edge. Pinot can show beautifully from barrel and then suffer an acute case of bottle shock. It can taste ethereal one day, but then close down to a shadow of its former self. ...

"Second, there is substantial discontinuity between really good Pinot Noir, wherever it is grown, and lesser wines made from the same grape. Everything short of really good seems irretrievably mediocre. This curse, which may be rooted in Pinot's legendary transparency and fragility along with its extreme sensitivity to being overcropped, explain why so much Bourgogne Rouge offers only the palest hint of a fine Gevrey, Echezeaux or Volnay, and why large lots of industrial North American Pinot Noir echo fine vineyard-designates and microblends only faintly. It also explains why so-called entry-level Pinot, priced inexpensively, is so hard to find."
That's telling it as it is, and I hope this short excerpt helps explain why I like Haeger's book so much. A hefty 445 pages in hardcover, it addresses its subject with both depth and style, covering both the land and the wine maker's hand in a comprehensive discussion of the grape, its connection with Burgundy and its history in North America, wine growing and wine making. All this is followed by another book-length series of profiles featuring dozens of top Pinot Noir producers, dominated by California and Oregon of course, but to its credit, attaining geographical diversity by reaching out to the best of Canada (British Columbia's Okanagan Valley) and the Eastern U.S. (New York's Finger Lakes).
Deep and rich in detail, it's probably not a book for the casual, Sideways-inspired Pinot-taster. But if you really care about this grape and want to learn just about all there is to learn about its story in the U.S. and Canada, this book's for you. With the usual disclosure that purchases made directly through this link pays a small commission to WineLoversPage.com, here's the review and purchasing information at Amazon.com, where it's available for $22.02, a 37 percent discount from its $34.95 list price.
http://www.amazon.com/exec/obidos/ASIN/0520241142/robingarrswineloA/
Now, about that elusive cheap, good Pinot Noir: No, it's not common. But with some care and cherry-picking, it's possible to get a hint of what it was that put those stars into Miles's and Maya's eyes without busting your budget.
Among good-value, good-quality Pinots that I've reported in recent months, I might recommend Louis Latour 2001 "Domaine de Valmoissine" Pinot Noir Vin de Pays des Coteaux du Verdon ($12.99) and Louis Jadot 2000 Pinot Noir Bourgogne ($16.99) from France; and from the U.S., Martin Ray 2003 "Angeline" Santa Barbara County Pinot Noir ($9.99) and today's featured wine, the excellent-value Benton Lane 2002 "Pinot Express" from Oregon ($10.99).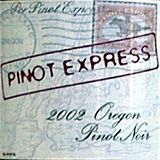 Benton Lane 2002 "Pinot Express" Oregon Pinot Noir ($10.99)
This is a clear garnet wine, not too dark, typical of Pinot Noir. Red-berry fruit and subtle spice aromas lead into a light, crisp and fresh flavor, tart cherry-berry over lemon-squirt acidity, a whiff of spice in the finish. On the simple side, but it's good with food, and it shows distinct Pinot Noir varietal character unusual in a wine at this price point. (Dec. 23, 2004)
FOOD MATCH: Perfect with a simple winter dinner of roast pork loin studded with garlicand rosemary.
VALUE: No complaints about value at this price, where it's not easy to find Pinot that tastes like Pinot.
WHEN TO DRINK: Subject to Pinot's notorious unpredictability, it might last for a few years, but this simple, modest wine isn't really made for aging.
PRONUNCIATION:
Pinot Noir = "Pee-noe Nwahr"
WEB LINK
The Benton Lane Website is online here:
http://www.benton-lane.com/
Here's a link to a winery sales flyer (Adobe Acrobat format) on Pinot Express:
http://www.benton-lane.com/documents/2002PinotExpressSalesFlyer_001.pdf
FIND THIS WINE ONLINE:
The winery Website offers direct sales in states where the law allows, and also lists distributors by state in the U.S. To search for Pinot Express on Wine-Searcher.com, click:
http://www.wine-searcher.com/find/Pinot%2bExpress/-/-/USD/A?referring_site=WLP

Full contents of today's Wine Advisor
WineLoversPage.com