This article was published in The 30 Second Wine Advisor on Monday, March 7, 2005.
Simplifying the wine label

A few weeks ago, I reported about growing concern over falling sales in the French wine industry, a trend that some attribute to an overly complicated system of wine regulations that makes the country's wines too complicated for the average consumer to bother with.

Similar concerns have been voiced about Italy, where the wine scene may be even more diverse than that in France, and Germany, where an extraordinary complex wine-classification system is further complicated, at least for English-speakers, by ten-dollar words like "Erzeugerabfüllung" and "Trockenbeerenauslese" .

Let's return to this subject today, illustrated with tasting reports on a French wine producer, and an importer of Italian wines, who are marketing interesting wines with labels that take the "poly" out of "polysyllabic."

The French venture is a new label from Jean-Michel Cazes and his son, Jean-Charles, who own the respected Chateau Lynch-Bages and Chateau Les-Ormes-de-Pez in Bordeaux. Their new venture, called L'Ostal Cazes, incorporates 150 acres of vines near Livinière, the first cru-designated sub-appellation within the Minervois region of Languedoc. Its two mass-market wines - a Shiraz (yes, they call it by the Australian name) and the Shiraz/Cabernet that I review below - are marketed under the Cazes family name and the proprietary trademark Circus, with the varietal names shown only discreetly at the bottom, and the appellation (Vin de Pays d'Oc) given only on the wine's back label.

The Italian wine, Canalegrande - a brand intended primarily for restaurant service but also sold direct to consumers through the importer's Website - goes even further toward simplification.

Importer James Koch explains in the firm's one-page fact sheet:"How many restaurants in the USA would ever consider pouring 'Azienda Agricola Podere Casale Gutturnio Fermo Colli Piacentini DOC 2003' by the glass?" The "Canalegrande approach," Koch says, restates the technical language in simpler English, presenting the wine under the proprietary name "Canalegrande" (with a woodcut-look logo showing a Venetian canal and bridge), the names of the grape varieties Barbera and Bonarda offered in place of the obscure "Gutturnio Fermo," and the little-known region Colli Piacentini banished to the back label in favor of "Italian Dry Red Wine."

"The result is a line of 'unusual' top-quality Italian wines that can be offered by the glass and easily explained to and by the staff."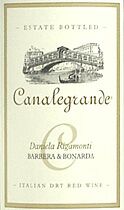 Canalegrande 2003 Barbera & Bonarda Italian Dry Red Wine ($18.50)
The simplified front label sells the wine identified in more detail on the back as "Azienda Agricola Podere Casale Gutturnio dei Colli Piacentini DOC 2003." By any name it's a fine Italian red from the Po River valley south of Milan, a blend of the familiar Barbera and the not-so-familiar Bonarda grape, the local name in Lombardy for Croatina, a different variety than the Bonarda of Piemonte. All this may help explain why they wanted to simplify the label. It's a very dark wine, blackish-purple at the center, clear garnet at the edge. Fresh berries make for an appetizing aroma, warm and ripe; on the palate, mixed-berry fruit is shaped by tart, lemon-squirt acidity in a wine that, like many of its Italian brethren, is made to go with food. U.S. importer: J.K. Imports, Pasadena, Calif. (Feb. 7, 2005)
FOOD MATCH: The wine would do well with a variety of red meats, poultry and cheeses. I matched it against an offbeat pasta creation, shredded chicken in an Alfredo-style sauce accented with smoked Cheddar and a hint of chipotle peppers over fettuccine.
VALUE: A good value for a wine of this quality at this price, which is available for by-the-case purchases made online.
WHEN TO DRINK: Ready to drink now; although I have little experience with this offbeat region and blend, I see no reason it shouldn't last a few years on the wine rack.
PRONUNCIATION:
Barbera = "Bar-bair-ah"
Bonarda = "Boe-nar-dah"
WEB LINK AND FINDING THE WINE ONLINE:
Canalegrande wines are available in a few restaurants, but are primarily sold exclusively by the distributor online:
http://www.canalegrande.info/
To search for other wines from Colli Piacentini on Wine-Searcher.com, click:
http://www.wine-searcher.com/regions/colli%2bpiacentini?referring_site=WLP


Circus by L'Ostal Cazes 2003 Shiraz/Cabernet ($12.99)
The bold, colorful and simplified label puts the producer's familiar name and the marketing concept up front, with the wine-geek details (Vin de Pays d'Oc) in small print on the back; and the Australian varietal name "Shiraz" in place of the French "Syrah" suggests a wine made in a fat, fruit-forward crowd-pleasing style. But there's still a mid-Atlantic hint of the Old World in the wine's complex aroma and relatively full structure. Inky dark reddish-purple in color, it offers fresh and relatively subtle aromas of black plums and fragrant black pepper. Black-fruit flavors are mouth-filling and ripe, smooth and easy to sip, but there's plenty of fresh-fruit acidity to provide structure and balance. (Also tasted, the Circus 2003 Shiraz for the same price was similar but a bit more sweet and plushy; the firm's grand vin, L'Ostal Cazes 2002 Minervois la Lavinière ($29.99), featured in the Wine Advisor Premium Edition on Feb. 22, 2005, is a memorable wine of outstanding quality-price ratio.) U.S. importer: Palm Bay Imports Inc., Boca Raton, Fla. (Feb. 16, 2005)
FOOD MATCH: A classic red-meat wine, it was fine with a grass-fed Kentucky Green River rare ribeye.
VALUE: Excellent value at this price, and may be found discounted for less.
WHEN TO DRINK: Designed for immediate enjoyment and ready to drink, but its fruit and sturdy structure will hold it for several years in the wine rack or cellar.
PRONUNCIATION:
L'Ostal Cazes" = "Low-stahl Cahz"
WEB LINK:
The U.S. importer features a news release and details about Cazes' Circus wines at this link:
http://www.palmbayimports.com/news_circus.asp
A British distributor, Mentzendorff & Co. Ltd., offers a page featuring Circus and Cazes' Michel Lynch line. The link is too long to transmit reliably in E-mail, but you can reach the page by visiting Metzendorff's Home Page,
http://www.mentzendorff.co.uk/
then clicking Jean-Michel Cazes under "Suppliers" in the right-hand column.
FIND THIS WINE ONLINE:
For information on regional distributors in the U.S. from the importer's Website, click:
http://www.palmbayimports.com/wine_locator.asp
Wine-Searcher.com currently is showing only European listings for L'Ostal Cazes:
http://www.wine-searcher.com/find/Cazes%2bOstal/-/-/USD/A?referring_site=WLP

Full contents of today's Wine Advisor
WineLoversPage.com