This article was published in The 30 Second Wine Advisor on Friday, Feb. 25, 2005.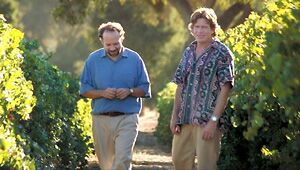 Paul Giamatti ("Miles") and Thomas Haden Church ("Jack") stroll through a Santa Barbara vineyard in Sideways. (© and ™ 2004 by Twentieth Century Fox)
Sideways and Pinot
So ... have you chosen the Pinot Noir you'll sip while watching the Academy Awards on Sunday night?
Who'd have thought, back in the autumn when wine "geeks" were hailing Alexander Payne's movie set in the Santa Barbara wine country as a quirky "cult" film, full of wine-trivia nuggets scattered throughout a comic love story, that Sideways would emerge as Fox Searchlight Picture's No. 1 domestic grossing film in history, topping $46 million at the box office this month ... or that it would be a strong contender in the Oscar Awards sweepstakes?
Or more surprising still, who could have foreseen that the movie's wine-enthusiast hymns to the glory of Pinot Noir (and its snarky dissing of Merlot) would translate into jingling cash registers at the nation's wine shops?
But here we are, with the general media suddenly discovering Sideways-driven Pinot flying off the shelves, not only in purportedly sophisticated blue-state markets but even between the coasts. "Local wine shops have noticed an increase in Pinot sales," The Pantagraph in Bloomington, Ill., reported this week, describing Pinot Noir as an "obscure" red wine. "It's been crazy," Bloomington wine shop owner Pete Holstein told the local newspaper. "Our Pinot Noir sales are going through the roof and it's a nationwide phenomenon."
Meanwhile, the San Francisco Chronicle reported what it called "early warning signs of a possible reversal" in Merlot's fortunes. "Suddenly, America's favorite red wine is also its most uncool. Merlot sales are still rising overall, but ... the percentage of households buying it is down 2 percent compared to a similar 12-week period a year ago; repeat purchases of Merlot are down 3 percent."
Sideways is sipping Pinot all the way to the bank. In addition to its box-office success and wide critical acclaim, TheMovieInsider.com reports that it has already won the Screen Actors Guild Ensemble Award; two Golden Globes for Best Picture (Comedy) and Best Screenplay, and four Critics Choice Awards including Best Picture, Best Ensemble and Best Screenplay.
Saturday night, it's up for six Independent Spirit Awards including Best Feature, Best Director and Best Screenplay. And it all comes to a peak Sunday evening at the Oscars, where Sideways has been nominated for five Academy Awards including Best Picture, Best Original Screenplay, Best Director, Best Supporting Actor and Best Supporting Actress.
I've got my Pinot ready to pour. How about you?
And now, in the spirit of today's discussion, here's a modest but surprisingly varietally and regionally correct Pinot Noir from Sideways country, bearing the name of Martin Ray, the late, controversial California wine pioneer who planted Pinot vines in the 1940s and was among the first to help popularize the grape in the postwar years.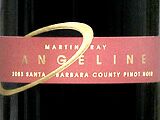 Martin Ray 2003 "Angeline" Santa Barbara County Pinot Noir ($9.99)
This is a clear reddish-purple wine, rather dark by Pinot standards. The first sniff is a bit offputting as a whiff of high-toned volatile acidity blows off, but it soon gives way to more appealing wild-cherry fruit. Ripe and juicy fruit continues in the flavor, cherries and berries and a light lemon-squirt of acidity to provide balance to a touch of fresh-fruit sweetness. Typical of modest Santa Barbara Pinot, it's made in a dark, fruit-forward, somewhat one-dimensional "Shiraz" style, but there's Pinot Noir character in there, unusual for an under-$10 wine, and it makes for pleasant sipping. (Feb. 11, 2005)
FOOD MATCH: Smooth and fruity enough to make a nice red-wine aperitif; food-friendly as you'd expect of Pinot, it was a fine match with a roast free-range chicken.
VALUE: No complaints at the $10 point.
WHEN TO DRINK: Not a cellar keeper, although it shouldn't fade for a year or two under cool room-temperature storage on the wine rack.
PRONUNCIATION:
Pinot Noir = "Pee-noe Nwahr"
WEB LINK:
The Martin Ray winery is based in Santa Rosa (Sonoma County), and named in the wine pioneer's memory. Its Website will be found at
http://www.martinray-winery.com/default.htm
FIND THIS WINE ONLINE:
Find vendors and compare prices for Martin Ray wines on Wine-Searcher.com.
http://www.wine-searcher.com/find/Martin%2bRay/-/-/USD/A?referring_site=WLP

Full contents of today's Wine Advisor
WineLoversPage.com