This article was published in The 30 Second Wine Advisor on Wednesday, Feb. 23, 2005.
Standing O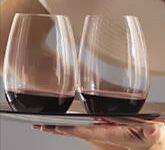 Hold your wine glass by the stem, pinky tastefully extended. Never, ever touch the bowl with your fingers.
If you're the kind of wine enthusiast who takes this advice seriously, you may want to stop before reading more of today's essay, lest your delicate sensibilities be offended.
Still with us? OK! Some of my most memorable wine moments have come in the kind of casual, informal setting you'll find in trattorias in Piemonte, or tavernas in New York City's Greek-American Astoria neighborhood, where you quaff your wine not from stemmed crystal but sturdy tumblers ... and like it.
There are good arguments to be made for the classic stemmed glass: It's attractive, and stylish, and it keeps your fingers off the bowl, so you'll neither mar the glass with greasy fingerprints nor warm the wine above its intended serving temperature. Fine crystal glassware fosters a sense of luxury that enhances your enjoyment. And perhaps most important to serious wine enthusiasts, the tulip-shaped wine glass (and some finicky modern variants) has evolved as the most effective way to maximize the aromas of fine wines.
But just as most of us enjoy a picnic, or a downscale dinner in a cozy pub, as a reasonable alternative to fine dining on damask tablecloths, there are times when you don't really need a fancy crystal vessel to savor your wine. A stemmed glass just doesn't do the job when you're gulping retsina with your roast chicken at Uncle George's on Broadway in Queens.
All this is by way of introducing the Riedel "O" wine tumbler, a new wine-glass concept from the glass-savvy Austrian manufacturer that marks out a fine compromise between the hoity-toity crystal stem and the tacky peanut-butter jar. It's not all that new, really - Riedel unveiled it in December 2003 - but even with a fair number of visits to Astoria tavernas under my belt, plus considerable experience with the somewhat similar, pricey but effective Les Impitoyables tasting glass, it took me a while to warm up to the concept of an everyday wine glass without a stem.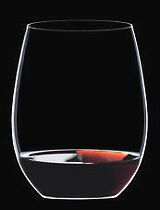 To create the O glass, Riedel simply started with a number of its varietal-specific stemmed shapes, trimmed off the stem and base, and flattened the bottom just enough so it would sit firmly on your table. To hold down costs, they fashioned them in regular glass, not leaded crystal. They're still not cheap by the standard of Pier One or Target glassware, but at about $12 per glass, they're modest by Riedel standards - and when Amazon.com offered a pair of the Cabernet/Merlot O glasses for $17.99 recently, I couldn't resist giving them a try.
It's a good-size glass, standing 5 inches tall even without the stem, and requiring a man-size grip at about 3 1/2 inches in diameter at the broadest point (although my wife, somewhat to her surprise, said she found it comfortable to hold even with smaller hands). It could hold a full pint (nearly 1/2 of a liter) if poured brimful; more appropriately for wine appreciation, it allows ample room for exuberant swirling and sniffing with a generous 5-ounce pour. They're delicately eggshell-thin, just like the more pricey Riedels; and my Philistine eyes can't make out any obvious difference between its mere glass and the more high-tone crystal of the Riedel Vinum series.
I'm under-impressed with the notion of reserving specific glass shapes for specific varieties, and thus defied the manufacturer by christening the Cab/Merlot glasses with a nice Grenache-based 2003 Cotes-du-Rhone. It seemed to work fine. My wife declared the new tumbler a clear victor over her usual Pier One stem in terms of presenting the wine's aromas and flavor. I liked the O too, giving it the edge for comfort over my Les Impitoyables Taster, although I still had to rate the highly efficient (and expensive and hard-to-find) French glass more highly for efficiency in concentrating the wine's aromas.
All in all, I'm glad I got them, especially for everyday use and casual wine tastings. Recognizing that this is a controversial point among some wine enthusiasts, I recommend them subject only to the caveat that if smudgy fingerprints on your wine glass bother you, then you won't give the O a standing ... well, you know.
WHERE TO BUY THEM
Riedel glassware is widely available from online and bricks-and-mortar vendors, but it's hard to beat Amazon.com's current sale prices, which offer the Cab/Merlot glass at $17.99 for a pair, a 28 percent discount from the $24.90 list price. Here's a link to buy, with the usual small commission to WineLoversPage.com for purchases made through this link:
http://www.amazon.com/exec/obidos/ASIN/B00018HQA8/robingarrswineloA/
For a look at Amazon.com's full line of Riedel O glasses, use the link, taking care to paste it back into a single line if your E-mail software, as is likely, breaks it up:
http://www.amazon.com/exec/obidos/external-search?search-type=ss&tag=robingarrswinelo&keyword=Riedel%20O&index=kitchen
Or this one for all types of Riedel glassware and decanters:
http://www.amazon.com/exec/obidos/external-search?search-type=ss&tag=robingarrswinelo&keyword=Riedel&index=kitchen
Full contents of today's Wine Advisor
WineLoversPage.com