This article was published in The 30 Second Wine Advisor on Monday, Feb. 21, 2005.
Offbeat grape - Romorantin

If it seems I've been dwelling on rare and obscure wine grape varieties more often than usual lately, there's a reason: I'm getting in training for my visit to New York City next month, where I'll be guest speaker at the first gathering of the Wine Century Club, a new organization for wine lovers who enjoy trying offbeat varieties as much as I do.

Of course, I don't need much prompting to pull the cork from something off the beaten path. And judging from the E-mail that I get from many of you, the quest for the new motivates a lot of us in our wine enthusiasm.

So without further delay, let's move right into a quick look at today's featured grape and wine, the Romorantin of France's Loire valley.

According to legend, the Romorantin grape was introduced to the Loire by the 15th century French King François I, who hailed from the region. Its vineyard plantings have diminished over the years, giving way to the more commercially sought-after Chenin Blanc and Sauvignon Blanc; but it remains dominant in Cour-Cheverny, a tiny sub-appellation of Cheverny in the Touraine region, on the south side of the Loire east of the city of Tours.

The greater Cheverny appellation is approved for a variety of grapes, adding the red grapes Gamay, Pinot Noir and Cabernet Franc and the white Chardonnay to the Sauvignon and Chenin; Cheverny whites by regulation can't be 100 percent varietal wines but must be blends.

But in Cour-Cheverny, Romorantin remains king, and I hope it lives long and prospers. While some of the world's more obscure grapes may fairly earn their lowly status through lackluster quality or viticultural or commercial faults, Romorantin-based Cour-Cheverny - virtually all of it grown and made by a single producer, François Cazin - deserves all the respect we can give it. It makes a vibrantly acidic white wine of intense minerality and fruit, and in its late-harvested, off-dry rendition - which Cazin labels "Cuvee Renaissance" - it remarkably combines richness and steel, a vivid real-world example of the old analogy about the iron fist in the velvet glove.

I had the great good fortune to enjoy a sample of the 1997 vintage recently, a hoarded gift from a friend. Although I'm breaking with my usual custom of reporting on wines that remain in retail channels, I hope my report on this delicious wine will inspire you to try, and perhaps cellar, currently available vintages.
---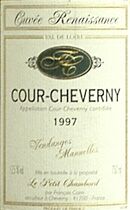 François Cazin 1997 Cour-Cheverny "Le Petit Chambord" Cuvee Renaissance
Transparent and light, the appearance of this straw-color gives no hint of its age. An amazing pack of aromas jostle for attention: Lemon and chalk, then mixed white fruits, honey, almonds and clean, minerally scents reminiscent of wool. It's complex on the palate, too, full-bodied and almost unctuous, lemons and honey. Gentle demi-sec sweetness quickly gives way to tart, steely acidity that sings like a taut violin string, providing balance and structure for the full, luscious fruit. Lovely chalky mineral notes become apparent in a shimmering finish that lasts for minutes. Amazing wine. U.S. importer: LDM Wines Inc., NYC; Louis/Dressner Selections. (Feb. 18, 2005)
FOOD MATCH: A natural match with richer seafood dishes, it went beautifully with scallops and shrimp over pasta in a delicately sweet Venetian-style tomato-saffron sauce.
VALUE: A gift from a wine-loving friend, it should retail for less than $20 in recent vintages, at which level it's an amazingly good value.
WHEN TO DRINK: Although I have no frame of reference for aging Romorantin, the conventional wisdom holds that it rewards careful cellaring. This demi-sec version should hold up well under good conditions for at least five more years.
PRONUNCIATION:
Romorantin = "Roe-moe-rahn-taN"
WEB LINK:
The importer's Website offers a short essay and photos about François Cazin and his wines, including this wine, at this link:
http://www.louisdressner.com/Cazin/?15
FIND THIS WINE ONLINE:
Find vendors and compare prices for Cazin's Cheverny wines on Wine-Searcher.com:
http://www.wine-searcher.com/find/Cazin%2bCheverny/-/-/USD/A?referring_site=WLP

Full contents of today's Wine Advisor
WineLoversPage.com