<!TODAY'S TEXT STARTS HERE!>

Wine Advisor Express:
Who needs oak?


As you may have noticed, I occasionally rant about the abuse and overuse of oak as a flavor element in wine. From California Chardonnay to Barossa Shiraz, wines that taste more of wood than fruit rarely make me smile; and when oak aromas reach the point at which smelling a wine reminds me of the time we had the floors in our house sanded and refinished, I tend to put down the glass and look for something else to drink.

But it's worth mentioning that oak is not necessarily a bad thing. Many, perhaps most, fine wines spend some time in oak casks during the winemaking process. Wooden barrels were used in wine making for centuries before stainless steel tanks were feasible; visit the greatest chateaus of Bordeaux or the finest caves of Burgundy and you'll see rows of oak barrels in which great wines are slowly aging.

From Chianti to Rioja and around the world, fine and ageworthy red wines without oak would be unthinkable, and wine makers spend a great deal of time contemplating oak and how to use it. Small barrels and new wood impart more oak flavor and tannins to the wine than larger wooden tanks or older wood; American oak, Yugoslavian oak, many different kinds of French oak ... each contributes different kinds of aromas and flavors to the wine.

So where do wine makers go wrong? In my opinion, trouble comes when wood fights fruit and wood wins. A wine that smacks more of vanilla, coconut or freshly sawed planks - the signature scents of heavy to excessive oak - seems to me to miss the mark.

Why do they do it, then? In the case of some modest wines, it may simply reflect an effort to compensate for mediocre grapes. But it's clear that some consumers - including some of the most influential critics - enjoy the taste of oak. A rave from a powerful wine writer can be money in the bank for a wine maker.

But I like the pithy advice once rendered by Richard Eccleston, a well-known Boston-area wine retailer: "Oak is a spice, not a sauce."

If you would like to join in an online conversation on this subject, it's a currently active topic in our Wine Lovers' Discussion Group. To read the messages or join in, you can click directly to this discussion at http://www.wineloverspage.com/cgi-bin/sb/index.cgi?fn=1&tid=25435.

Let's wrap up with a tasting report on a New Zealand Chardonnay that sees no oak whatsoever, and emphasizes that point on the label. It's an attractive wine, bright and fresh and focused on fruit. But to be absolutely honest, I don't think a dash of oaky spice would have done it any harm.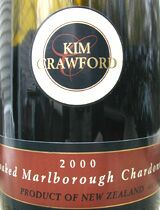 Kim Crawford 2000 Unoaked Marlborough Chardonnay ($18.99)
Clear bright straw color. Fresh ripe apples and mangoes on the nose and palate; full body nicely structured with zippy acidity. It's a bit on the simple side, almost like apple juice; but it's fresh and pleasing apple juice. U.S. importer: Vintage New World Inc., Seattle. (Jan. 12, 2002)

FOOD MATCH: This wine made an exceptionally happy marriage with pan-seared scallops on frichi (Friuli cheese crisps) and a side dish of short pasta topped with arugula.

WEB LINK: The winery Website is at http://www.kimcrawfordwines.co.nz/. The U.S. importer has a Website at http://www.vintagenewworld.com/.

Administrivia


This is Wine Advisor Express, daily edition of The 30 Second Wine Advisor, distributed Tuesdays through Fridays. For archives of previous articles, and to read more about wine, visit Wine Lovers' Page, http://www.wineloverspage.com.

To subscribe, change your E-mail address, switch from daily to the weekly (Mondays only) distribution, or for any other administrative matters, E-mail wine@wineloverspage.com. In the unhappy event that you must leave us, please take a moment to let us know how we could have served you better. In all administrative communications, please be sure to include the exact E-mail address that you used when you subscribed, so we can find your record.

Friday, Jan. 18, 2002
Copyright 2002 by Robin Garr. All rights reserved.

<!TODAY'S TEXT ENDS HERE!>

Subscribe (free) to The 30 Second Wine Advisor