<!TODAY'S TEXT STARTS HERE!>

Wine Advisor Express:
Red wine, vegetables and cookbooks


Maybe I'm just easy to please, but when a new cookbook comes in at WineLoversPage.com Central, it elevates my spirits for the rest of the day, as I happily skim through the new arrival and think about what to make for dinner ... and what wine to pair with it.

The book I bought yesterday - Madhur Jaffrey's new "World Vegetarian" - is an oversize paperback full of meatless recipes from around the world (with a bit of a tilt toward Asia and the Southern Hemisphere). It's a worthy addition to her old, classic "World-of-the-East Vegetarian Cooking" that has been a standby on this omnivore's cookbook shelf for years.

And getting to the wine-related point of today's essay, these veggie treats offer what I consider one of the more interesting challenges in matching food and wine: Finding wine matches with international meatless dishes that work as well as the more traditional pairings of wine with Western-style fare based on red meat, poultry or fish.

I find it particularly difficult to come up with RED wine and vegetable pairings that really sing, so I made it a point to look for recipes that might work with a South African Pinotage that was next in line for tasting. A Turkish dish, "Imam Beyaldi" (Stuffed Baby Eggplants, Page 184) caught my eye, as the earthy-sweet flavor of eggplant (aubergine, to the British among us) often works well with reds, and I figured the garlicky quick tomato-and-onion topping would bring another red-wine-friendly participant to the party. As a side dish, I rang some changes on the Greek "Spanakorizo" (Spinach with Rice, Page 227), substituting arugula (rucola) for the spinach on the assumption that these strongly flavored, peppery greens might also stand up well to a red.

The recipes were clear and easy to follow, and the wine combination worked well, reinforcing my opinion that one key to matching red wine and veggies is to look for earthy and acidic flavors in both the dish and the wine.

Here's my wine note: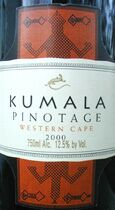 Kumala 2000 Western Cape Pinotage
Very dark ruby. Typical Pinotage aromas, black fruit with elusive earthy notes, brown spices and sandalwood, complex and interesting. Soft and juicy flavors follow the nose, plenty of fruit and sufficient acidity for balance. U.S. importer: Vineyard Brands Inc., Birmingham, Ala. (Jan. 15, 2002)
FOOD MATCH: As noted, a surprisingly good vegetarian match with imam beyaldi, a Turkish dish of baked eggplant topped with a quick sauce of tomatoes with garlic and onions, and a side dish of chopped arugula briefly heated in hot, creamy rice.
WEB LINK: Kumala is owned by Western Wines, a major UK wine distributor, with its Website at http://www.westernwines.com/.
More on cookbooks, food and wine

Two quick footnotes to today's column:
Over the years, many of you have asked me about recipes for the dishes I mention in passing in the "Food Match" section of my wine reports. Although time doesn't permit my including recipes in every tasting note, I'm seriously thinking about launching another once-a-week E-mail newsletter that would include one or two original wine-friendly recipes and food-and-wine commentary in each issue.

This would be an "opt-in" newsletter like the Wine Advisor, of course. We would send it only to readers who request it. As I work out the concept, I would be interested in your thoughts about what you would like to see in such a publication. If you would like to comment or offer a suggestion, please feel free to drop me a note at wine@wineloverspage.com.

Speaking of Jaffrey's new cookbook, here's a very low-pressure sales pitch: Should you be interested in ordering either book mentioned from Amazon.com, using the links posted below will pay a small commission to WineLoversPage.com and help support our online publications. (If your E-mail software broke these long links over more than one line, please take care to reassemble it before you paste or copy the address into your browser.)

Madhur Jaffrey's World Vegetarian, 768 pages, paperback. List Price: $24.95; Amazon.com Price: $17.46. You Save: $7.49 (30 percent) http://www.amazon.com/exec/obidos/ASIN/0609809237/robingarrswineloA/

Madhur Jaffrey's World-Of-The-East Vegetarian Cookbook, 460 pages, paperback. List Price: $25, Amazon.com Price: $17.50. You Save: $7.50 (30%) http://www.amazon.com/exec/obidos/ASIN/0394748670/robingarrswineloA/
Administrivia


This is Wine Advisor Express, daily edition of The 30 Second Wine Advisor, distributed Tuesdays through Fridays. For archives of previous articles, and to read more about wine, visit Wine Lovers' Page, http://www.wineloverspage.com.

To subscribe, change your E-mail address, switch from daily to the weekly (Mondays only) distribution, or for any other administrative matters, E-mail wine@wineloverspage.com. In the unhappy event that you must leave us, please take a moment to let us know how we could have served you better. In all administrative communications, please be sure to include the exact E-mail address that you used when you subscribed, so we can find your record.

Wednesday, Jan. 16, 2002
Copyright 2002 by Robin Garr. All rights reserved.

<!TODAY'S TEXT ENDS HERE!>

Subscribe (free) to The 30 Second Wine Advisor