<!TODAY'S TEXT STARTS HERE!>

Wine Advisor Express:
Grape expectations


Let's take a quick look at the way our minds work when we're tasting wine: If you're led to expect a specific aroma or flavor, the chances are you will find it. Why do you think so many wines offer lyrical and appetizing "winemaker tasting notes" on the back label?

This simple psychological reality came to mind the other day as I prepared to sample an interesting Italian white with an exceptionally long heritage. Fiano di Avellino, from Campania (surrounding Naples) is made from a grape so historic that it traces its lineage to the ancient Romans. "Fiano," it is said, comes from the Latin "Vitis apiano" ("grape of the bees"), so called because the strong, ripe aromas of the fruit attracted swarms of honeybees to the vineyard.

Whenever I try a wine from an unusual grape, I like to read up on it before tasting. In checking the authorities, I found two independent suggestions that Fiano has a characteristic aroma of pears and hazelnuts.

Darn! I really wished I hadn't read that. Now it was going to be tough to keep this knowledge from interfering with my own instincts when I opened the wine.

So I had a bright idea. At the dinner table, without telling my wife what I had read, I asked her what she smelled in the wine. She nosed it, grimaced, pondered for a while, and announced: "Bitter peach pits. Almonds. And nail-polish remover!"

Not a bad analysis, I thought, although I might have come up with something more appetizing to denote those high-toned aromatics in the background. And it sure put thoughts of "pears and hazelnuts" out of my head!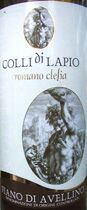 Romano Clelia 1999 "Colli di Lapio" Fiano di Avellino
This bright straw-color wine offers aromatic impressions of white fruit, banana oil and toasted almonds, but as it turns out, we don't find much evidence of the suggested "pears and hazelnuts" in this example; perhaps just a hint of soft pearlike fruit emerges after the wine warms to room temperature. The wine's flavor is crisp and citric, not particularly complex, tart with fresh-fruit acidity and a faint bitter-almond quality in the finish. It's an interesting wine to be sure, and a good food match. U.S. importer: Vintner Select, Cincinnati; a Marc de Grazia Selection. (Jan. 1, 2002)

FOOD MATCH: Very well suited with veal ossobuco bianco, veal shanks long-braised in white wine with a "gremolata" of minced parsley, garlic and lemon peel added at the end.


Administrivia


This is Wine Advisor Express, daily edition of The 30 Second Wine Advisor, distributed Tuesdays through Fridays. For archives of previous articles, and to read more about wine, visit Wine Lovers' Page, http://www.wineloverspage.com.

To subscribe, change your E-mail address, switch from daily to the weekly (Mondays only) distribution, or for any other administrative matters, E-mail wine@wineloverspage.com. In the unhappy event that you must leave us, please take a moment to let us know how we could have served you better. In all administrative communications, please be sure to include the exact E-mail address that you used when you subscribed, so we can find your record.

Thursday, Jan. 3, 2002
Copyright 2001 by Robin Garr. All rights reserved.

<!TODAY'S TEXT ENDS HERE!>

Subscribe (free) to The 30 Second Wine Advisor