<!TODAY'S TEXT STARTS HERE!>

Wine Advisor Express:
A fine Spanish blend


An unusually good budget-level wine today returns us to a thesis that I enjoy reexamining from time to time: There's nothing wrong with wines - even inexpensive wines - made from a blend of more than one grape variety.

This seems so obvious as to need no repetition, but it goes against an important trend that fired the growth of fine, high-end wines in the United States in the postwar era, when most of the nation's top bottlings made a virtue of their "single-varietal" status. This principle, pushed hard by the wine writer and merchant Frank Schoonmaker (whose "Encyclopedia of Wine" remains an important reference work), was intended to distinguish California Cabernet Sauvignon, for example, from the anonymous domestic blends that had been marketed as generic "burgundy" or "chablis."

But in the Old World, wine makers had been merrily blending grapes for centuries, understanding that the Bordeaux mixture of Cabernet Sauvignon, Cabernet Franc, Merlot, Petit Verdot and Malbec (for example) created flavor combinations of more complexity and interest than any single grape could provide.

From Chianti to Rioja, many other classic European wines wouldn't be the same if restricted to a single grape. And, getting to the point of today's tasting, similar good things happen - even in the budget range - when creative wine producers try putting together grapes that aren't traditionally blended, achieving a combination that showcases the best elements of each of its parts. The Bertani Due Uve that I reviewed on Oct. 15 - made of equal parts Sauvignon Blanc and Pinot Grigio - was a fine example of this. Today let's uncork another, a Spanish white of exceptional value, made in the Rueda region between Villadolid and Madrid, that blends 50 percent Sauvignon Blanc with an equal portion of the white Spanish grape Viura.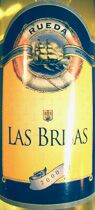 Las Brisas 2000 Rueda ($6.99)
This very pale straw-colored wine shows intriguing floral and herbal aromas, honeysuckle and hay. Crisp and surprisingly full, it's bright and citric, evoking fresh lemons with its tart but not sour flavor. A great value, it's an exceptional seafood wine. U.S. Importer: Cutting Edge Selections, Cincinnati, and other regional importers. (Dec. 26, 2001)

FOOD MATCH: Stunning with a dish made to match, a slightly spicy garlicky shrimp risotto.


Administrivia


This is Wine Advisor Express, daily edition of The 30 Second Wine Advisor, distributed Tuesdays through Fridays. For archives of previous articles, and to read more about wine, visit Wine Lovers' Page, http://www.wineloverspage.com.

To subscribe, change your E-mail address, switch from daily to the weekly (Mondays only) distribution, or for any other administrative matters, E-mail wine@wineloverspage.com. In the unhappy event that you must leave us, please take a moment to let us know how we could have served you better. In all administrative communications, please be sure to include the exact E-mail address that you used when you subscribed, so we can find your record.

Thursday, Dec. 27, 2001
Copyright 2001 by Robin Garr. All rights reserved.

<!TODAY'S TEXT ENDS HERE!>

Subscribe (free) to The 30 Second Wine Advisor