<!TODAY'S TEXT STARTS HERE!>

Wine Advisor Express:
Splurge for the holidays


As most of you know, I normally focus on wines of quality and value in the wines that I enjoy and report on in these pages. I try to keep my wine-buying budget under $20 a bottle most of the time, and keep my eyes open for the happy occasions when I can find wine of real interest for $10 or less.

I like to beat the system rather than be beaten by it, and based on my E-mail, most of you feel the same way. Those who don't mind spending $50 routinely can always consult the Wine Spectator, Robert M. Parker Jr., and others for suggestions in the high-price range.

But from time to time, circumstances justify a splurge; and over the long holiday weekend, we indulged ourselves in a little budget-busting. I hope you won't mind my making this exception to my usual rule as I tell you about our Christmas weekend wines. Later this week, we'll return to form with some affordable goodies to suit the bill-paying season.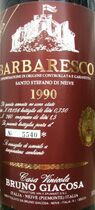 Bruno Giacosa 1990 Barbaresco Riserva (gift)
Dark ruby. Classic Nebbiolo aromas, violets and tar and smoke; flavors follow the nose, ripe and tart; tannins present but softening. Given time in the glass it opens up to remarkably complex flavors - dried cherries, polished leather, roasted chestnuts and black coffee. Very fine wine, reaching maturity but there's certainly no rush. This benchmark, traditional Nebbiolo-based wine from Italy's Piemonte was personally imported, a gift from Mr. Giocosa during our 1999 visit. (Dec. 22, 2001)
FOOD MATCH: Sirloin stuffed with spinach and roasted red peppers makes a fine companion.
WEB LINK: The winery Website is at http://www.brunogiacosa.it/. Click the English or Italian flag icons to choose your language.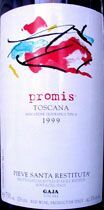 Pieve Santa Restituta (Gaja) 1999 "Promis" Toscana ($39.99)
Angelo Gaja is best known for Piemontese wines at startling triple-digit prices. This wine from one of his Tuscan properties, a blend of the traditional Sangiovese with Cabernet Sauvignon and Merlot, is at least relatively affordable. Inky dark ruby. Fresh black fruit and a hint of brown sugar on the nose and palate; ripe and tart, full-bodied and spicy, with a touch of sweet oak. Quite "international," it's an impressive wine in a modern Tuscan style. U.S. importer: Paterno Imports, Lake Bluff, Ill. (Dec. 23, 2001)
FOOD MATCH: Works very well with a meatless risotto with carrots and celery.
WEB LINK: The importer's Website is http://www.paternoimports.com/, with a fact sheet on Gaja at http://www.paternoimports.com/products/gaja/default.asp.

Clos du Marquis 1995 Saint-Julien ($46.99)
A "second label" of Chateau Leoville Las Cases. Very dark reddish-purple, almost black. Good Bordeaux "cigar box" aromas of cedar and tobacco-leaf. Full and tart, austere blackcurrant fruit flavor, lemon-squirt acidity and firm tannins. A fine Bordeaux, complex and balanced, from one of the more successful vintages during a dismal string in the 1990s; drinkable now but will benefit from time. U.S. Importer: Seagram Chateau & Estate Wines Co., NYC. (Dec. 24, 2001)
FOOD MATCH: A Bordeaux this young needs rare beef to "tame" its astringent tannins, and a thick strip steak filled the bill.
WEB LINK: The importer has an exceptionally informative wine-education and information site at http://www.aboutwines.com. For fact sheets on all its wines, including Clos du Marquis, see http://www.aboutwines.com/home/portfolio/wines/index.html.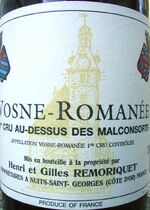 Henri et Gilles Remoriquet 1999 Vosne-Romanée 1er Cru Au Dessus des Malconsorts ($45.99)
I find it difficult to educate my palate for Burgundy because the tuition is so expensive, but this fine example is an exceptional value by the lofty standard of the genre. Clear but very dark ruby, almost black, it offers a subtle and complex mix of delicately spicy aromas over ripe but restrained cherry and tomato-skin. Flavors are consistent with the nose, clean and fresh, youthful fruit on a crisp acidic base with soft tannins to provide texture. Delicious now but will reward cellar time. U.S. importer: Vintner Select, Cincinnati, and other regional importers. (Dec. 25, 2001)

FOOD MATCH: Outstanding partner with roast duck, an earthy entree chosen to match the wine.

WEB LINK: Allen "Burghound" Meadows featured this wine in his Burgundy of the Week column. For his report, click to http://www.burghound.com/archive/burg082901.shtml.


Administrivia


This is Wine Advisor Express, daily edition of The 30 Second Wine Advisor, distributed Tuesdays through Fridays. For archives of previous articles, and to read more about wine, visit Wine Lovers' Page, http://www.wineloverspage.com.

To subscribe, change your E-mail address, switch from daily to the weekly (Mondays only) distribution, or for any other administrative matters, E-mail wine@wineloverspage.com. In the unhappy event that you must leave us, please take a moment to let us know how we could have served you better. In all administrative communications, please be sure to include the exact E-mail address that you used when you subscribed, so we can find your record.

Wednesday, Dec. 26, 2001
Copyright 2001 by Robin Garr. All rights reserved.

<!TODAY'S TEXT ENDS HERE!>

Subscribe (free) to The 30 Second Wine Advisor