<!TODAY'S TEXT STARTS HERE!>

Wine Advisor Express:
Anything but ... Merlot!


Following up on Wednesday's discussion about white-wine alternatives to Chardonnay, let's turn our attention today to Merlot ("Mair-low"), the RED grape that many wine enthusiasts currently love to "bash."

Like Chardonnay, Merlot is a grape of demonstrable quality. Although it's historically most prominent as a team player in the blend of red grapes that make up Bordeaux, it's the dominant element in most Bordeaux from the "Right Bank," the noteworthy regions like St.-Emilion and Pomerol, where it makes up 95 percent of the sought-after and expensive Chateau Petrus.

But also like Chardonnay, Merlot has become so popular that it suffers somewhat from over-exposure, particularly in modestly priced renditions where it's made fruity, soft and sometimes slightly sweet, a popular style that's best suited for sipping by the glass like a cocktail.

For something with a little more heft and flavor interest, I turn to the earthy, complex and somewhat under-appreciated red-grape blends of the Rhone and Languedoc in France, wild assortments of such varieties as Syrah, Mourvedre, Carignan, Cinsaut and ... well, you get the idea. Here are two recently sampled goodies, one from the Languedoc and one from California: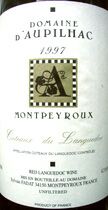 Domaine d'Aupilhac 1997 Montpeyroux Coteaux de Languedoc ($14.99) Very dark ruby, almost black; deep cherry-like scent, adds marked herbal notes on swirling. Full and tart, black fruit and fragrant pepper, softly but perceptibly tannic. A blend of Syrah, Mourvedre, Grenache, Cinsaut and Carignan, it's a "rustic" but interesting wine, complex and excellent with food. U.S. importer: Kermit Lynch Wine Merchant, Berkeley, Calif. (Dec. 9, 2001)
FOOD MATCH: Went well with light lamb meatballs on a puree of potatoes, turnip and celeriac.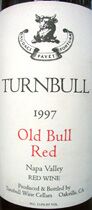 Turnbull 1997 Napa Valley Old Bull Red ($14.99) Clear dark garnet, with fresh and jammy scents of ripe berries and oaky vanilla. Flavors are consistent with the nose, juicy berry fruit and sweet oak framed by zippy acidity. A blend of 34% Carignan, 26% Petite Sirah, 26% Nebbiolo, 10% Mourvedre and 4% Primitivo, it's more "Old World" in style than many California wines, but it still has a distinct American melting-pot accent. (Dec. 18, 2001)

FOOD MATCH: Excellent with a vegetarian dish of short pasta with radicchio and red onions.

WEB LINK: http://www.turnbullwines.com


eRobertParker.com:
Perfect wine lover's gift


Looking for that perfect gift for the wine lover who has everything? Robert Parker's new online site, eRobertParker.com, is now offering Gift Subscriptions. You can prepay and arrange to have a personalized E-mail sent on the date of your choosing. The recipient will get directions to the web site and a code to activate the subscription. For all the details visit http://www.eRobertParker.com.

California Wine Club:
Happy Holidays!


Tick-Tock! Is your Christmas shopping finished? The California Wine Club can help! With three-, two- and next-day delivery, get your gift there on time!

Business associates, family, friends, neighbors and even your mailman! A gift of wine is the perfect way to say "Happy Holidays!"

Each shipment includes two bottles of award-winning wine, hand-selected from the best of California's small, family-owned wineries.

Subscriptions start at $32.95 plus shipping and include a fun, informative eight-page newsletter. Send as many months as you wish! Special discounts on gifts of 3, 6, 9 and 12 months. Call (800) 777-4443 or visit the California Wine Club website at http://www.cawineclub.com.

Delivery is limited to locations where interstate wine shipping is permitted by law.

Last-minute shopping?
Shop Amazon.com today!


You've procrastinated again? Not to worry ... order a wine-related book from Amazon.com by noon Saturday (Pacific Standard Time), and for a $5 shipping surcharge they can still get the package to your recipient on Dec. 24. They'll gift-wrap it, too!

For links to some of our favorite wine and food books, click to http://www.wineloverspage.com/winebook/quickbooks.phtml. Remember, orders made using these links return a small commission that helps us pay the rent at WineLoversPage.com.

Administrivia


This is Wine Advisor Express, daily edition of The 30 Second Wine Advisor, distributed Tuesdays through Fridays. For archives of previous articles, and to read more about wine, visit Wine Lovers' Page, http://www.wineloverspage.com.

To subscribe, change your E-mail address, switch from daily to the weekly (Mondays only) distribution, or for any other administrative matters, E-mail wine@wineloverspage.com. In the unhappy event that you must leave us, please take a moment to let us know how we could have served you better. In all administrative communications, please be sure to include the exact E-mail address that you used when you subscribed, so we can find your record.

Friday, Dec. 21, 2001
Copyright 2001 by Robin Garr. All rights reserved.

<!TODAY'S TEXT ENDS HERE!>

Subscribe (free) to The 30 Second Wine Advisor