<!TODAY'S TEXT STARTS HERE!>

Wine Advisor Express:
Vouvray again ... with bubbles


Let's stay with Vouvray for one more day as we uncork a household favorite. This fine bubbly - which I enjoy a couple of times a year and last reported in May - is the Loire's answer to Champagne, although (just like fizzy wines from California, Australia and elsewhere) it has no right to use that name but is sold as "sparkling wine," and its hand-made production method can't be called "methode champenoise" ("Champagne method") but "methode traditionnelle" ("Traditional method," with the understanding that the tradition, of course, is that of Champagne).

And, in the spirit of yesterday's "anything but Chardonnay" topic, it's worth noting that sparkling Vouvray shuns the Burgundian grape blend of Champagne (Chardonnay, Pinot Noir and Pinot Meunier) in favor of the Loire's own Chenin Blanc. There's nothing the matter with that, as this steely, cleansing and remarkably long-lived variety is a noble grape in its own right, and makes wines both still and sparkling that are well worth getting to know.

Next time you're in the market for a sparkling wine - and with the holiday season well under way and New Year's Eve approaching, that might be soon - make it a point to look beyond the Champagne shelves and see if your merchant doesn't have a sparkling Vouvray on hand. I don't think you'll be disappointed.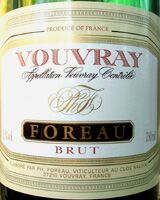 Foreau non-vintage Vouvray Brut Methode Traditionnelle ($14.99)
Clear pale greenish-gold, with a frothy mousse that dissipates quickly, followed by a slow but steady stream of bubbles. Appetizing fresh fruit aromas, apples and pears, lead into a full, crisp flavor that's dry, creamy and long. A very fine sparkling wine and a credible alternative to Champagne at a price the high-price bubbly can't touch. U.S. importer: Vintner Select, Cincinnati, and other regional distributors. (Dec. 19, 2001)

FOOD MATCH: Perfect with a dish crafted to match - a light seafood risotto with shrimp, scallops and squid.

WineDiary.com:
A Warm and Mellow Feeling
Throughout the Year


Guard against post-holiday blues with the prospect of a pleasantly fat package arriving from England around Jan. 1.

These are much more than just diaries: Most of the text is by Masters of Wine, the art is outstanding, and the gilt-edged padded binding is utterly luxurious.

Readers of WineLoversPage.com who place an order for either a Desk or Pocket edition of the Wine and Spirit Diary will get an additional Pocket Diary absolutely FREE. (When you order, simply put "WLP" in the "shopper's reference" box when filling out the online form.)

All is revealed at http://www.winediary.com/.

California Wine Club:
Happy Holidays!


Tick-Tock! Is your Christmas shopping finished? The California Wine Club can help! With three-, two- and next-day delivery, get your gift there on time!

Business associates, family, friends, neighbors and even your mailman! A gift of wine is the perfect way to say "Happy Holidays!"

Each shipment includes two bottles of award-winning wine, hand-selected from the best of California's small, family-owned wineries.

Subscriptions start at $32.95 plus shipping and include a fun, informative eight-page newsletter. Send as many months as you wish! Special discounts on gifts of 3, 6, 9 and 12 months. Call (800) 777-4443 or visit the California Wine Club website at http://www.cawineclub.com.

Delivery is limited to locations where interstate wine shipping is permitted by law.

Administrivia


This is Wine Advisor Express, daily edition of The 30 Second Wine Advisor, distributed Tuesdays through Fridays. For archives of previous articles, and to read more about wine, visit Wine Lovers' Page, http://www.wineloverspage.com.

To subscribe, change your E-mail address, switch from daily to the weekly (Mondays only) distribution, or for any other administrative matters, E-mail wine@wineloverspage.com. In the unhappy event that you must leave us, please take a moment to let us know how we could have served you better. In all administrative communications, please be sure to include the exact E-mail address that you used when you subscribed, so we can find your record.

Thursday, Dec. 20, 2001
Copyright 2001 by Robin Garr. All rights reserved.

<!TODAY'S TEXT ENDS HERE!>

Subscribe (free) to The 30 Second Wine Advisor