<!TODAY'S TEXT STARTS HERE!>

No edition tomorrow or Monday


A quick administrative note: We're taking a brief pre-holiday break, so there'll be no edition of Wine Advisor Express tomorrow, and The 30 Second Wine Advisor will be distributed on Tuesday, a day later than usual.

Wine Advisor Express:
WHY aren't reds served cold?


Any time I hear someone say, "Do this because that's the way we do it," I have a naturally skeptical tendency to ask, "but, why?"

So when I caught myself on the verge of giving a reader a "just because" reply to a common wine question the other day, I decided it was time to put on the old lab coat and conduct a simple experiment.

The question was simple: "Why is red wine supposed to be served at room temperature?"

The stock answer is simple, too: "Because it tastes better that way."

But does it really? I couldn't recall the last time I tasted a cold red wine (other than Australian sparkling Shiraz, a unique product that grows on you if you let it). Could this possibly be one of those snob things, a tradition so enduring that people follow it unthinkingly, never daring to test the conventional wisdom?

A simple trial put the hypothesis to the test. Having a particularly good red wine lined up for tasting, I opened it before dinner. I poured two glasses, set one on the counter at room temperature and popped the second into the freezer. A half-hour later I had ice-cold wine in a frosted glass, ready for a side-by-side tasting.

It didn't take much tasting to conclude that the standard rule makes sense. Chilling seemed to kill all the wine's aroma and most of its flavor, leaving an ice-cold, thin and very acidic beverage that wasn't enjoyable at all. As it warmed in the glass, it gradually recovered, although even a slight "cellar temperature" chill still seemed to emphasize tangy acidity over the wine's good fruit and earthy character.

Now, why do WHITE wines seem to benefit from chilling, in contrast with reds? That's an experiment for another day!

Here's my tasting report on the wine of the day, the 1999 edition of one of my favorite Chateauneuf-du-Papes, a wine that - for me at least - justifies breaking my usual budget barriers.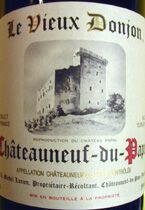 La Vieux Donjon 1999 Chateauneuf-du-Pape ($25.99)
Inky dark ruby, almost black. Earthy black-fruit aromas and fragrant black pepper with a distinct edge of grilled meat, a quality that may not sound appealing but in this case adds pleasant earthy complexity. Full-bodied, tart and tannic, a big and "chewy" wine that's good with food but really needs cellar time. I understand that Wine Spectator magazine gave this wine a surprisingly low rating compared with the 1998, perhaps because the previous vintage was more fruity and easily accessible. I'll stick with my opinion, however, that this is a "classic" Chateauneuf, and frankly hope its lower rating keeps the price from escalating. U.S. Importer: Wines of France Inc., Mountainside, N.J.; Alain Junguenet Selections. (Dec. 12, 2001)

FOOD MATCH: A natural match with pan-grilled lamb chops covered with crushed black pepper.

Acker Merrall:
Wine Every Month Club!


Need a quick gift idea? How about something that will remind a friend, colleague, or loved one about you every month all year long? Try Acker Merrall's Wine Every Month Club!

Monthly selections for the Wine Every Month Club focus on three essentials: quality, value and style. Quality must be top notch. Value must be excellent. And the most elusive attribute, style ... it must have that unique character that deserves special attention. Each monthly delivery includes an informative description of the monthly selection with timely tips and recipes! A limited number of cases are put aside each month for Wine Every Month subscribers. After enjoying the selection, you can order a case and enjoy time and time again!

For the wine enthusiast, Acker Merrall continues to offer a Premium Wine Every Month Club, featuring winning wines from around the world ... a hot new Australian, a stately Bordeaux, a real Californian find or an interesting Italian beauty. Subscribers have called the selections exceptional, interesting and imaginative, and Acker Merrall hopes that you will too!

For the connoisseur and devoted oenophile, the Platinum Wine Every Month Club represents the elite level of quality. Selections of fine wines to tantalize the senses are chosen from limited productions and highly rated bottlings ... when only the best will do.

Order a subscription to pamper yourself or as a creative gift for your wine-loving friends. Join the Wine Every Month Club today, and see why thousands of wine lovers have given the gift that keeps on giving. Call (212) 787-1700 or sign up through http://www.ackerwines.com/wineeverymonth.

Administrivia


This is Wine Advisor Express, daily edition of The 30 Second Wine Advisor, distributed Tuesdays through Fridays. For archives of previous articles, and to read more about wine, visit Wine Lovers' Page, http://www.wineloverspage.com.

To subscribe, change your E-mail address, switch from daily to the weekly (Mondays only) distribution, or for any other administrative matters, E-mail wine@wineloverspage.com. In the unhappy event that you must leave us, please take a moment to let us know how we could have served you better. In all administrative communications, please be sure to include the exact E-mail address that you used when you subscribed, so we can find your record.

Thursday, Dec. 13, 2001
Copyright 2001 by Robin Garr. All rights reserved.

<!TODAY'S TEXT ENDS HERE!>

Subscribe (free) to The 30 Second Wine Advisor