<!TODAY'S TEXT STARTS HERE!>

Wine Advisor Express:
Bargain Pinot Grigio


In contrast with our parents' and grandparents' time, one of the great advantages of modern wine-making technology is that it's no longer commonplace to run across a truly BAD wine. You can purchase even the cheapest wines today without much concern that they'll have turned to vinegar or were made unsanitarily.

Frankly, the greatest risk associated with trolling the bargain bins is simply the likelihood that you'll choose a wine that's BORING. This is a particular concern when you're shopping for a variety that's currently trendy, prompting mass-market producers to get in on the action with simple wines made from uninspiring fruit grown from "overcropped" vineyards (that is, agriculturally pushed to the maximum possible level of production, resulting in a crop that emphasizes quantity over quality).

So why did I risk $7.99 on this bottle of Pinot Grigio, a grape that makes wonderful wines at its best but that's notorious for producing boring cheap wines to slake a growing worldwide thirst?

The name Zenato on the label gave me the clue that this modest item might exceed expectations. I've been delighted with several reds from this Veneto producer and figured that for eight bucks I didn't have much to lose.

It was a good choice. The wine, if not awe-inspiring, was crisp, clean and refreshing, a fine companion with a seafood pasta dish. Widely available, its affordable price tag makes it worth considering as an everyday "house" white.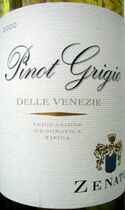 Zenato 2000 Pinot Grigio delle Venezie ($7.99)
A transparent, brilliant straw color in the glass, this wine offers fresh scents of melon and citrus, lemons and limes. Crisp and full, tart but smooth, citric lemon-lime carries over into a balanced, cleansing flavor. Simple but appealing, it's an excellent seafood wine at a price that's right. U.S. importer: Winebow Inc., NYC; Leonardo Loscascio Selections. (Nov. 30, 2001)

FOOD MATCH: The wine's fresh lemony tang makes it a natural with a seafood dish, like the fusilli with tuna, lemon and garlic in the current issue of Cooks Illustrated, my favorite cooking magazine.

WEB LINKS: The winery Website (in Italian and English) is at http://www.zenato.it/. Click the Italian or British flag icons in the upper corners to choose the language you prefer. The importer's Website is http://www.winebow.com/, with a page on Zenato and its wines at http://www.winebow.com/show_producer.asp?producer=69.

Join me on a trip to
the Rhone and Provence


As the end of the year approaches, I'm starting to count the days toward my planned tour of the southern Rhone Valley and Provence in June. In company with French Wine Explorers, a high-quality American tour company that specializes in wine tours of France, I'll be leading a seven-day wine tour of these beautiful regions.

Lauriann Greene and Jean-Pierre Sollin, sommeliers-conseil who live in France, will join me to present this tour. Lauriann and Jean-Pierre take a down-to-earth, plain-talk approach to wine, sharing my commitment to make the often daunting world of wine simple and to take the mystery out of it in a friendly, non-snob environment that's equally welcoming to wine novices and advanced experts.

With Lauriann, an American who is fluent in French, as our translator, we'll spend the week of June 11-17 exploring both the Southern Rhone and Provence, with extensive tastings, elegant hotels and excellent restaurants.

We're planning winery visits, tastings and interviews with wine makers of some of the best producers in Gigondas, Beaumes-de-Venise, the Cotes du Rhone, Chateauneuf-du-Pape, Lirac, Tavel, Baux-de-Provence, Coteaux du Luberon and one of my favorites, Bandol, where we will visit the stunning mountaintop property Domaine de Pibarnon. With all the wine, there'll still be time for visits to Roman ruins and romantic chateaux, and a "gala" dinner along the way in Chateauneuf-du-Pape.

The trip begins and ends in Paris, with high-speed TGV train connections; and those who wish may extend their stay with a two-night extension in Paris, touring the city on your own by day, and hitting interesting wine bars and restaurants with your guides in the evening.

The tour is strictly limited to 16 guests, and the list is filling up. But there are still some openings, and I hope some of you will be able to join us on this week filled with fun and wine. You can get more information from the French Wine Explorers' Website, http://www.wine-tours-france.com/RhoneProvence.htm; or send E-mail to info@wine-tours-france.com, or call 1-877-261-1500 (toll-free in the U.S. & Canada) to request a reservation form.

And of course, if you would like to ask me questions about the tour, please drop me a note at wine@wineloverspage.com. I'm looking forward to meeting a group of you in France in June!

Administrivia


This is Wine Advisor Express, daily edition of The 30 Second Wine Advisor, distributed Tuesdays through Fridays. For archives of previous articles, and to read more about wine, visit Wine Lovers' Page, http://www.wineloverspage.com.

To subscribe, change your E-mail address, switch from daily to the weekly (Mondays only) distribution, or for any other administrative matters, E-mail wine@wineloverspage.com. In the unhappy event that you must leave us, please take a moment to let us know how we could have served you better. In all administrative communications, please be sure to include the exact E-mail address that you used when you subscribed, so we can find your record.

Tuesday, Dec. 11, 2001
Copyright 2001 by Robin Garr. All rights reserved.

<!TODAY'S TEXT ENDS HERE!>

Subscribe (free) to The 30 Second Wine Advisor